A Louisiana pastor is apparently defying the governor's order against gatherings of more than 50 people by hosting over 1,000 churchgoers at a service Sunday and bringing together hundreds at another service Tuesday, according to the pastor and local media.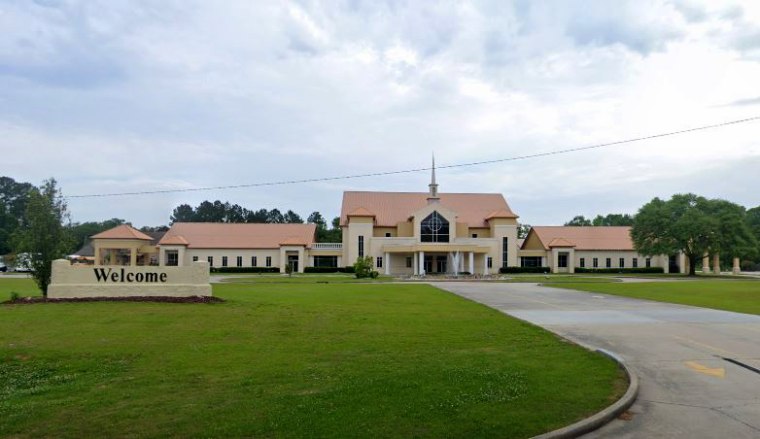 The pastor, Tony Spell of Life Tabernacle Church in Baton Rouge, said he does not believe his congregation is at risk of getting COVID-19, the disease associated with the coronavirus, according to CBS affiliate WAFB.
"It's not a concern," Spell told the outlet. "The virus, we believe, is politically motivated. We hold our religious rights dear and we are going to assemble no matter what someone says."
Spell said 1,170 attended his service Sunday, according to WAFB.
"We have 27 buses on Sundays picking up people in a five-parish area," he said.
Spell also told the outlet that police showed up at the church after the service Tuesday night and informed him the National Guard would break up any future gatherings that exceed 50 people.
But a National Guard spokesman in Baton Rouge told NBC News on Wednesday it is not involved in the matter and has no role in enforcing social distancing requirements as set by Gov. John Bel Edwards.
Spell did not immediately return a request for an interview Wednesday.
NBC News reached out to the Central Police Department and to Edwards' office about the apparent violation of the governor's order but did not immediately hear back.
An online petition calling for Spell to be arrested and prosecuted has more than 4,000 signatures. The petition claims 1,800 people attended Spell's service on Sunday.
The petition says the pastor should be "charged with 1800 counts of reckless endangerment for a start, for the countless lives he will be brutalizing and even ending with his selfishness and ignorance."
On March 15, the Centers for Disease Control and Prevention recommended that gatherings of 50 people or more — including conferences, festivals, parades, concerts, sporting events and weddings — be canceled or postponed for the next eight weeks to slow the spread of the coronavirus.
A day later, President Donald Trump announced that his administration recommended that all Americans, "including the young and healthy," avoid gathering in groups of more than 10 people, discretionary travel and eating and drinking at bars and restaurants. That same day, the Louisiana governor announced he was taking "significant measures" of his own.
"Following additional guidance from the CDC, gatherings of more than 50 people are no longer permitted," Edwards said in his March 16 announcement. "These limitations were difficult to make, but they are necessary to slow the spread of COVID-19, protect the health of Louisianans and flatten the curve."
Edwards went further on Sunday, issuing a stay-at-home order for the state.
He said Tuesday that his state has more coronaviruses per capita than any others except New York and Washington, and he requested that the federal government declare Louisiana a major disaster.
More than 1,700 cases of the coronavirus had been reported in Louisiana as of 1:30 p.m. Wednesday, with at least 65 deaths.