For Jamie Duplechine, a quadriplegic who has spent more than half of her 38 years in a wheelchair, it's an endless source of amusement that three of the caregivers who watch her around the clock in her Louisiana apartment just happen to be named Shonda, Shamanda and Sherry.
Karen Scallan is also on a first name basis with the caregivers who come to her suburban New Orleans home to help her take care of her 17-year-old son, who has Down syndrome — and free her up so she can work and take care of her 63-year-old husband, who suffers from diabetes and Alzheimer's disease.
So when the letter arrived this week warning them that they were at risk of losing their health care services starting on July 1 because of their state's budget crisis, they reacted the same way — with dread.
"I have staff with me throughout the day and night," Duplechine, who was paralyzed at age 15 in a car accident, told NBC News. "They do my hygiene, my catheter care, my bowel care. They cook my meals, they bathe me, they drive me everywhere. Without them, I'm in a devastating state."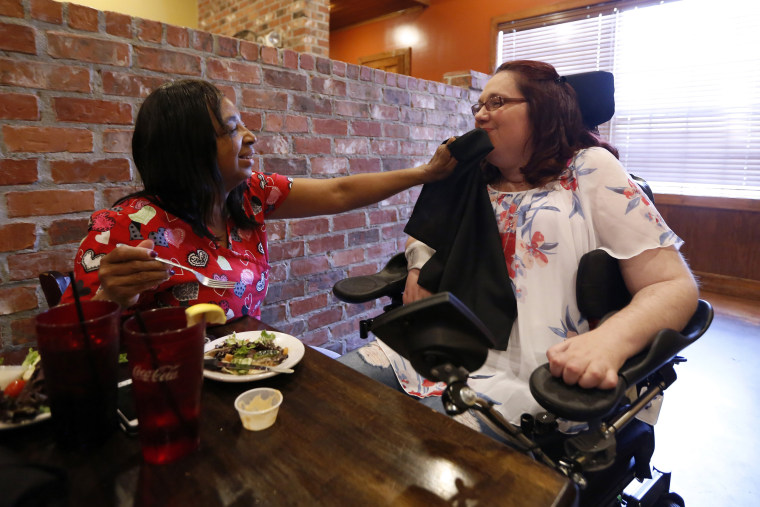 Scallan, 59, said having the extra help enables her to work from home as a private adviser to other individuals with disabilities who need help navigating the Medicaid system.
"You can't watch someone every minute of the day and work," she said. "What's happening is inexcusable and the families that are affected are watching. We know who is responsible."
The Louisiana Department of Health, on orders from Democratic Gov. John Bel Edwards, mailed 37,000 letters out to people Tuesday who rely on Medicaid health care programs that are considered "optional" under federal guidelines. The letters warned them they could lose their home health care aides and be forced out of their nursing homes starting July 1.
Edwards on Thursday also warned that both of the state's medical schools might have to close and that several big hospitals may have to lay off staffers.
The reason? The Republican-controlled state House of Representatives made deep cuts to the proposed budget to make up for a $650 million shortfall rather than continue a temporary tax which ends on June 30 — and had been buttressing the bottom line.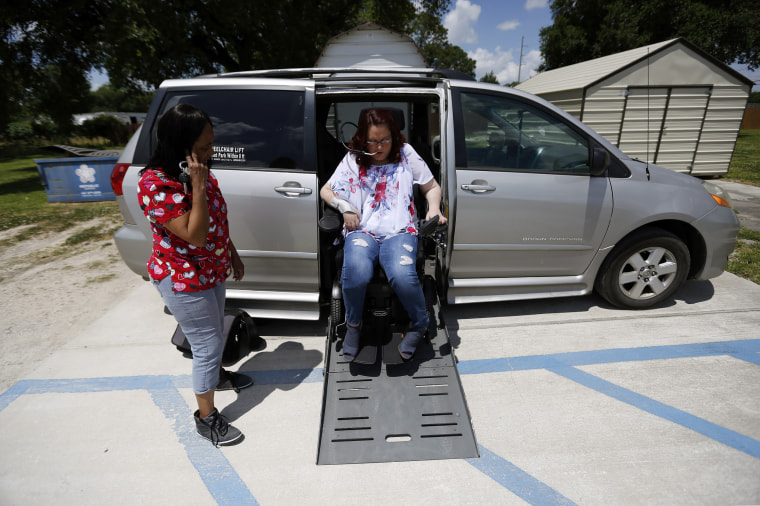 The GOP was outraged by Edwards' move.
"This is premature at best, reckless at worst," House Appropriations Chairman Cameron Henry, a Republican, said. "His fix is to scare the elderly of this state, and that is an embarrassment."
Henry's broadside was followed by a strident statement from the state's Senate Republican Delegation.
"Make no mistake, the situation is dire," it said. "There is just not enough money to go around. However, we in the Senate have no intention of putting Medicaid recipients on the streets or closing down medical schools."
But Edwards' chief numbers guy insisted their only aim was to give the people who rely on the endangered services plenty of time to prepare for the worst.
"The letter is scary, but it's not a tactic," Lieutenant Governor Jay Dardennesaid Wednesday. "This is the reality we are facing."
Nearly 19,000 nursing home residents, 2,700 people with developmental disabilities, some 7,600 home health care patients, and 7,200 people who receive a range of services, got the one-page letter with this dire warning: "Because of possible budget cuts, these programs may end as of July 1, 2018 but the federal government must first approve ending the programs."
Sandee Winchell, executive director of the Louisiana Developmental Disability Council, said she was outraged lawmakers would even consider making cuts that would harm some of the state's most vulnerable residents.
"It's unconscionable," said Winchell. "About 9,700 people with development disabilities would lose their services … This cannot happen."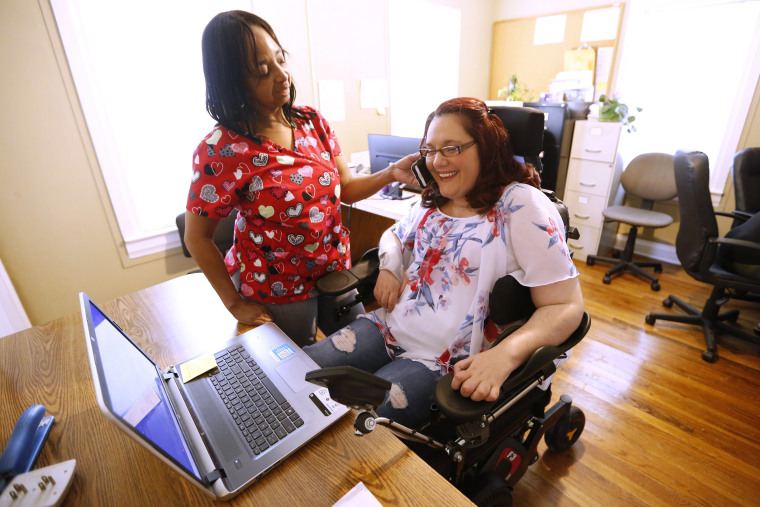 Duplechine, who works for Winchell's outfit as an advocate for others with disabilities, admits she's "freaked out."
"It made me think about the Holocaust and how Hitler weeded out people," she said. "He started with the elderly and disabled. If we don't have anybody to help us, if we don't have any place to go, we're just going to die off. I'm really scared for my life."
Scallan said the letter arrived during a week in which she was knocked off her feet by a virus and during which her husband's heath took a sudden turn for the worse. She said they're going on a vacation courtesy of the Make-a-Wish Foundation in a few days and, given how frail her husband is, it's likely to be their last as a family.
"This past week did me in," she said. "From a political standpoint, I am not entirely surprised this is happening, but as a resident of Louisiana I have never seen it this bad. I am appalled and horrified they let it get this far."