Farren Clark will not soon forget the sound of the wind gusting through his mother-in-law's house on Sunday.
It was as if the wind was "speaking through the walls," first as a distant rattle and then as a throbbing hum that got more and more intense as Hurricane Ida thrashed Thibodaux, a city of about 14,000 people southwest of New Orleans.
Ida's intensity felt "unprecedented," Clark said, and at times surreal: Clark remembered feeling like he was somehow transported inside cable news coverage of Hurricane Katrina.
After the storm broke, Clark, a Louisiana native and an assistant professor of speech at Nicholls State University in Thibodaux, and his wife, Monique, drove through the city of Houma and took photos of the devastation. They saw pine trees snapped in half like pencils, oak trees cracked open like coconuts, a 1950s-style malt shop ripped to pieces.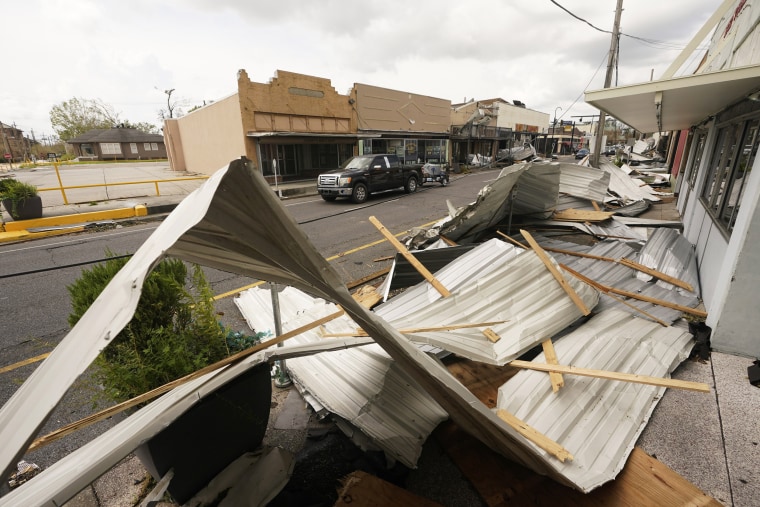 Lafourche and Terrebonne parishes, home to small bayou communities like Thibodaux and Houma as well as the 287-acre Nicholls State campus, were in the direct path of Ida's fury. Ida ripped roofs off businesses, lashed apartments, kicked power lines against homes and rattled most everyone in town.
In the dazed aftermath, residents recalled the storm's sheer power and their thoughts as it bore down — whether to stay or to leave, and if they stayed, whether they would make it through the night.
Clark, 41, said he felt lucky to be alive: "It's all by the grace of God." Clark's mother-in-law was still waiting for the electricity to come back on as of Tuesday afternoon, but he felt fortunate that her sturdy 1970s-era brick house had withstood the worst of the storm.
The evacuees
Jacob Batte, who works in the communications office at Nicholls State and lives about four minutes from campus, evacuated before Ida barreled into town. His wife, Elizabeth, and their 3-year-old daughter left Friday. He stayed overnight to board up the windows of their home and empty out the freezer before driving away at 4 a.m. Saturday.
Batte, 32, and his family have been hunkered down with relatives in Madison, Mississippi. The last few days have been stressful because they had no idea if their house, which they bought three months ago, had been damaged, and their imaginations were "running wild as to what the damage could be."
Then Batte got word Tuesday afternoon that their home had largely withstood Ida. He hopes his family will be able to return to their parish soon.
Zachary Durocher, who has spent his entire life in Houma, a city of roughly 33,000 people, said he was originally reluctant to abide by the mandatory evacuation order. He said he did not initially grasp the magnitude of the storm and believed he could stay to protect his property.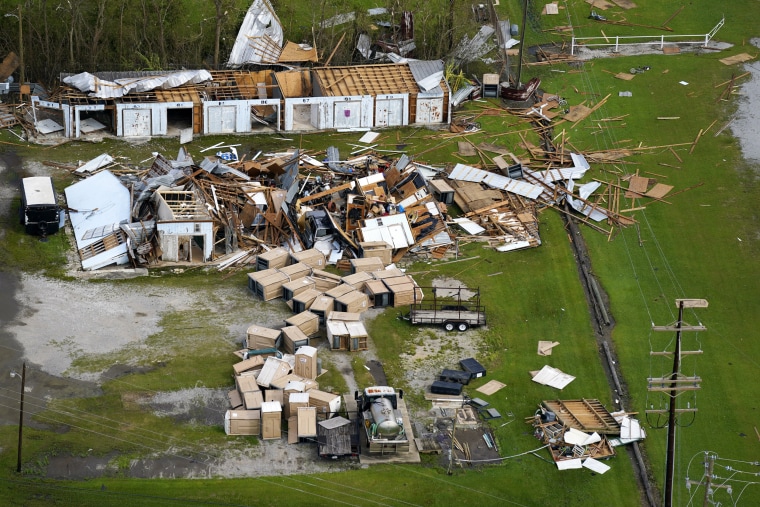 But Durocher, 41, at the urging of his wife, looked up photos of the damage wrought by other big and powerful storms. He realized Ida could very well flatten his city.
The couple, along with two of their children, left town at 4 a.m. Saturday and headed to a grandparent's property in Alabama. A drive that normally takes four hours took them 10, he said.
Durocher said most folks he knows stayed in Houma. Everybody had their reasons: Some stayed because previous warnings about ominous storms ultimately fizzled out; others were just cavalier about the threat of natural disasters.
"'We got a freezer full of shrimp.' That's the mentality," Durocher said.
Then the storm hit.
Durocher, a project manager with a shipyard, heard from people who lost their homes. He saw pleas for help on social media. In one case, an employee's trailer was destroyed. In another, Facebook friends circulated a message about a man in his neighborhood who needed assistance after the roof of his home collapsed.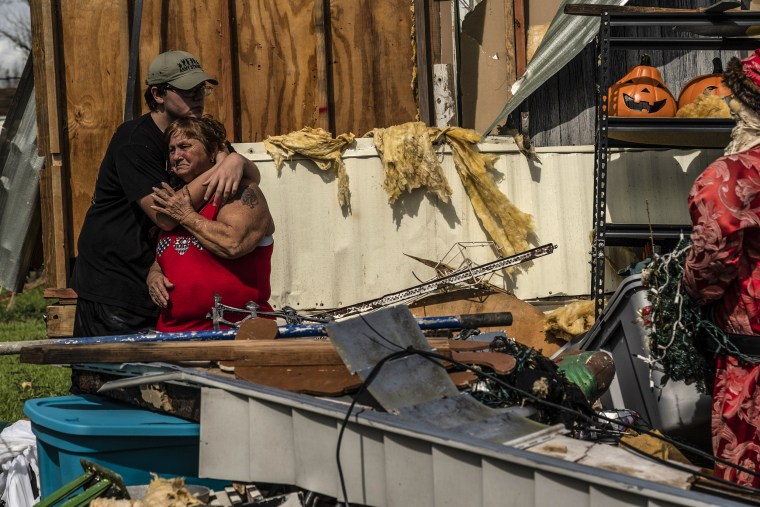 "He was wearing a motorcycle helmet in the bathtub with a mattress on top of him," he said.
Durocher saw photos of leveled homes, trailers flipped on their sides, buildings pulverized. In a video he said was recorded a few blocks from his home, an entire roof can be seen twisting in the wind and somersaulting into power lines.
He felt grateful to have left, blessed to have avoided the worst — and felt a pang of guilt.
"It's silly. But when you're watching everyone's lives being destroyed and they're losing their homes, it's natural to feel that way," he said.
'We thought we could ride it out'
Andie Chiasson, an economics instructor at Nicholls State University, did not evacuate. She stayed in Thibodaux with her husband, their 5-year-old son and their two dogs.
Chiasson, 40, was born in southeast Louisiana, and she has lived through several major hurricanes — always without going far from home.
"I'm one of those crazy people who don't leave, to be quite honest," she said.
Chiasson said she believed when Ida slammed Thibodaux at the northern tip of Lafourche Parish, presumably far from the destructive force of a massive storm surge, it would be a Category 1 storm.
She and her husband boarded up the windows of their home and prepared to crank up a small gas-run generator when they lost power.
"We thought we could ride it out," she said. "In hindsight, we definitely would have left. It was a very long and scary night."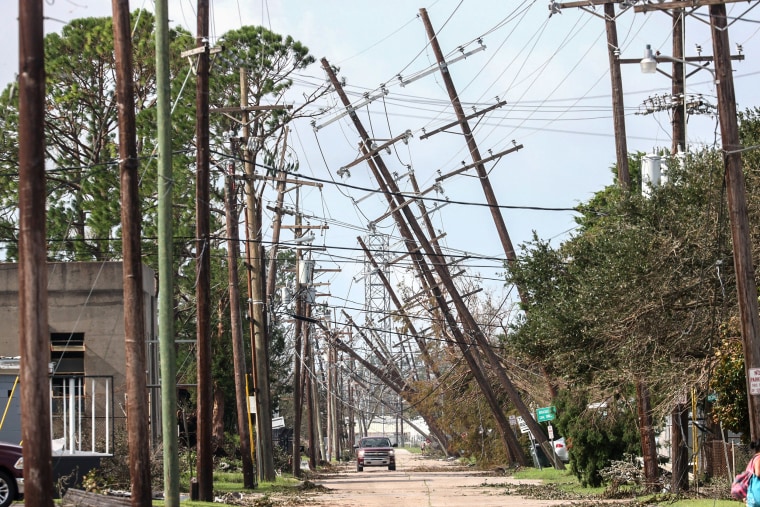 The electricity cut out at 3 p.m. Sunday, she said. The wind picked up an hour or two later and howled all night. She dozed off for a bit around midnight, perking up to listen to tree branches pelting the house and shingles being torn from the roof.
She laid there with her son, who was sound asleep, and she thought of the Pixar movie "The Incredibles" and the character Violet, whose superpower allows her to generate force fields.
"I kept thinking there would be a protective bubble," Chiasson said. "That's what I was holding in my head, that we were going to be OK."
She found their home mostly intact the next morning, aside from battered trees and a few large patches of missing shingles. She and her husband then walked around their neighborhood, delivering damage reports to neighbors while they still had cell service, looking at tree limbs carpeting the street and whole trees that had fallen onto homes.
Later, when they drove to the house of a friend who still had electricity, they saw roads littered with corrugated awnings, downed power lines and debris everywhere.
"It was pretty catastrophic," she said.