The University of Louisville fired legendary basketball coach Rick Pitino on Monday, nearly three weeks after the school was implicated in a national bribery scandal.
"We simply felt this was in the best interest of the university," Greg Postel, the college's interim president, said after the unanimous vote by the athletic association board, which capped six hours of closed-door meetings.
Pitino, who had been head men's coach since 2001 and led the team to a national championship in 2013, fought to stop the school from terminating his contract, which still has $44 million left on it.
Included in a 53-page defense packet were the results of a voluntary polygraph exam in which Pitino said he did not know that a star recruit's family had been paid off; the examiner said his answers did not appear deceptive.
"I have given no 'cause' for termination of my contract," Pitino said in an affidavit, adding, "I will fight tirelessly to defend my reputation."
Postel said the university was prepared for the possibility that Pitino would sue for wrongful termination and did not rule out the possibility of an out-of-court settlement.
Pitino, who had been suspended without pay since the allegations were made public last month, is not charged with a crime in the ongoing probe and has denied wrongdoing.
But he oversaw assistant coaches who are accused of conspiring with athletic middlemen and an Adidas executive to funnel payoffs to the parents of prospective players. And he appears in a criminal complaint as the unidentified Coach-2, a source with direct knowledge of the matter told NBC News.
Adidas said Monday that it had ended its multimillion-dollar persona; services contract with Pitino "in light of the decision by the University of Louisville."
Those court papers detail how one of the defendants was caught on a wiretap saying he expected Adidas to underwrite payments to a player because of Pitino's close ties to the sportswear giant.
Related: Pitino Blames Bribery Case on a 'Few Bad Actors'
"All [Coach-2 has to do] is pick up the phone and call somebody [and say] these are my guys, they're taking care of us," amateur league coach Jonathan Brad Augustine boasted, according to the complaint.
Pitino was also referred to in connection with an alleged scheme to offer a bigger payoff to a player who was offered more money by a rival athletic company.
A sports agent was recorded saying he asked Coach-2 to call Adidas about ponying up more cash. According to the FBI, phone records show that the coach made three calls to Jim Gatto, Adidas' director of global sports marketing, in the week before the player committed to Louisville in return for a $100,000 payment to his family.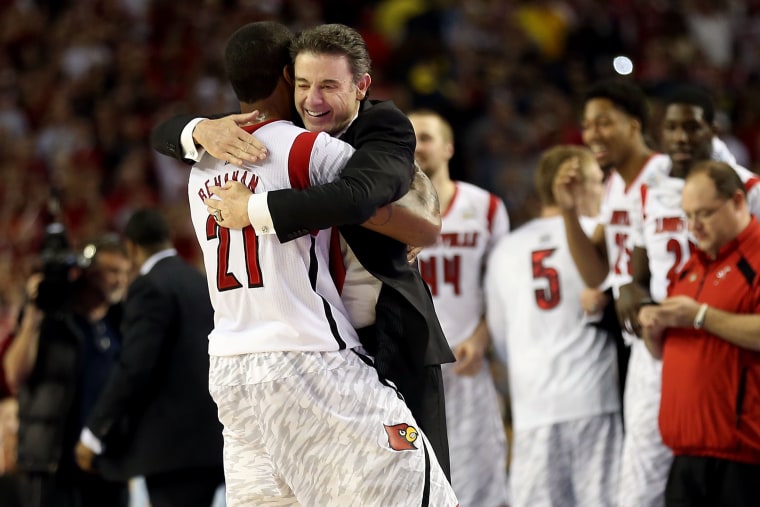 In his affidavit, Pitino said there was nothing nefarious about the calls.
"Although I know and have communicated with Gatto by phone and by text, I have never discussed with him — overtly, covertly, in code, through nuance, or in any other way — the provision of improper benefits to an UL basketball player or recruit," he wrote.
Related: Is Paying Players the Answer to NCAA Scandal?
When the criminal complaints were filed, Louisville put Pitino on administrative leave. The board subsequently voted to begin the process of firing the coach, saying his "involvement in these recent scandals cannot be considered isolated events."
"Instead, they are illustrative of a pattern and practice of inappropriate behavior," it said.
In June, the National Collegiate Athletic Association hit Pitino with a five-game suspension after investigating allegations that a former team staffer had supplied escorts to recruits and players. And in 2010, Pitino, the married father of five children, admitted in court that he had sex in a restaurant with a former model who later went to prison for trying to extort him.