The University of Louisville suspended legendary basketball coach Rick Pitino and the school's athletic director on Wednesday in response to a sweeping federal investigation into bribery.
Pitino's attorney said in a statement that the 65-year-old coach "has, in effect, been fired" and that "the matter will now follow its legal course."
"Doing nothing would be a tacit endorsement of ethical and criminal behaviors," Louisville's interim president, Greg Postel, said at a news conference.
"While this may be a dark day, better days are ahead," Postel added.
In a sign of how deeply the imbroglio may hurt the program, two high-school phenoms who had committed to Louisville for next year announced they were looking elsewhere.
The father of Courtney Ramey, a high school senior from Missouri, said that with Pitino gone, Louisville was no longer an option for his son. "It's disappointing," Terrell Ramey told NBC News. "He had his heart set on it."
Florida senior Anfernee Simons cited "recent events" in a tweet announcing that he he de-committed. "This was a very tough decision to make and I am deeply saddened by this," he wrote.
Pitino, whose salary is more than $5 million a year, was put on unpaid administrative leave, and the school will quickly name an interim coach. The university's athletic director, Tom Jurich, was put on paid leave.
An unidentified player who allegedly enrolled at Louisville after bribes were paid to his family was removed from team activities, the school said.
Pitino and Jurich had no comment to reporters as they left Postel's office earlier on Wednesday.
The statement released by his Pitino's attorney said that "named and unnamed people perpetrated a fraudulent scheme on the University and its basketball program" and that "the information disclosed thus far in the investigation is clearly insufficient to implicate Coach Pitino in any type of misconduct or other activity that would violate the terms of his contract.
"In sum, Coach Pitino has done nothing wrong and there is no evidence to suggest otherwise. The rush to judgment is regrettable," the statement said. It claimed the facts will exonerate him.
Neither Pitno nor Jurich was named in the criminal complaints filed by the U.S. Attorney's office in Manhattan on Tuesday, the culmination of a two-year investigation.
But if the allegations in the court documents are true, they oversaw assistant coaches who conspired with an executive at Adidas and a group of athletic middlemen to lure high-schoolers to Louisville by funneling payoffs to their parents.
J. David Grissom, chairman of the university board of trustees, said when he heard the allegations he "came home and said once again to my wife, 'You can't make this up.'"
"It's not a happy day for the university," Grissom said.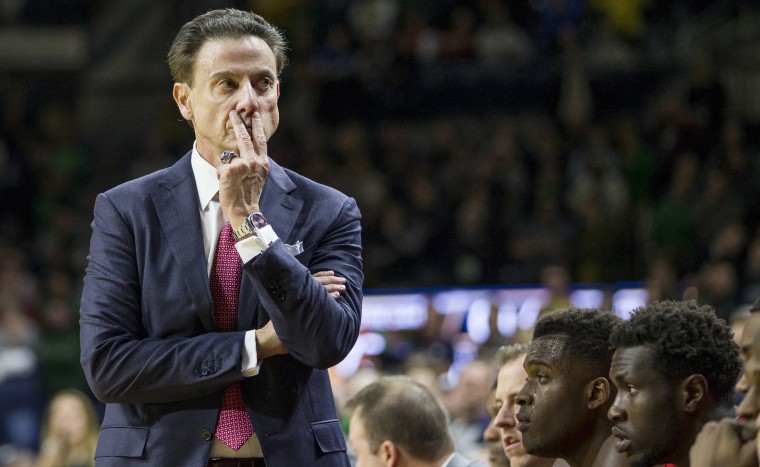 The bribery case isn't the first scandal to put a cloud over Pitino, who has been head coach of the men's team since 2001 and led it to a national championship in 2013.
In June, the NCAA hit him with a five-game suspension after investigating allegations that a former staffer had supplied escorts to recruits and players.
In 2010, the married father of five admitted in court that he had sex in a restaurant with a former model who later went to prison for trying to extort him.
Pitino has eight years left on a 10-year contract. He also earned more than $2 million from Adidas.
On Tuesday night, Pitino issued a statement through his attorney saying he was in "complete shock" over the bribery allegations and blaming "a few bad actors."
"Our fans and supporters deserve better," he said, "and I am committed to taking whatever steps are needed to ensure those responsible are held accountable."
Related: Rick Pitino Denies Flipping Off Kentucky Fans
The probe into what prosecutors called the "dark underbelly" of college basketball began in 2015 with the help of a financial adviser who agreed to wear a wire for the feds after being caught siphoning money from the accounts of pro athletes.
It uncovered a scheme in which college coaches allegedly took bribes to steer top players to certain advisers, managers and even a suit-maker who stood to make a fortune if those players signed with the NBA.
It also revealed a related conspiracy in which Adidas executive Jim Gatto allegedly bankrolled bribes used to lure high-school standouts to colleges sponsored by the sportswear giant.
A criminal complaint made clear one of the schools was Louisville, which then confirmed that it was the target of a federal probe. The court documents outline efforts to funnel more than $100,000 to the family of a recruit who then made a surprise last-minute decision to play for Louisville this summer.
"Basically we just need to take care of his dad with two grand monthly," Christian Dawkins, a former recruiter for a top sports agency, was recorded telling an undercover agent.
According to federal prosecutors, surveillance of the defendants also gathered evidence they were plotting to funnel money to another high school player in exchange for a commitment to attend Louisville in 2019.
"The mom is like … we need our f---ing money. So we got to be able to fund the situation," Dawkins was allegedly recorded saying during a meeting in a Las Vegas hotel room attended by an unnamed Louisville assistant coach.
Dawkins was also captured on tape talking about a second coach's involvement in securing cash for a player's family, prosecutors said. Phone records then showed that coach making calls to the Adidas executive at the center of the case.
In a statement Wednesday, Adidas said Gatto has been placed on administrative leave and the company has hired a lawyer to conduct "a thorough investigation."
Prosecutors said Tuesday that they were charging 10 people in the pay-to-play probe but that the investigation wasn't over. Federal agents raided the offices of ASM Sports, where Dawkins worked until he was fired for using a player's credit card for hundreds of Uber rides. ASM, which represents 30 NBA players, did not return a call for comment.