On Facebook, in messages to friends and in calls to phones that go straight to voicemail, those unable to reach friends, family members and loved ones following the deadly warehouse fire in Oakland, California, wait for any word.
"If my brother's there, I want to find him," Dan Vega, whose younger brother, Alex, and his girlfriend are missing, told NBC Bay Area. "I need closure."
Thirty-three people have been confirmed dead, with others unaccounted for, in the aftermath of the blaze that erupted in the converted warehouse known as the "Ghost Ship."
Related: Ex-Occupant of 'Ghost Ship' Says Building Was Unsafe, Lacked Sprinklers
Authorities are still going through what has been described as a "maze" of wires, metal, beams and wood following a partial collapse of the building.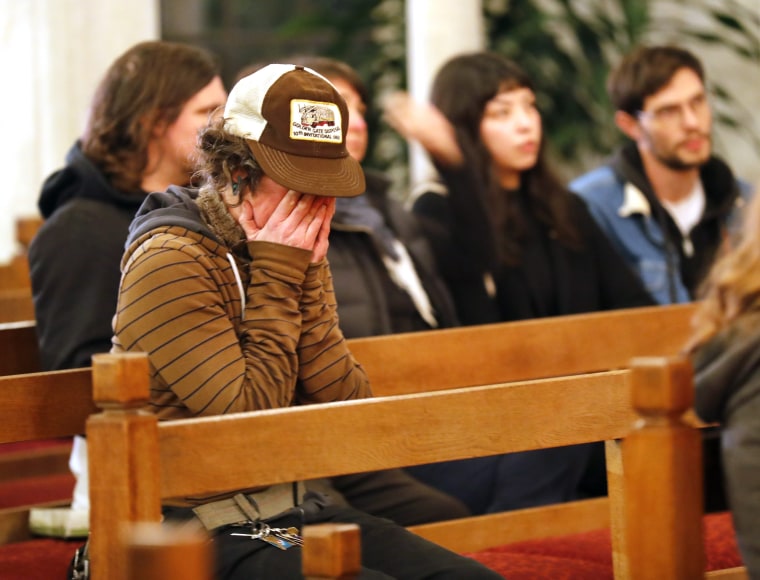 "I probably lost a few good friends last night," said Genevieve Griesau, an artist who was at a vigil Saturday night who said she knows people who are missing.
"They were amazing," she told NBC Bay Area. "I'm sorry for everyone's loss — it's the people I didn't know. ... It's mind-blowing, heartbreaking."
Authorities set up a family assistance center, as well as a phone number for people to call about the status of loved ones. The Alameda County Coroner's Office has a master list of those missing, and authorities asked that marks like tattoos or other information be shared to help in identification.
"I have not been able to reach him, nor has he called or texted me," Sami Long Kopelman, whose son, Edmond Lapine, posted on Facebook that he was going to the concert where the fire broke out.
"No one has been able to tell me that they have seen him," she said.
A Facebook page promoting the concert transformed into a place for people to let friends know they were safe and for others to inquire about loved ones.
The fire erupted about 11:30 p.m. Friday (2:30 a.m. Saturday ET). During the blaze, the roof collapsed into the second floor, and parts of the second floor collapsed and crashed into the ground level, officials said.