Yours for only 99 cents: the rare recalled Newsweek edition commemorating Hillary Clinton's election as president.
Or maybe not.
As NBC News and many other news organizations reported after Donald Trump was actually elected on Nov. 8, Newsweek published 125,000 copies of a $10.99 commemorative magazine with Clinton's picture on the cover and the headline "Madam President."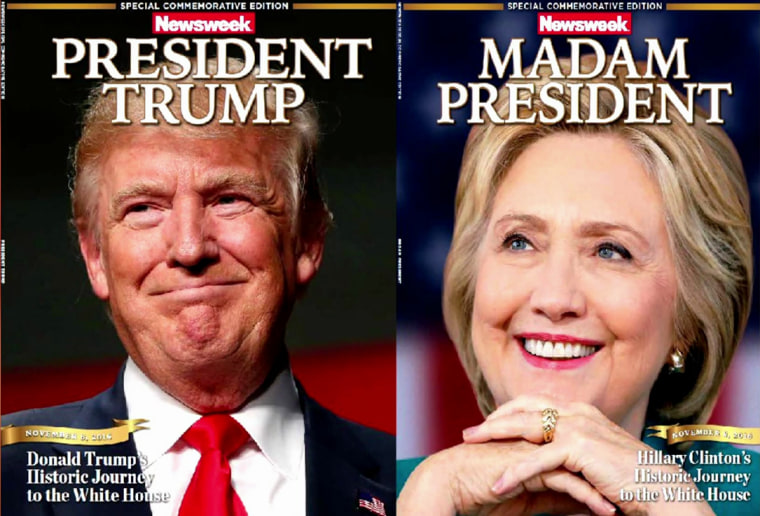 Those copies were quickly recalled — but hundreds of copies are still being offered for sale in online markets, for prices as low as 99 cents to as high as $9,995.
NBC News found 387 offers for the recalled issue Wednesday evening just on eBay. Many of them offered multiple copies for sale.
And that's a problem — because the edition's publisher says only 17 copies were actually sold before all the rest were recalled, calling into question the authenticity of many of those offers.
Newsweek, it turns out, didn't publish the commemorative edition. That was done by Topix Media Lab, a New York specialty publisher that produces one-off special editions for many media companies, including CBS, Disney, Marvel Comics and World Wrestling Entertainment, in addition to Newsweek.
Newsweek distanced itself from the "Madam President" edition when news of it emerged even before Election Day, saying on Twitter that commemorative covers were produced for both Clinton and Trump "by a Newsweek licensee, Topix Media, and not by Newsweek."
Newsweek referred all inquiries to Topix Media, which didn't answer phone calls or reply to emailed requests for comment Wednesday.