The 19-year-old black man who was shot dead Friday during a confrontation with a police officer in Madison, Wisconsin, was unarmed, police said Saturday.
He was identified as Tony Terrell Robinson Jr., a graduate of Sun Prairie High School, a family spokesman and authorities said. "It's a challenging time for this family right now. To lose a son, especially the way they lost a son," said the family spokesman, Michael Johnson.
The shooting took place Friday at about 6:30 p.m., Madison police said, and sparked protests, including a sit-in at Madison City Hall.
Madison Police Chief Mike Koval said at a Friday news conference that an officer — later identified as veteran cop Matt Kenny — responded to reports of a man jumping in and out of traffic and that "the same subject had been responsible for a battery that had recently been committed."
Koval said Kenny followed the man to the residence where the alleged battery had taken place, and said the man attacked the officer there. During the confrontation, the officer drew his weapon and shot the suspect.
The officer performed CPR on the suspect, who was taken to a hospital but later died, Koval said.
At another news conference Saturday, Koval said that Kenny, a 12-year police veteran, has been put on paid administrative leave as the state Department of Justice's Division of Criminal Investigation conducts an independent probe into the shooting.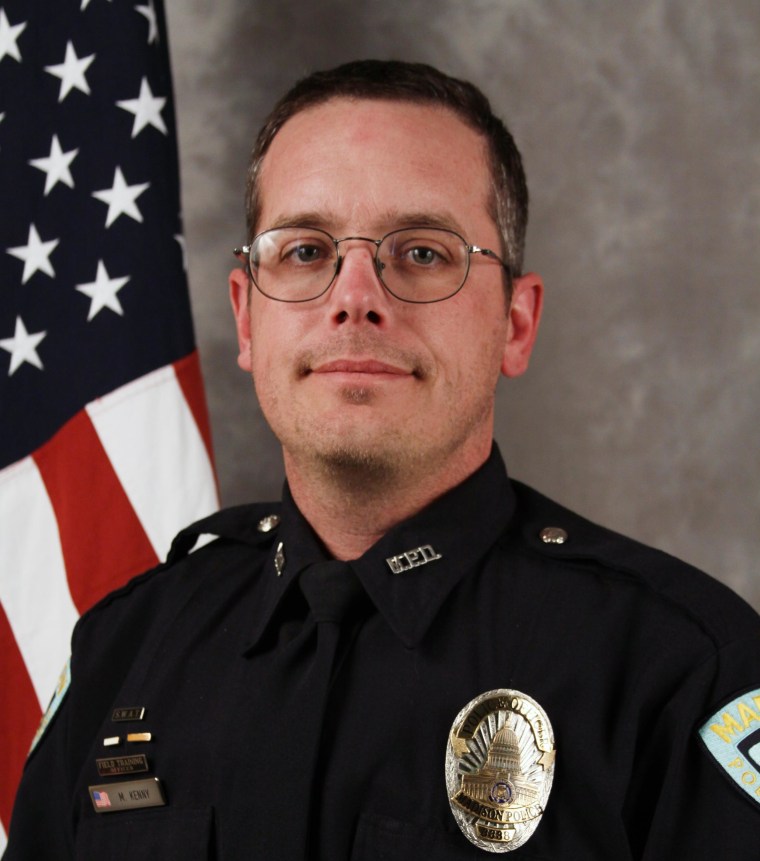 "Our community has many questions, questions that I share. There will be answers," Madison Mayor Paul Soglin said in a statement Saturday. "When the answers come, we will be open and transparent in communicating them."
Kenny, 45, had been involved in a previous officer-involved shooting, but was "exonerated of any criminal culpability" in that case, Koval said, saying the shooting was determined to be "suicide by cop." Koval said Kenny later received commendation for his actions during the incident.
A Madison Police Department report said that a "man with a gun" at a residence was fatally shot by police in that July 15, 2007 incident.
The man who was killed, Ronald Brandon, called 911 to report a man with a gun threatening neighbors, gave a description of himself, and police said he pointed what looked like a firearm at them when they arrived, NBC affiliate WMTV reported at the time. The weapon turned out to be a pellet gun.
The Dane County District Attorney's Office later cleared Kenny and two other officers involved in the shooting, saying that the victim pointed "a very realistic-looking facsimile firearm at police effectively compelled officers to resort to deadly force," the station reported.
When asked during Saturday's news conference if Robinson had a record, Koval said it would be "wholly inappropriate" for him to discuss the character of someone who has "lost his life less than 24 hours ago."
More than 100 protesters gathered at the scene of the shooting, according to witnesses and reports, with video showing the crowd chanting: "Who can you trust? Not the police."
Some of Robinson's family members attended the protests, and said investigators have not allowed them to see his body.
"They won't let us come near him," Sharon Irwin, Robinson's grandmother, told the crowd that had gathered Friday night after the altercation. "I just want to hold him and tell him it's OK. Go home to God. They told me he was evidence."
"He was a beautiful, beautiful soul and everybody that knew him knew that," Irwin told the crowd of protesters.
"This is the type of child that you wanted to have in your life because he made it better," added Robinson's aunt, Lorien Carter.
Family spokesman Michael Johnson said on Facebook that Robinson was a "loving and caring young man" who was about to attend Milwaukee Area Technical College to pursue a business degree. The family met with the mayor and police chief Friday night, Johnson told NBC News.
"In light of so much things that have happened — not just across this country, but in our own community — it was understandable that the reaction seemed from some of our citizens extremely volatile, emotional and upsetting," Johnson said. "We understand that. It is absolutely appropriate under the circumstances."
Koval appealed to the public to stay calm and be patient while the investigation got underway, but said he also understood that Robinson's death could be a "catalyst to be concerned." Koval encouraged residents to peacefully "tell me squarely how upset they are with the Madison police department."
NBC News' Matthew Grimson contributed to this report.