A magnitude-7.1 earthquake knocked items off shelves and walls in south-central Alaska and jolted the nerves of residents in this earthquake-prone region. But there were no immediate reports of injuries.
The earthquake struck about 1:30 a.m. Alaska time and was centered 53 miles west of Anchor Point in the Kenai Peninsula, which is about 160 miles southwest of Anchorage, according to the U.S. Geological Survey.
About two hours later, a magnitude-4.3 aftershock hit the Cook Inlet, the agency said.
In the community of Kenai, Alaska, one home was damaged and 30 homes were evacuated after a gas leak was reported. According to Kenai Police Chief Gus Sandahl, there was a fire at a home shortly after the earthquake hit. Firefighters were able to extinguish the fire.
"Residents smelled gas so police and fire evacuated residents in surrounding homes," Sandahl told NBC News. "Hours after that, between 5 a.m. and 6 a.m., there was an explosion at a different residence."
All fire personnel were accounted for and there were no serious injuries. A shelter was set up at the Kenai Armory for people who had to evacuate.
"They're still trying to resolve the gas issue," Sandahl told NBC News.
The earthquake was also widely felt miles away by residents of Anchorage. But the Anchorage and Valdez police departments said they have not received any reports of injury or significant damage.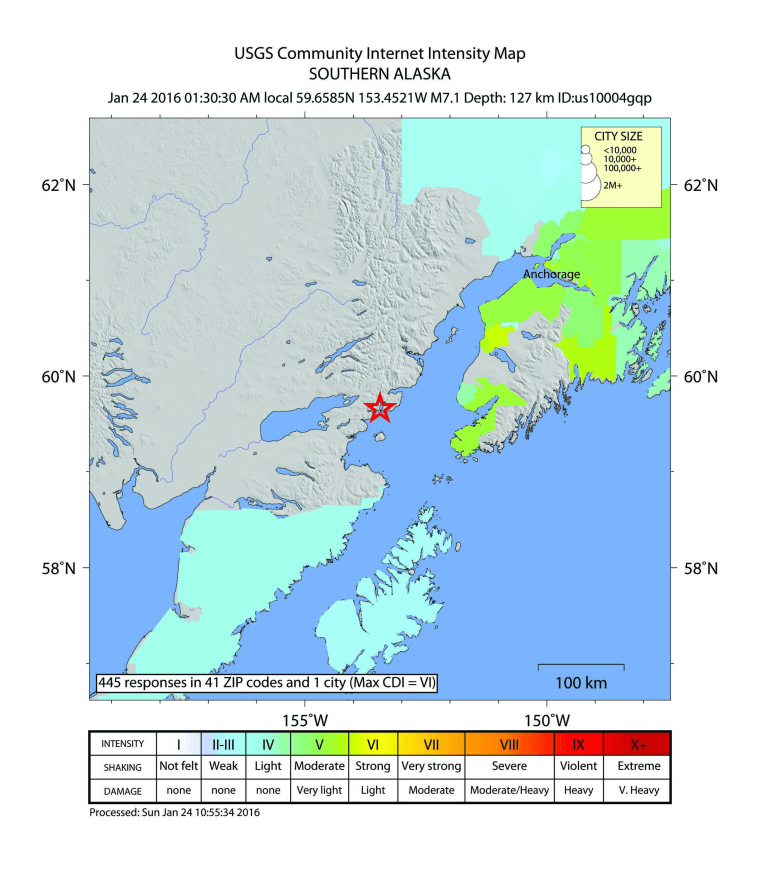 Ron Barta said his Anchorage home shook about 1:34 a.m. when the earthquake hit. The pictures on the walls started moving, but there was no damage to his house and no one was hurt, said Barta, 55.
"I was sitting here with the dogs getting ready to go to bed about 1:34 local time. ... I felt a little rumble that didn't quit for about 30 to 45 seconds. It felt like the house moved," said Barta, who is married to an Associated Press reporter.
Vincent Nusunginya, 34, of Kenai said he was at his girlfriend's house when the earthquake hit.
"It started out as a shaking and it seemed very much like a normal earthquake. But then it started to feel like a normal swaying, like a very smooth side-to-side swaying," said Nusunginya, director of audience at the Peninsula Clarion newspaper. "It was unsettling. Some things got knocked over, but there was no damage."
There were reports of scattered power outages from the Matanuska Electric Association and Chugach Electric in the Anchorage area. The Homer Electric Association reported on its website that about 4,800 customers were without power early Sunday in the Kenai Peninsula.
The Alaska Department of Transportation reported on its Facebook page that there was road damage near the community of Kasilof, on the Kenai Peninsula.
The KSRM (Radio Kenai) radio station in the Kenai peninsula said that about 2:30 a.m. the Kenai Fire Department was on the scene of a gas leak and explosion at a home. Fire departments in Kenai, Anchorage and other communities were getting calls about the quake.
A dispatcher for the Homer police department, who declined to identify herself, said no one called to report broken gas lines or any significant damage, but many called to report feeling the strong quake.
The violent shaking woke up Associated Press reporter Mark Thiessen, who had been asleep for about two hours when then quake struck.
"I remember the bed swaying back and forth, and loud noises, enough to wake me up even after taking sleeping pills," said Thiessen, 53. "My husband came into the bedroom forcefully saying, 'Get up! Get up!' " he said. "But I was already awake, trying to figure out what was happening."
The hashtag #akquake was trending early Sunday on Twitter, where people were sharing their experiences of the quake and posting photos of items that had fallen off walls and shelves.
People were saying on social media that the earthquake "was the biggest I ever felt as long as I have lived here," Barta said. One Twitter user wrote: "Everyone in Anchorage is awake and on Twitter right? Biggest longest #earthquake of my entire life. Family is all hanging in our bed now."
A tsunami is not expected as a result of the earthquake, the National Weather Service said.