The Florida man charged Friday with sending more than a dozen pipe bomb packages to prominent critics of President Donald Trump was a bulked-up, down-on-his luck former stripper with a right-wing bent who had been living in his van.
DNA evidence played a role in the arrest of 56-year-old Cesar Altieri Sayoc, whose past criminal history includes an arrest for making a bomb threat — and who, according to a cousin, also worked as a bouncer in a number of strip clubs and described black people during a 2014 conversation using a racist term in Italian slang.
"I said, 'What do you hate for?'" recalled the cousin, Lenny Altieri — who noted that Sayoc is part Italian and part Filipino. "He got very upset with me and that was the last time we spoke."
"I couldn't understand why he'd say something like that," Altieri added. "He's multi-racial himself."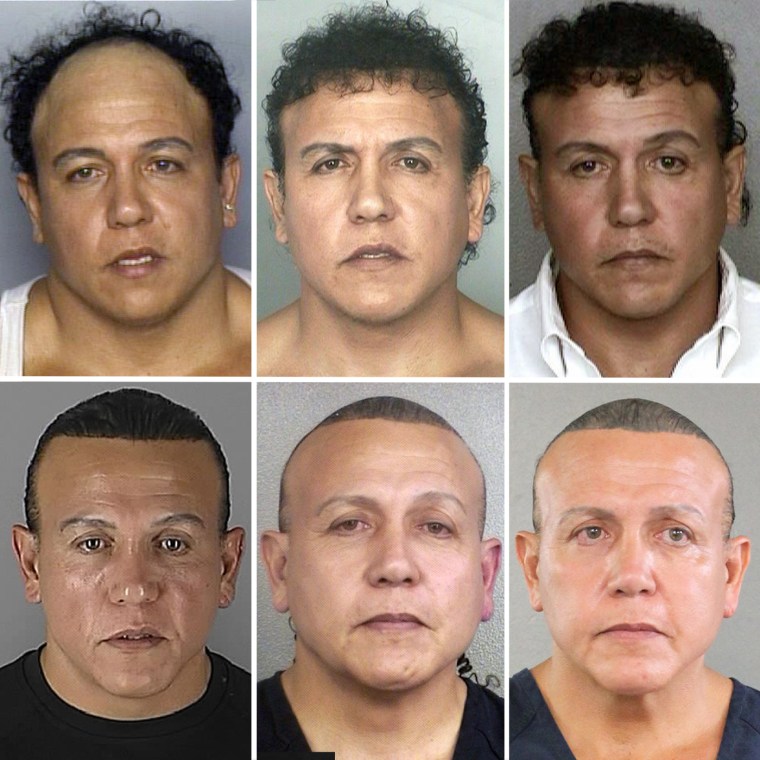 Sayoc was hit with multiple federal charges, including making "threats against former presidents," in connection with the pipe bombing campaign that could send him to jail for up to 48 years. Nobody was hurt, but the bombs were real, officials said.
"These are not hoax devices," FBI Director Christopher Wray said.
Earlier, the suspect's white van, which had pictures of Trump and the presidential seal plastered to the windows, was seized by the officials and hauled off to a secure facility in Plantation, Florida.
In Washington, Trump praised the FBI and Secret Service for the swift arrest.
"It's like a needle in a haystack," Trump said. "And they have done an incredible, incredible job."
A registered Republican, Sayoc appeared to attend a Trump rally in West Palm Beach, Florida, in 2016. His Facebook page and Twitter accounts contained several postings in support of Trump.
There were also several on his Facebook pages critical of George Soros, the liberal philanthropist who also was targeted with one of the package bombs earlier this week. The account handles were equally ominous — "Killgeorge Soros" and "Killall Socialist."
A Facebook spokesperson said Sayoc's page was taken down after it was flagged.
"In line with our policies, as our community standards explain, we do not allow praise or support for horrendous acts like these," the spokesperson said. "We also do not allow the suspect to maintain a presence on our site, so we've removed his account."
Altieri said Sayoc was born in Brooklyn but moved to Florida as a child and grew up in North Miami Beach.
Sayoc has a criminal record in Florida and was arrested in 2002 for making a bomb threat, according to Miami-Dade County court records. He pleaded guilty. There were also two arrests, one in 1992 and the other in 2014, for petit theft.
In the later theft case, Sayoc tried to walk out of a Walmart with a shopping cart filled with $239 worth of merchandise, according to an arrest affidavit.
In 2015, Sayoc was convicted of stealing a heavy rolling briefcase and a garment bag from Walmart worth $58.
Sayoc also had a misdemeanor arrest on his record in North Carolina, where he was charged in 1999 for possession of stolen car, records show. And in 1995, he was charged in Minnesota with theft and possession of crack cocaine.
In May 2015, Sayoc also said that he was the victim of a robbery, according to a Broward County Sheriff's report obtained by NBC News. The report says that 11 items of clothing worth roughly $7,000 were taken from Sayoc.
Listed under the "make" section of the report, describing the nature of the clothing, was the president's name — "Donald Trump."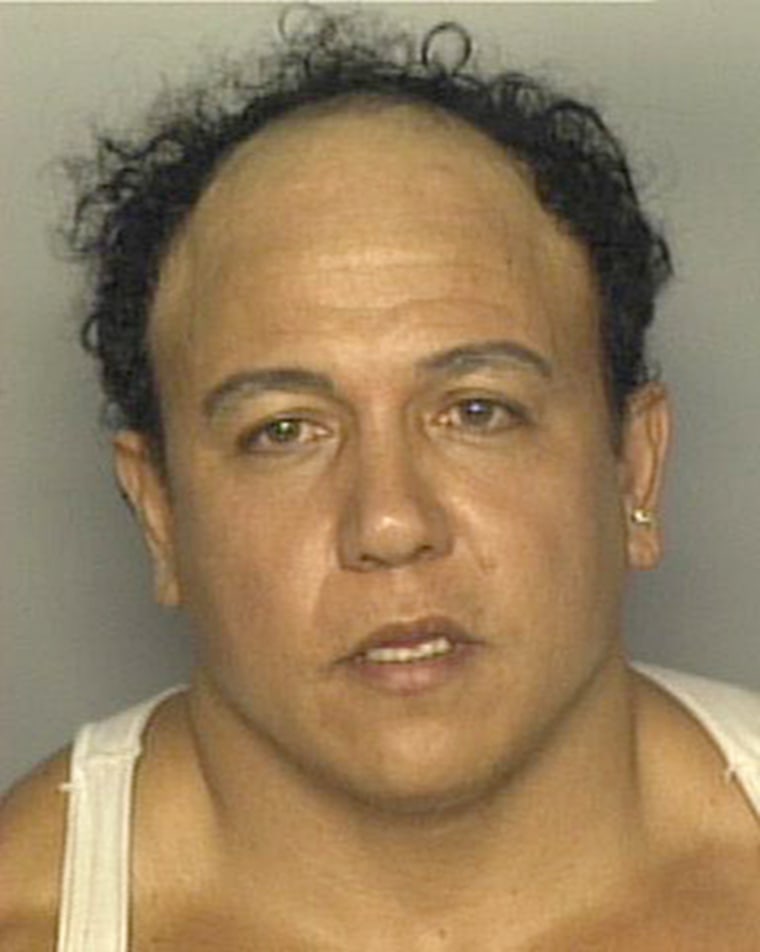 The suspect also appeared to have money troubles. Records revealed he had a property foreclosed on in 2009 and filed for bankruptcy in 2012. At the time, he was living with his mother and employed as a grocery store manager, records show.
But of late, Sayoc had been living in his van and showering at the gym where he works out, a Florida-based cousin told NBC News.
Sayoc played soccer for one semester at the University of North Carolina at Charlotte in 1983. "He was a good kid and a hard worker," former teammate Philip Drosdick said.
But Drosdick said their relationship took a bizarre turn after he left UNCC for the University of Central Florida and Sayoc followed. He said Sayoc suspected he had stolen his favorite jacket and took revenge by sneaking into his room, grabbing one shoe of every pair he had as well as his mattress, several jackets and pants, and his $350 surfboard.
Drosdick said he found most of his stuff in a shed. "I've not seen Cesar or my surfboard since then, " he said.
Records show that Sayoc also lived for a time in New Jersey, Michigan and Brooklyn, New York.
On Facebook, Sayoc also claimed to be a booking agent with the Seminole Hard Rock Hotel & Casino. A spokesperson for the tribe told NBC News that Sayoc was not a member and had never been employed at the casino.
It was not immediately clear if Sayoc has Native American ancestry. But he named the two businesses he operated for a time Native American Catering & Vending and Proud Native America One Low Price Drycleaning, according to Florida business records.
On his LinkedIn page, Sayoc listed himself as Cesar Altieri and claimed to have worked for Chippendales. After word of this leaked out, the male striptease dance troupe quickly issued a statement declaring that Sayoc "has never been affiliated in any way with Chippendale USA, LLC."
Sayoc grew up in North Miami Beach with his two sisters and was thrown out of his house as a teenager, the cousin, Lenny Altieri, said.
He described him as a "loose cannon" and a "lost soul" who was estranged from his family and had been abusing steroids.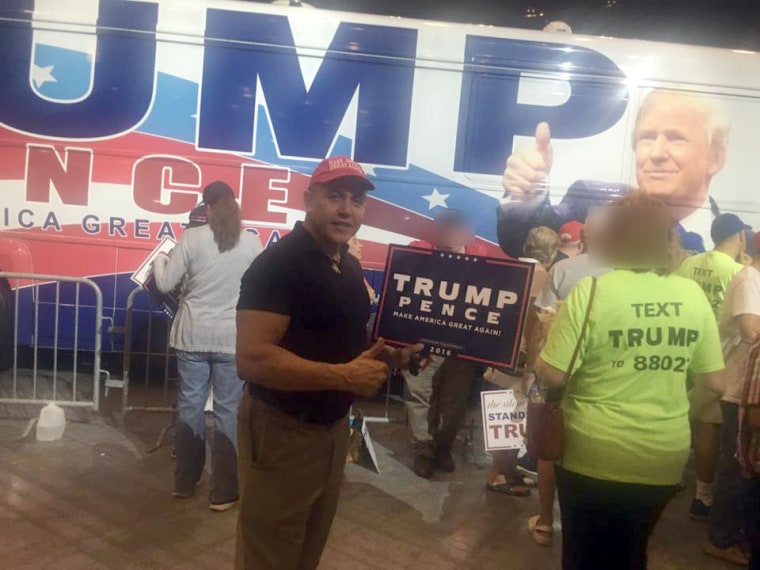 "He's been in the strip clubs since he was 22, that was his life," Altieri said. "He was a male dancer and he wanted to be a wrestler. He was taking steroids. He was all buffed up. ... He was built like a rock."
Another cousin, who lives in another state, told NBC News she was stunned by Sayoc's arrest.
"Oh my God," the woman, who asked not to be identified, said. "He's always been a very nice, thoughtful person. I don't know anything about this. It's shocking."
The cousin said that she hadn't seen Sayoc for two decades but that he called her recently after her father died.
"It was mostly just small talk," she said. "How's your family, that kind of thing. I don't really know that much about him. We have a very big family."