Gun safety advocates ripped Maine's firearm laws as ineffective Friday after a suspected gunman, whose family said he was experiencing an "acute" mental health episode, allegedly shot dead more than a dozen people, triggering an ongoing manhunt.
"Our gun laws are woefully weak," said Cam Shannon, chair of the nonprofit Maine Gun Safety Coalition. "We have long felt that this is a question of not if, but when."
In 2019, Maine implemented what is known as a "yellow flag" law, which outlines several steps that must be taken before a weapon can be removed from an individual who poses a danger to himself or others.
Follow along for live coverage
Gun safety advocates said the law is a watered-down version of the so-called red flag laws that have been adopted by 21 states. These laws vary but generally require fewer procedural steps.
Under Maine's law, a person who is concerned that a family member may be a threat to himself or others must first alert law enforcement, which would then take the family member into protective custody, according to Nick Suplina, the senior vice president for law and policy at Everytown for Gun Safety, a national gun violence prevention nonprofit.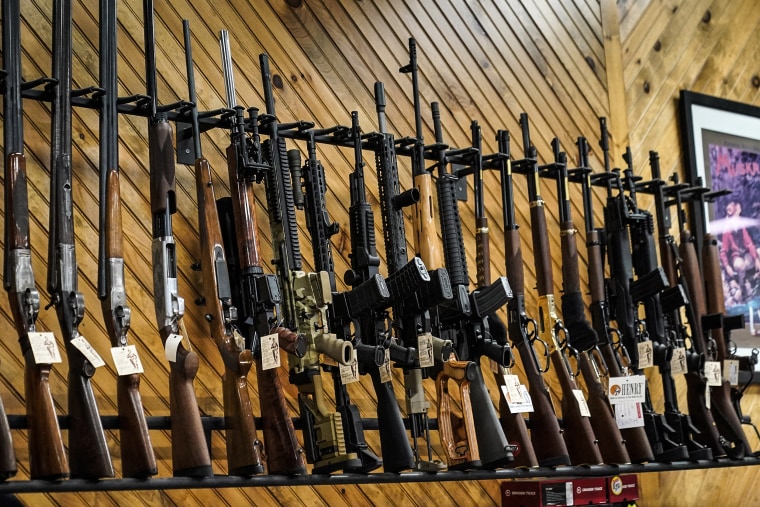 From there, the family member would need to be evaluated and deemed a threat by a medical professional — an added barrier that is not required under red flag laws, experts said. Only after a medical diagnosis could a judge approve an order to temporarily remove the firearm.
"This is a bit arduous. It's not fast, and it's not easy," Suplina said. "The Maine law is unduly narrow. It's difficult to administer, and for that reason, it's not an effective way to stop mass shootings."
Card, 40, is accused of fatally shooting at least 18 people and injuring many others at a bar and a bowling alley in Lewiston, Maine, on Wednesday night. The longtime Army reservist has not been found as of Friday afternoon, authorities said.
Card's family told NBC News on Thursday that he had been hearing voices for months. "His mind was twisting them around," said Katie Card, the suspect's sister-in-law.
She said the family reached out to police and Card's Army Reserve base as they "got increasingly concerned."
Two senior law enforcement officials said Card's unit commanders sent him to receive psychiatric treatment this summer after they became concerned about threats he made to the base and his claims that he was hearing voices.
Card spent about two weeks undergoing inpatient psychiatric treatment and was released, the officials said. It is not clear what further action was taken.
A Defense Department official said Card's unit requested that law enforcement be contacted in July after he began behaving erratically. New York State Police responded and took him to Keller Army Community Hospital at the U.S. Military Academy for medical evaluation.
At a news conference Friday, police officials in Maine declined to answer when asked whether law enforcement had been warned about Card and failed to act under the state's yellow flag law.
"I'm not gonna talk about who knew what and when," said Michael Sauschuck, the commissioner of the Maine Department of Public Safety.
Gun safety advocates are left questioning whether Maine's yellow flag law could have helped stop the shooting.
Even though Card underwent psychiatric treatment, Suplina said he believes that would not have immediately set Maine's yellow flag law into motion because that process involved a law enforcement agency in a different state.
The family would have likely had to contact police in Maine, starting a new process, Suplina said.
It's unclear if that happened. Katie Card declined to discuss whether the family tried to restrict his access to firearms on Thursday and could not be reached for further comment Friday.
Suplina said "all of this could have been avoided."
But even red flag laws have limits.
In New York, where such a law exists, authorities said that less than a year after a white teenager in upstate New York was investigated for making a threatening statement at school, he legally purchased a firearm, which he is accused of using to gun down 10 Black people in a racist rampage in 2022.
That law — which aims to stop people from buying or possessing firearms when they show they are threats to themselves or others —should have helped thwart that attack, but gun policy experts said a lack of awareness about the measure likely played a role.
"Red flag laws are effective, but implementation is everything," Suplina said. "They're only a good tool if you take them out of the toolbox."
In Maine, 178 people died by firearms in 2021, the most recent year with available data, according to the U.S. Centers for Disease Control and Prevention. That is a death rate of about 13 per 100,000 residents, CDC statistics show.
Of those deaths, 158 were suicides, 17 were homicides, and two were unintentional, according to the CDC.
While Maine's gun death rate is below the national average, Shannon said the state needs stronger gun laws to prevent another mass shooting and firearm-related suicides.
"I hope that this is a wake-up call," she said.