TUSCALOOSA, Ala.—Draft day teenage millionaires, the college championships, and invite-only summer showcases: this is what summer is known for in amateur baseball. But there is another summer out there. It's light years from the steak dinner side of the game. And yet, Major League Baseball's open tryout season may offer a feistier, funnier, more inspiring drama, making a case for itself as one of the greatest traditions in sports.
Every June through late July, the Major League Scouting Bureau organizes a series of come one, come all events for hopefuls of any age. There is no charge, and the bureau feeds information to every Major League team, allowing under-privileged, overlooked players to be evaluated by some of the game's most accomplished prophets.
"Our responsibility is to leave no stone unturned," says Frank Marcos, director of the bureau. "We have to report on everyone we feel has the potential to play professional baseball."
In the recent movie "Million Dollar Arm," Disney gave America the feel-good story of an unofficial open tryout competition. That one rolled through India in 2007. But Major League Baseball quietly rolls a bigger, more wide open traveling event through this country every year. And it too changes lives: dozens of players have signed contracts. Some have even made the big leagues.
At an open tryout in the late 1990s, a soft-bellied 35-year-old high school coach from Texas threw hard enough (13 pitches at 98 mph) to make his Major League debut with the Tampa Bay Rays that fall. A couple of years ago, a 28-year-old oil field worker from Pennsylvania hit 97 mph on the radar gun, and was in professional baseball two weeks later.
"It doesn't happen much," says Tim Osborne, who runs the bureau's scouting operation in the southeast, "but it does happen."
I was interested to find out if it might happen to me. Eleven years ago, in a game against the University of Richmond, I hit a lazy fly ball to right field, and my 18-year baseball career was over. I got on the bus to the rest of my life, as all ballplayers do eventually. This was a chance to go back for a day, and to meet some of the thousands of other people who never fully hang up their cleats, and never really have to, thanks to baseball's unique tolerance for dreamers.
After a rainout in Clementine, Kentucky, Osborne and his colleague Kevin Saucier held the first tryout of the season last month in Tuscaloosa, Alabama, one of the bigger cities on the tour. This month MLB will hit Rockford, Illinois; Council Bluff, Iowa; and Hampton, Virginia. "We want to see kids no one ever has before," says Saucier, who pitched five seasons in the majors (nickname: "Hot Sauce") before becoming a scout in the early 1980s. "That's when this is exciting."
As dawn broke in Tuscaloosa, the hopefuls started appearing in the parking lot of a pretty little community college called Shelton State. Osborne and Saucier arrived at about 8 a.m., detonating a firestorm of nervous energy. Every patch of grass came alive with people stretching, pacing, fidgeting. The players ranged in age from 14 to well over 40, but most had a twisty, woebegone tale of how they ended up here, desperate for a last, best, first chance at something better for themselves.
The more I heard, the more Shelton State seemed like Ellis Island in the shape of a baseball diamond.
"I thought, wow, maybe I have some rediscovered talent."
The players most coveted by Major League Baseball were the young unknowns: kids still in high school or college, but who somehow hadn't been written up before. Maybe they'd been home schooled, like Kevin Raketic, a compact 18-year-old catcher from the Florida panhandle. Or maybe they'd lost a couple years to football or family need, like Nehemiah Johnson, a burly 18-year-old third baseman who gave his aunt $100 in gas money to make it here from Macon, Georgia.
Another closely-watched group was young men on the bubble, notably college stars who had run out of college eligibility. Dillon Ortman was the ace of Auburn University this past year. He's not a hard thrower, but he wins games, and after being passed over in the draft he was hoping for a free agent contract. Prior to Tuscaloosa he had been cold-calling old contacts with the same question: "Hey man, can you help me out?"
And then there was the last group, my group: the old-timers. I thought I was blending in until I got a shoulder tap from a second baseman with some faint gray hair under his cap. He hadn't played scholastic baseball since 1987, and, like me, he was struggling to fill out a Major League Baseball Scouting Card with some unexpectedly tricky questions. Current summer league? Current school team?
His name was Richard Perez, a 45-year-old high school art teacher from Miami. Recently, he found himself at a batting cage, crouched over, the bat held steady, a sensation of power in his hands. The machine arm cranked and flung a hard one. Perez stepped forward and hit the ball into the back of the cage. "I thought, wow, maybe I have some rediscovered talent," he told me. He was joking, of course, but not entirely. After all, he had just driven 15-hours in to be here.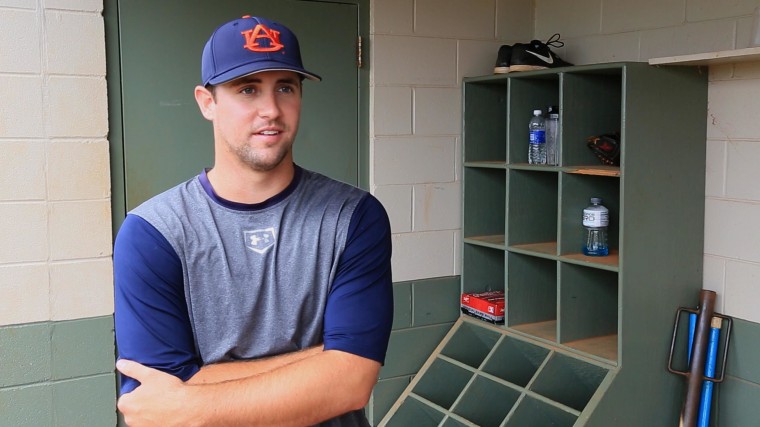 As a prep player in Maryland I had piled up the accolades. All-Metro, All-State. At the high school All-Star Game at Oriole Park, I homered to give the North team the win. Soon I was one of Maryland's "top prospects," according to Collegiate Baseball Magazine, and the area's Major League scouts invited me to the East Coast Professional Showcase. Every honor came with a newspaper picture, and I learned to stare into the camera like it stole my girlfriend.
But I was never a true denizen of jock land, and that's a credit to one man: Mark Teixeira. The future All-American, future Olympian, future All-Star first baseman for the Yankees was my teammate for two summers of American Legion baseball. He once bloodied my nose in a hotel in Fredericksburg—I called the bed; he suggested the floor—and by the sheer presence of his talent he disabused me of any dreams of playing professionally. I was good. But I was not that guy.
I was actively pursued by exactly one professional team, the Tampa Bay Rays. The scout shook my hand, patted my shoulder, and gave me a 15-page "Psychological Exam," reminding me to fill in all the bubbles completely, which I did, thinking very hard about how I answered each question. He did not call again.
"Do you want me to be honest, son?"
In Tuscaloosa, the tryout consisted of evaluating every player on their "five tools"—the baseball term for how well a person hits, hits with power, runs, fields, and throws. The scouts rated every tool on a scale of 20 to 80, and then blended them into a single number for overall future potential, or OFP. This is the way scouts have been working for decades, no matter the venue or the player.
In 2003, the same year I left baseball, Michael Lewis published Moneyball, which popularized a system of stat-crunching said to spell the end of the old five-tools model of scouting. Instead of an army of salty old baseball gurus canvassing the country, baseball would have an army of pimply young stat geeks canvassing nothing more than their keyboards.
It didn't quite happen that way. Stats on amateur players are themselves recorded by amateurs, which means the results are unreliable. That means the models are too, and the Major League Scouting Bureau is still very much in demand, along with their counterparts on each Major League team.
"When you're breaking down a high school kid or a college kid you still need the opinion of a professional scout," says Marcos, the bureau director. "We are still somewhat old school. We tell our scouts to utilize statistics in the overall picture, but at the end of the day it's their gut feeling."
It took Osborne and Saucier eight hours to gestate a gut feeling on 400 hopefuls in Tuscaloosa. For me, and most of the other players, seven hours and 58 minutes of that time was spent just standing around, waiting for a fleeting chance. First, Osborne took a couple hundred people out along the right field foul line to run the 60 yard dash two at a time. The Major League average is 6.8 seconds, Osborne said, as people started to line up.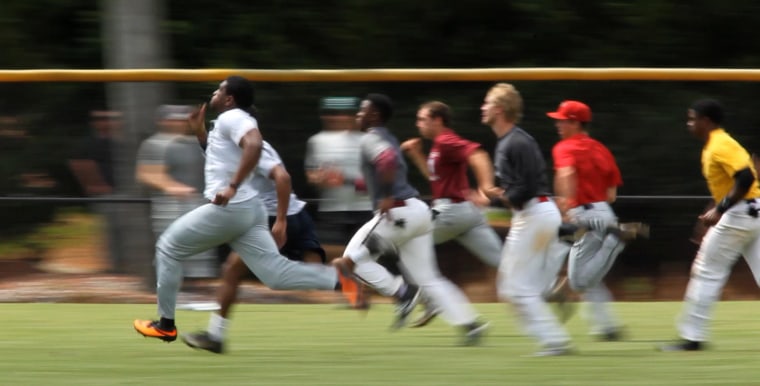 When I first decided to do one of these tryouts, I vowed to do it right, to hit the gym, run, regain something lost. A year later, I hadn't done a single day of exercise to prepare. I had coached some T-ball. I had bought a pair of baseball pants and long socks. I actually thought I was doing pretty well, staying kind of flat bellied, until a friend of mine told me I was looking in the wrong place. Try your lower back, he said, and I did. It felt like gel pads.
At the tryout I ran a 7.7 second dash, a full second off my best times in high school. That might sound like a victory: a decade older and only a second slower. But it sent me down to the floor. I used to like the Springsteen song, "Glory Days," which opens with a verse about a scintillating high school baseball player. I used to think I was that player. Somehow I never thought I'd become that song.
Next I threw from the outfield, and, hey, my arm actually worked. I threw two balls to third base on a line. I whipped two more into the vicinity of home plate, and came over to Osborne smiling. His evaluation of my throwing ability—only one of the five tools—was immediate and entirely honest. He called me "fringe average." And he didn't mean upper fringe.
I didn't even ask what he rated me as a hitter. I never had home run power, but I used to make solid, consistent line-drive contact. Those days are over. I got five tryout swings and only got one ball out of the infield. Afterwards I got all the feedback I needed from the coach of Shelton State. "Hey," he said, jogging over. "You didn't embarrass yourself!"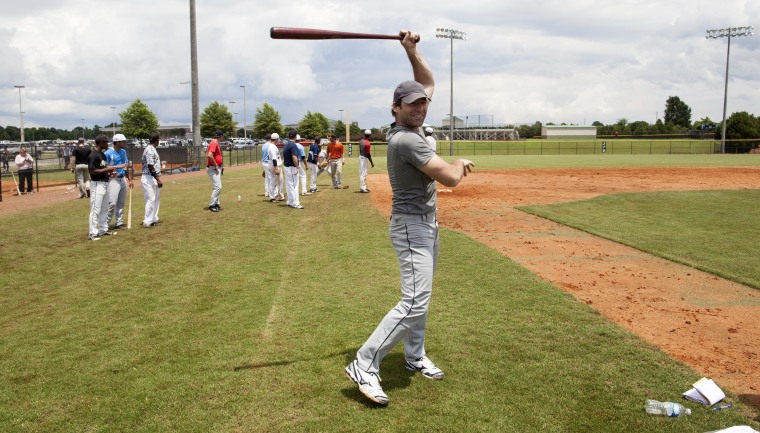 I wasn't the only subpar performer on the field that day. Richard Perez, the middle-aged art teacher, ran an 8.6 in the 60, one-hopped all his throws to first base, and came out of the batting cage with his face in his hands. Meanwhile, Nehemiah Johnson, the 18-year-old from Macon, Georgia, ran a 7.9 in the 60, and didn't get much zip on his throws from third base. He couldn't even stick around for the hitting, since his aunt had to get home. "I'm starving," he said on his way to the car. "But it doesn't even matter. I'll die for baseball."
Near the end of the day, Osborne looked red and tired himself. His father and grandfather both played in the majors, and after 30 years as a scout, few people in the business know baseball better than him. Looking over his charts, he couldn't find a single immediately signable hitter. A few guys were worth following, he said, in an untamed southern accent. "But I'm not really seeing it come together here. A few tools, but it's just not adding up."
It was mostly the same story with the pitchers and catchers. Kerry Allen, a 35-year-old pitcher and full-time stacker in a box factory in Opalacka, Alabama, threw his fastball 52 miles an hour. Kevin Raketic, the 18-year-old from Tallahassee, was one of the only players to swing and miss, eliciting howls from the guys shagging balls in the outfield.
Afterwards he made the brave decision to ask Saucier for some "constructive criticism." Saucier, whose bandy legs seemed to bow more as the hours passed, had taken a seat and Raketic crouched next to him.
"Do you want me to be honest, son?" said Saucier.
Raketic said he did.
"I don't think you have it," he said.
In fact, of 400 players at the tryout, only one is now playing professional baseball: Dillon Ortman. "He's got what we call pitchability," Saucier said, as Ortman threw in the pen. "He throws strikes. He won't walk people. He won't beat himself."
In the last few weeks, the Los Angeles Angels agreed. They signed Ortman to a free agent contract, and sent him to rookie league in Tempe, Arizona, where many of the new pros go.
I'll have to meet him there next year.