A man has been arrested after allegedly holding two hikers in Colorado at gunpoint and putting a nylon "leash" around a woman he had a history of harassing, officials said.
Kerry Endsley, 73, was arrested Friday, charged with second-degree kidnapping, felony menacing and violation of a restraining order, the Jefferson County Sheriff's Office said in a news release.
Dispatchers received a call at 8:10 a.m. about a man holding two hikers at gunpoint on a trail near the 3600 block of South Oak Way in Jefferson County, located 18 miles southwest of Denver, according to the release.
When deputies arrived on the scene, they found the victims, a married couple, but the suspect was at large.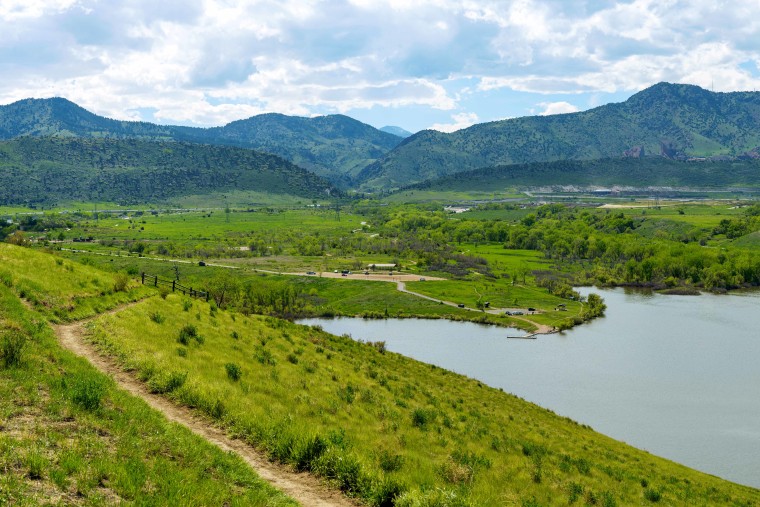 The two victims were not injured during the kidnapping.
During interviews with the sheriff's office, they told investigators that they were hiking when they came across a man tying his shoe. When they passed him, he confronted them with a handgun, the sheriff's office said. 
The suspect then "ordered the female to the ground and put a nylon leash around her neck," and told the couple to follow him, according to the release.
At some point, the victims realized they knew the suspect, who "had altered his physical appearance and disguised himself," the sheriff's office said.
Endsley has a history of harassing the woman, according to the sheriff's office. That history is documented in police reports and a restraining order, authorities said.
The couple was able to escape Endsley when the husband took away the suspect's gun, the release stated.
Authorities found Endsley a short distance away from where the couple was found and confronted him. He refused to comply, pulled a weapon that officials later learned was a stun gun from his waistband and pointed it at the deputies, according to the release.
One deputy fired his gun, missing the suspect. The second deployed a stun gun on Endsley.
The suspect was hospitalized and later taken into custody. 
He remains in Jefferson County Jail in lieu of $500,000 bail. His next court date is slated for Friday, jail records show.
Lawyer information for Endsley was not immediately available.
The First Judicial District Attorney's Critical Incident Response Team, a multi-law enforcement agency investigative team, is conducting the investigation into the deputy shooting, officials said.