A man accused of killing a woman and recording it on an SD card later found in the street has been indicted in the murder of a second woman in Alaska, authorities announced Thursday.
Brian Smith, 48, was indicted by a grand jury Thursday in the murder of Veronica Abouchuk, whose remains were found in April outside Anchorage, the Alaska Law Department said.
Abouchuk, 52, who had been reported missing in February, was last seen in July 2018, police said.
When Smith was interviewed after his arrest earlier this month in the September killing of Kathleen Henry, 30, he "admitted to shooting another female victim between 2017 and 2018" and provided the location of her body, officials said.
Smith pleaded not guilty Wednesday in Henry's death.
"We hope that these charges help bring some closure to folks for their missing loved ones," Deputy District Attorney Brittany Dunlop told reporters at a news conference Thursday.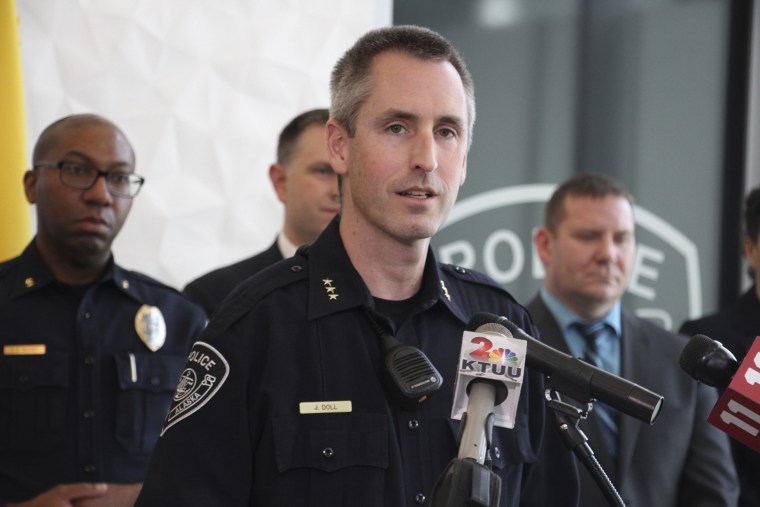 The law department said that Alaska State Troopers, who discovered the remains, found a skull with a gunshot wound from the area that Smith had identified. The medical examiner's office identified the remains Oct. 11 as those of Abouchuk, Anchorage Police Chief Justin Doll said.
Both victims were Alaska Native women, Dunlop said. Henry's body was found near the Seward Highway on Oct. 2.
Smith, who is from South Africa, was arrested in Henry's death after a person found an SD card in Anchorage's Fairview neighborhood Sept. 30 that contained videos that appeared to show the murder of a woman, police said.
That memory card led police to arrest Smith as he arrived at Ted Stevens International Airport on Oct. 8, in part because police recognized his accent from a separate investigation, officials have said.
The SD card was titled "homicide at the midtown Marriott," according to charging documents reported by NBC affiliate KTUU of Anchorage. The killing is believed to have occurred at the Marriot hotel Sept. 4, the law department has said.
Video on the card showed a woman being strangled and a man telling her to die, The Associated Press has reported.
Doll said that police are continuing to investigate the case.
"We will look at every single aspect of the case and if necessary, follow it wherever we need to," he said Thursday.
Smith had been indicted on charges that include murder, sexual assault and tampering with evidence in the death of Henry, and a specification of torture was made that could lead to a mandatory minimum sentence of 99 years if he is convicted, Dunlop said.
A grand jury added charges of murder and tampering with evidence in the killing of Abouchuk, and the state also filed a charge of misconduct involving a corpse, she said.
Smith is expected to be arraigned on the charges stemming from Abouchuk's killing Monday.