A man and his adult son were aboard a small private plane that was wrecked Tuesday after it collided midair with an F-16 fighter jet over South Carolina, officials said.
Officials have recovered the body of Michael Johnson, the 68-year-old passenger, Berkeley County Rescue Squad Chief Bill Salisbury said at a news conference Wednesday. Authorities are still searching for the body of his son, Joseph Johnson, the 30-year-old pilot of the Cessna 150.
The elder Johnson's body was found in a river near the crash site in the rural town of Moncks Corner, Salisbury said.
Related: Two Killed After Cessna Collides With F-16: NTSB
He told reporters that dive teams, helicopters and drones were scouring that same vicinity, about 30 miles north of Charleston, where the elder Johnson was found.
"Any case where you involve water recovery of debris is always very difficult," Dennis Diaz, a National Transportation Safety Board air safety investigator, said at a news conference.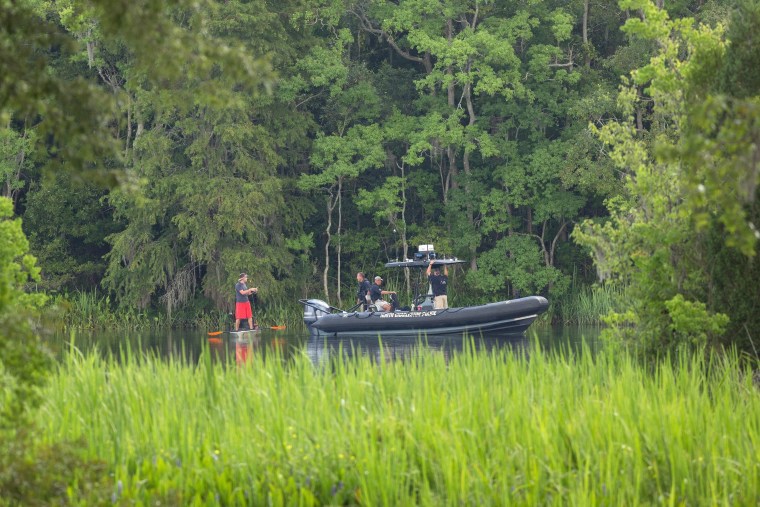 The Johnsons had left the Berkeley County Airport in Moncks Corner shortly before 11 a.m. ET Tuesday, officials said. The men were headed for Myrtle Beach for the day.
The pilot of the fighter jet — Maj. Aaron Johnson, of the 55th Fighter Squadron at Shaw Air Force Base — managed to eject from the aircraft and parachute safely in a plantation. He was taken to Joint Base Charleston for observation.
Johnson was flying solo, practicing instrument approaches to a military base and was communicating with Charleston air traffic controllers at the time, military officials said.
Debris from the collision was scattered on land and water, including a nearby rice field. Parts of the Cessna were spread out about 2,000 feet in length, Diaz said. There were no reports of injuries on the ground, and only one report of damage to property.
"We heard the plane crash," Leo Ramsey, who has worked at the Lewisfield Plantation for about 30 years, told The Associated Press. "And then we took off from where I was at, I guess I was about a half-mile from it, when we saw a cloud of smoke."
Ramsey and two other workers found burning metal, splintered trees and a flaming crater where the jet had crash-landed, he said.
The Cessna, a small, two-seat plane, did not have a black box. Most models weigh about 1,500 pounds when fully fueled.
By comparison, an F-16 is about 50 feet long and weighs nearly 10 tons, not counting fuel or weapons.
South Carolina officials said midair collisions between small aircraft and fighter jets in the area are rare.