A mother filed a wrongful death lawsuit after her son died in Alabama, alleging that the man was left naked in jail for days until he was transported "limp" and "not alert and conscious" to a hospital.
Tony Mitchell was a pretrial detainee at the Walker County Jail from Jan. 12 until his death Jan. 26, according to a federal complaint filed Monday in U.S District Court for Northern Alabama.
Mitchell's mother sued after a corrections employee showed her surveillance video of her son's time in custody that contradicted what she had been told by officials, the suit says.
"Although the medical examiner has not yet released the autopsy report, it is clear that Tony's death was wrongful, the result of horrific, malicious abuse and mountains of deliberate indifference," the suit says.
The Alabama Law Enforcement Agency is investigating Mitchell's death. The Walker County Sheriff's Office declined to comment Wednesday.
The suit accuses jail staff members of looking on and chatting by Mitchell's open cell door, "entertained" as he "languished naked and dying of hypothermia."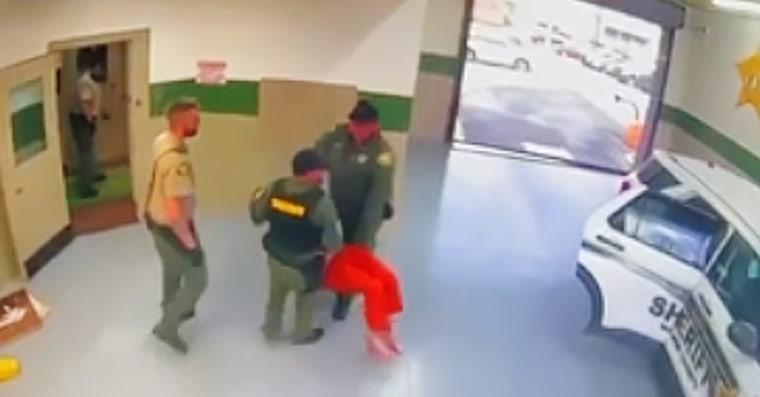 Mitchell was taken into custody after a family member asked officials to perform a wellness check, noting he might be a danger to himself or others, the Walker County Sheriff's Office said on Facebook at the time.
Mitchell fired a gun while deputies were on the scene and was charged with attempted murder, the sheriff's office said.
According to the lawsuit, Mitchell's cousin, Steve, had gone to the man's home and noticed that he appeared emaciated and unwell. Mitchell, who had recently lost his father and had a history of drug addiction, told his cousin that he believed his stillborn baby brother was in the attic and that there were portals to the afterlife in the home, the suit says.
"Steve realized immediately that his cousin, having lost around a hundred pounds from his healthy weight, having lived evidently in complete isolation during recent months, and spouting delusions about portals to heaven and portals to hell, was in serious need of psychiatric help," the suit says.
Walker County Sheriff Nick Smith and TJ Armstrong, a public information officer, were present when Mitchell was taken into custody, the lawsuit says. It alleges Armstrong told Mitchell's cousin and his mother that he would receive medical treatment and evaluation in custody.
The suit alleges that three days into custody, Mitchell was stunned with a stun gun, causing his false teeth to fall out of his mouth, and that officials placed them in a dated bag, the suit states, citing video a corrections officer provided to the family. Mitchell appeared to never get his teeth back, making it unlikely he was able to eat solid foods, the family alleges.
Mitchell was in a concrete cell, with only a drain in the floor, the suit says.
"Tony had no cloth uniform, possibly as a result of the jail's 'suicide watch' protocol," the lawsuit said. "In every video clip on which he appears during his incarceration, until deputies at last dress him in a jail uniform just prior to transporting him to the hospital on January 26, Tony appears completely naked."
Screenshots of video given to Mitchell's family are included in the lawsuit. An image from about 4 a.m. the day he died shows Mitchell naked on the floor and his cell door open. Corrections employees are outside the door and appear to be speaking to one another. It is unknown what was said.
Video from later that morning, which was provided to NBC News by the attorney representing Mitchell's mother and the jail employee who leaked it, show corrections officers carrying a clothed Mitchell to a sheriff's office SUV.
It's unclear whether Mitchell is conscious in the video as officers stand on either side and carry him into the car.
Mitchell's family says in the suit that Armstrong told them Mitchell was alert and conscious before he left the jail and that he was speaking when he arrived at the hospital at 9:23 a.m. Jan. 26.
The lawsuit says county officials told Mitchell's family that staff members found that his temperature began to drop during a routine exam that morning.
Mitchell's body temperature when he arrived at the hospital was 72 degrees Fahrenheit, according to medical notes included in the suit. The average body temperature is 98.6 degrees Fahrenheit, and hypothermia begins once the body falls below 95, according to the Mayo Clinic.
The emergency room doctor described being unaware of the underlying cause of Mitchell's hypothermia but believed it "was the ultimate cause of his death," the document says.
The lawsuit casts doubt on officials' claims that Mitchell's temperature began dropping only that morning. It notes that the family did not have access to video of Mitchell's location overnight.
"The only way for Tony's body temperature to have 'started dropping' to 72 degrees in such a short period of time was for him to have been placed in a restraint chair in the jail kitchen's walk-in freezer or similar frigid environment and left there for hours," the suit says.
Karen Kelly, the jail supervisor who leaked the videos of Mitchell, has filed a wrongful termination suit against the sheriff's office. She alleges that Smith fired her as retaliation.
The county administrator said that the defendants in the Mitchell wrongful death suit had not yet been served and that issues of representation would be determined afterward.
The county administrator did not reply to a request for comment about Kelly's suit.