A man who police say went into an Atlanta grocery store carrying a rifle and was later found to have six guns and body armor will remain in jail.
Rico Marley, 22, waived his first court appearance Thursday and will be held in the Fulton County Jail without bond, authorities said.
No one was injured in the incident, which unfolded around 1:30 p.m. Wednesday at the Publix in Atlantic Station, a popular outdoor shopping mall in the city. A witness told local ABC affiliate WSB-TV that he saw a man with what he described as an AR-15 rifle in the bathroom and "the weapon was leaned up in the stall of the bathroom, and it was not in a case."
Officers were waiting for Marley when he came out of the restroom, police said. It was not clear where the other guns were found or if he was wearing the body armor, but the Atlanta Police Department said he "had a total of six firearms in his possession" at the time of his arrest.
It is not clear why he had so many weapons inside the store.
Police released a photo of the firearms recovered, including two long guns and four handguns.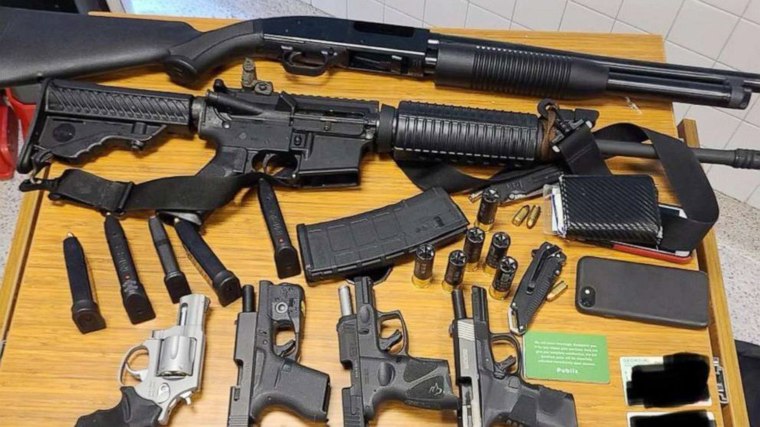 Marley's arrest occurred just two days after a gunman killed 10 people at a grocery store in Boulder, Colorado. The suspect in those killings is in custody and has been charged.
Last week, a gunman killed eight people in shootings that targeted a massage parlor and two spas in and near Atlanta. The suspect in those shootings is also in custody and has been charged.
Marley's next court hearing has not been scheduled, authorities said. He faces 11 charges, including five counts of criminal attempt to commit a felony and six counts of possession of firearm or knife during commission of or attempt to commit certain felonies, according to jail records.