Charlotte police on Friday announced the arrest of a suspect in the killing of a demonstrator shot during protests this week over a police-involved shooting.
The Charlotte-Mecklenburg Police Department identified the suspect as Rayquan Borum and charged him in the shooting death of Justin Carr, 26, who was on life support and died Thursday.
Police said Carr was wounded in a protester-on-protester clash at around 8:30 p.m. ET Wednesday during tense demonstrations that led to over 40 arrests. Authorities were investigating who was behind the shooting amid claims that an officer may have struck Carr.
Related: Footage Shows Fatal Encounter Between Police, Keith Lamont Scott
North Carolina Gov. Pat McCrory said at a news conference Friday that he's "convinced that no one from law enforcement was involved at all."
Tensions have flared in Charlotte since Tuesday's shooting death of Keith Lamont Scott, which was caught on police dashboard and bodycam videos.
Lawyers for the Scott family said they watched the footage Thursday, and the video shows him calmly walking back after he was approached by police outside a condominium complex near the University of North Carolina at Charlotte.
The officer who fired the fatal shot was in plainclothes as part of a special unit and was not wearing a bodycam. But Charlotte-Mecklenburg Police Chief Kerr Putney said three other officers at the scene were wearing bodycams.
He said he's reviewed one bodycam and one dashboard video so far.
Family attorney Justin Bamberg said in a statement that it is difficult to discern what Scott, a 43-year-old father for seven, was holding in his hands. Earlier, the family contended he was holding a book, but not a weapon.
Putney has said a gun was recovered at the scene, but no book.
A photo taken by witness obtained by NBC affiliate WCNC appears to show a gun lying near Scott on the ground.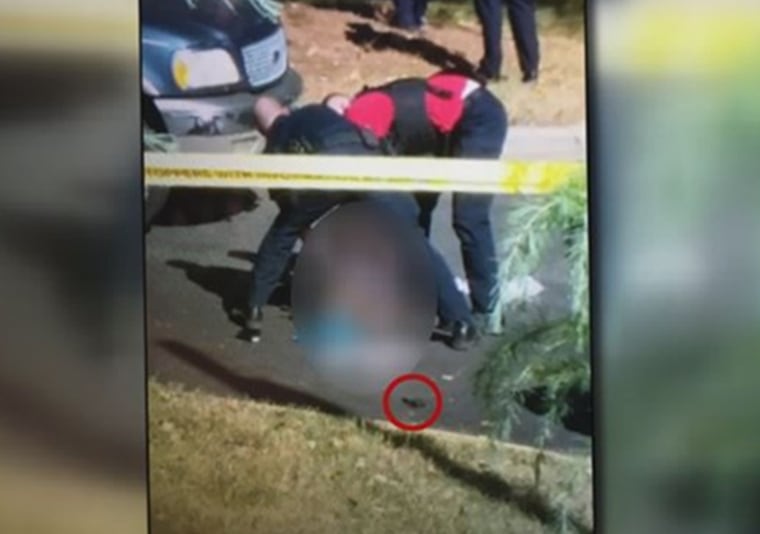 The officer who fired the fatal shot, Brentley Vinson, was placed on paid administrative leave, as is standard procedure. The State Bureau of Investigation has begun its independent review into the shooting.
Three arrests were made overnight Thursday, Putney said, as demonstrations escalated but remained "for the most part peaceful." He said he asked the city to implement a curfew — from midnight to 6 a.m. — after concerns of more protesters joining from out of state and people blocking streets.
PHOTOS: Defiant But Peaceful Protesters March Again in Charlotte
One officer suffered a hand injury, while two others were treated after they were sprayed with some type of chemical agent, officials said. By 1:45 a.m. ET, after about five hours, the protesters had largely dispersed.
Putney said the city was prepared for any further protests. "I'm still optimistic. I'm still proud of our city. I'm still proud of our community," he told reporters Friday.