A man accused of trespassing at a Virginia preschool had an AK-47 rifle in his car and told officers he was headed to the CIA, police said Wednesday.
Eric Sandow, 32, of Florida, was arrested Tuesday on a charge of felony possession of a firearm on a school property following the incident at the Dolley Madison Preschool in McLean, according to a statement from the Fairfax County Police Department.
Officers found Sandow, who told them "he was making his way to the CIA," police said. The CIA's headquarters is located about a mile away in Langley, an unincorporated community in Fairfax County. 
Though he was unarmed at the time, authorities detained him and executed a search warrant on Sandow's vehicle, according to the statement. Two firearms were recovered, police said.
The department shared a photo of the weaponry on its Twitter page. The photo showed an AK-47, a handgun, a cache of ammunition and several magazines. Police have not said why the suspect had the firearms in his car.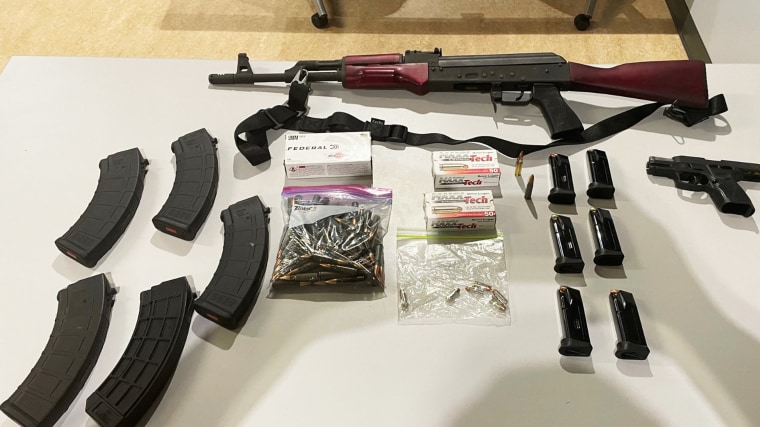 The school said in a statement that Sandow had trespassed on Immanuel Presbyterian Church and Dolley Madison Preschool grounds, which share an address. 
"He requested access to the building facilities to use the restroom, which was denied by school staff. At no point did he gain physical entrance to the school building," the school said. 
Police were called and Sandow was arrested.
He remains in custody at the Fairfax County Adult Detention Center. It is not clear if Sandow has a lawyer.  
The incident in McLean follows the arrest of a man on multiple charges after authorities said he crashed into barriers near the White House on Monday.
Sai Varshith Kandula, 19, of Chesterfield, Missouri, made incriminating statements that indicated to investigators that he was seeking to harm the president, officials said Tuesday.