An unarmed man who was beaten by Arizona police officers last month said Thursday that he wants changes in the Mesa Police Department so that it doesn't happen to anyone else.
"I am a family man and a God-fearing person," Robert Johnson, 35, said at a news conference at a Mesa church, occasionally becoming emotional. "I want Mesa to be held accountable for what, what they have done."
A police officer claimed in an arrest report that Johnson refused a request to sit down and looked ready to fight. That's why the officer tried to detain him, the report said, and the officer struck him several times after he resisted.
Four police officers had been placed on administrative leave, and a fifth officer was placed on leave Wednesday night, police said Thursday.
This week the police department released surveillance and body-camera video of the incident. The video does not appear to show Johnson, who is black, try to attack officers before police strike him with their hands.
Police were responding to a domestic disturbance call involving another man described as Johnson's friend.
The surveillance video shows Johnson leaning over a railing and then leaning against a wall before he is grabbed and struck. Police said he refused orders to sit down.
Mesa Police Chief Ramon Batista, who said he only learned about the May 23 incident last week, has promised an investigation. "At first glance this looks like a mistake, it doesn't look right," he said.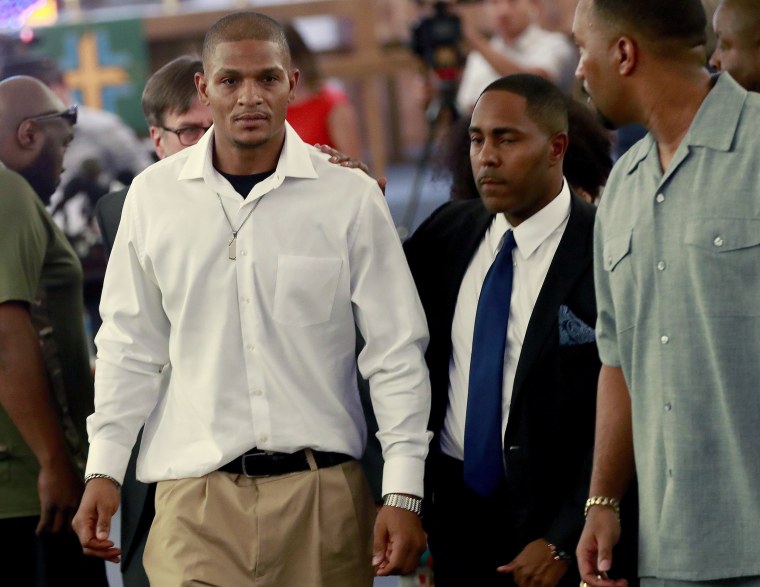 Johnson's pastor, Andre Miller, said Thursday that he and Johnson's attorneys don't believe that the incident was racially motivated. "This is a culture issue — a police culture issue that has to change," Miller said. "It could happen to any one of us."
Johnson faces charges of disorderly conduct and hindering prosecution. His attorney, Benjamin Taylor, said they want the charges dropped and are exploring legal options, including a lawsuit.
The video has prompted outrage from some civil rights groups. The American Civil Liberties Union of Arizona has called the arrest "horrific and another incident of the endemic police violence against people of color," and said, "Nothing about Johnson's behavior in the video justifies this brutality."
A police officer in an arrest report said that Johnson refused an order to sit down and instead leaned against a wall, which the office believed allowed Johnson to have "a strong base in the wall to fight off of."
That officer wrote that he then decided to "detain Johnson as soon as possible to prevent him from formulating a strategy."
A police sergeant wrote in the arrest report that Johnson was belligerent. He said he pushed Johnson's head into an elevator door after it appeared that Johnson was trying to spit at officers.
Another attorney assisting in Johnson's case, Joel Robbins, said Johnson was there to help a friend and neighbor gather some belongings. He and Taylor said they disagree with claims in the arrest report.
"After a police attack, an unjustified police attack, it is frequently the response of the police to say, 'It was their fault,' " Robbins said. "The police are the ones that get to write the report and say what they said happened."
After the encounter, the Mesa Police Department changed its use-of-force policy so that officers can hit people in the head or face only if they become physically violent, officials said.
An investigation into any criminal conduct that may have occurred in May 23 incident is being conducted by Scottsdale police, Mesa police said Thursday. An internal investigation by Mesa police is also ongoing, police said.
CORRECTION (June 15, 2018, 7:09 p.m. ET): An earlier version of this article misstated Robert Johnson's age. He is 35, not 33.