The man wearing a "Camp Auschwitz" shirt who was photographed at last week's deadly pro-Trump riot at the U.S. Capitol was arrested Wednesday in Virginia, officials said.
The man, Robert Keith Packer, 56, of Newport News, was booked into Western Tidewater Regional Jail by the U.S. Marshals Service at 8:53 a.m., according to inmate records.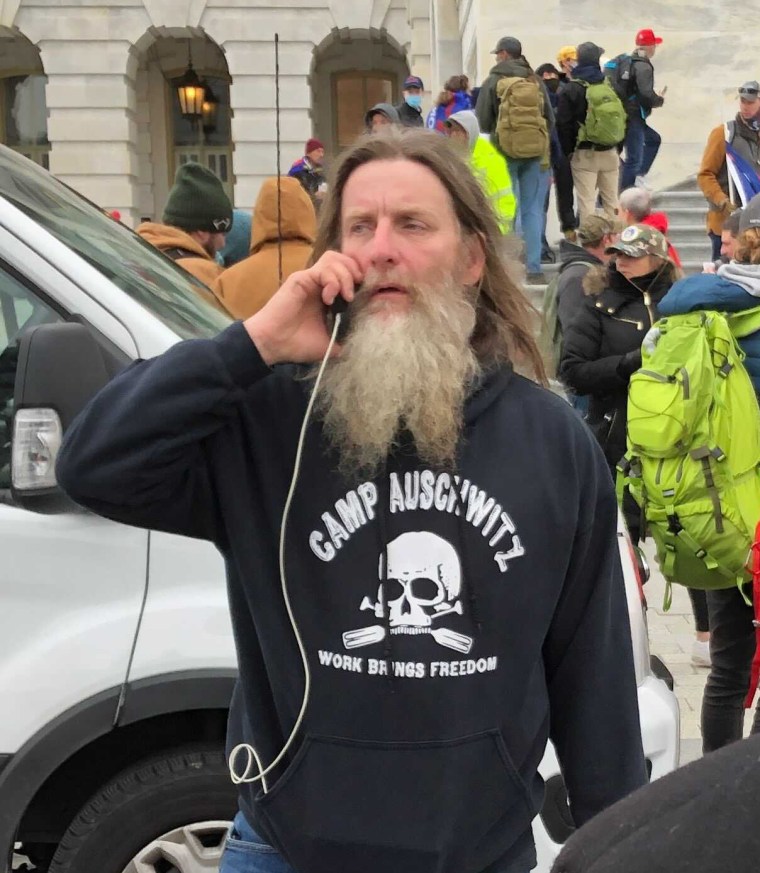 The FBI's Norfolk Joint Terrorism Task Force "arrested Robert Keith Packer of Newport News and Douglas Allen Sweet of Grimstead, Virginia on federal charges related to their role in the events at the U.S. Capitol" last week, FBI spokeswoman Christina Pullen said in a statement.
Sweet had been named in a Jan. 7 arrest warrant, accused of entering or remaining in a restricted building and knowingly intending to impede or disrupt the orderly conduct of government business.
At an initial appearance, Packer was told that he was charged with two federal offenses: knowingly entering or remaining in a restricted building and violent entry and disorderly conduct on Capitol grounds, according to an arrest warrant signed Tuesday by U.S. Magistrate Judge Robin Meriweather in Washington, D.C.
A criminal complaint written by FBI Special Agent Paul Fisher included two pictures of Packer wearing the "Camp Auschwitz" shirt, alleging that he was photographed at the riot.
The agent included another image of Packer, appearing to wear the same shirt, at a Newport News store Dec. 11
A stakeout of Packer's home Monday showed that he was driving the same car he used in the Dec. 11 store visit, Fisher wrote.
Packer was not asked to enter a plea before U.S. Magistrate Judge Douglas E. Miller, who said he would be released without bail. Packer was ordered to stay out of Washington for anything but his case.
His next court date was set for Tuesday afternoon. Packer did not speak other than to acknowledge his name and agree to terms of his release.
A bearded white man wearing a long-sleeve "Camp Auschwitz" sweatshirt was among the most striking images snapped at last week's insurrection at the Capitol, when mobs incited by President Donald Trump stormed the building in hope of overturning President-elect Joe Biden's election victory.
Auschwitz was one the most notorious death camps run by Nazis during the Holocaust and World War II. Packer's sweatshirt also bears the slogan "Work Brings Freedom," in apparent homage to the German saying "Arbeit macht frei," which was at emblazoned at the gates of Auschwitz and other death camps.
Sydney Cohen of Hampton, Virginia, said Packer owns the vacant lot near her home. She said the man pictured in the "Camp Auschwitz" shirt and in the defendant's mug shot in Western Tidewater Regional Jail records are the same person.
"I think seeing things on television is one thing. You can shake your head and be worried," Cohen said Wednesday. "But it's a different feeling to have someone that you know personally to be involved" in the riots.
Cohen said she shudders thinking about Packer's possibly harboring anti-Semitic beliefs.
"He knows my name," said Cohen, 53. "It's a malice I didn't know about, and it's scary."
It was not immediately clear whether Packer had hired an attorney.