Police charged a man Sunday in connection to the beating deaths of four homeless men who were killed as they slept on the streets of New York City.
Randy Rodriguez Santos, 24, was charged with four counts of murder, one count of attempted murder and unlawful possession of marijuana, NBC New York reported. Santos was taken into custody and evaluated at Bellevue Hospital before he was charged, law enforcement sources told NBC New York.
It's unclear whether Santos has an attorney.
Download the NBC News app for breaking news and politics
Police said Saturday that the four men brutally assaulted in the city's Chinatown neighborhood in Lower Manhattan in three different locations. A fifth person was injured but survived.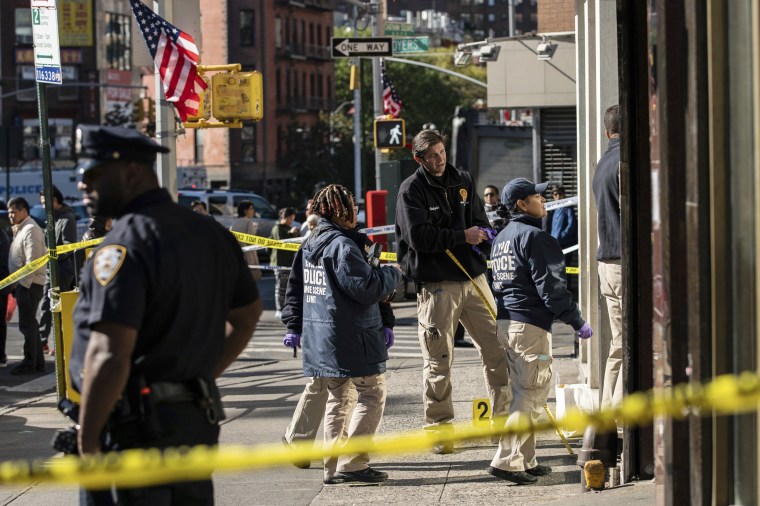 Officers responded to a 911 call at around 2 a.m. and found an unconscious man lying in the street with severe head trauma. Police found the three other victims about two hours later, all suffering from similar injuries.
All four were pronounced dead at the scene.
A fifth male with head trauma who approached police later was taken to a hospital in critical condition, assistant police chief Stephen Hughes said in a statement Saturday morning.
Two witnesses told officers that a man dressed in a black jacket and black pants repeatedly struck one of the victims in the head with a metal object, according to Hughes.
Shortly afterward, authorities "observed a male fitting the description carrying a metal object."
Police said Saturday that they had a 24-year-old homeless man in custody but had not released his information at the time.