The slaying of Kansas City, Missouri, attorney Tom Pickert in his front yard last October sent shock waves through his quiet residential neighborhood for its apparent senselessness.
Witness accounts, however, provided a starting point for police: An older, gray-haired man parked a white van across the street from Pickert's home that morning. A similar van was seen speeding away in the moments after the attorney was gunned down.
Farmer and baby furniture maker David Jungerman — the losing defendant in a civil lawsuit that Pickert had won months earlier — was being linked on social media to the shooting. Local media reports noted that he owned a white van, physically matched the suspect's description and had a "history of violent and vindictive behavior."
But in the weeks after the shooting, Kansas City police explicitly denied Jungerman, 80, was a suspect — until Wednesday, when prosecutors announced at a news conference they had enough evidence, including of Jungerman accidentally recording himself saying he had committed murder.
"People, uh, know that I murdered that son of a b----," he is quoted as saying, according to a probable cause affidavit.
Jungerman pleaded not guilty Thursday to the charges in Jackson County Circuit Court. His attorney, Daniel Ross, said his client "emphatically denies" the allegations against him.
On Wednesday, Pickert's widow, Emily Riegel, thanked investigators as they laid out the charges of first-degree murder and armed criminal action.
"For 168 days we've all wondered if this day would come," Riegel told reporters. "We had hoped and prayed. We've been in the turmoil of the unknown."
According to Jackson County proseuctors, that turmoil began when Jungerman and Pickert first became entangled in a legal case in 2012.
Pickert, 39, a personal injury attorney, was representing Jeffrey Harris, who Jungerman said was one of two people who trespassed on his business' property in northeast Kansas City, trying to steal copper. Harris said Jungerman shot him in the leg, requiring him to have it amputated below the knee.
Jungerman didn't call police or warn he would shoot, Harris said, so he sued for assault and battery. In July, a jury awarded Harris $5.75 million.
Pickert during the trial said Jungerman had a history of allegedly pulling a gun on people or shooting at them. Jungerman, who argued that he was acting in self-defense, said he was going to appeal the case.
Then, on Oct. 25, Pickert was murdered after returning home from walking his two young sons to school.
While Kansas City police didn't call Jungerman a suspect, they began focusing on him and used interviews with acquaintances and surveillance video from around the neighborhood to pin down his movements. They said Jungerman was served with property liens to pay the court judgment the day before the shooting, and had already been transferring property and his money in a series of cashier's checks to his daughter in the weeks prior.
His assets were worth about $33 million, according to investigators.
"From the weeks after the judgment to the days prior to the victim's murder, pressure mounted on Jungerman," the probable cause affidavit said.
Then, in March, detectives got a search warrant for Jungerman's car and home in Raytown, a suburb of Kansas City. They found a .17-caliber bullet from underneath a front seat of his white Toyota Sequioa SUV, according to the probable cause affidavit. The bullet is a relatively rare caliber, often used by farmers to kill pests. It also happened to be the same type of bullet that struck Pickert, police said.
In addition, an Olympus audio recorder was recovered from the home, on which Jungerman appeared to admit to murdering someone — although Pickert isn't named directly — court documents show. Jungerman didn't seem to know the device was on at the time.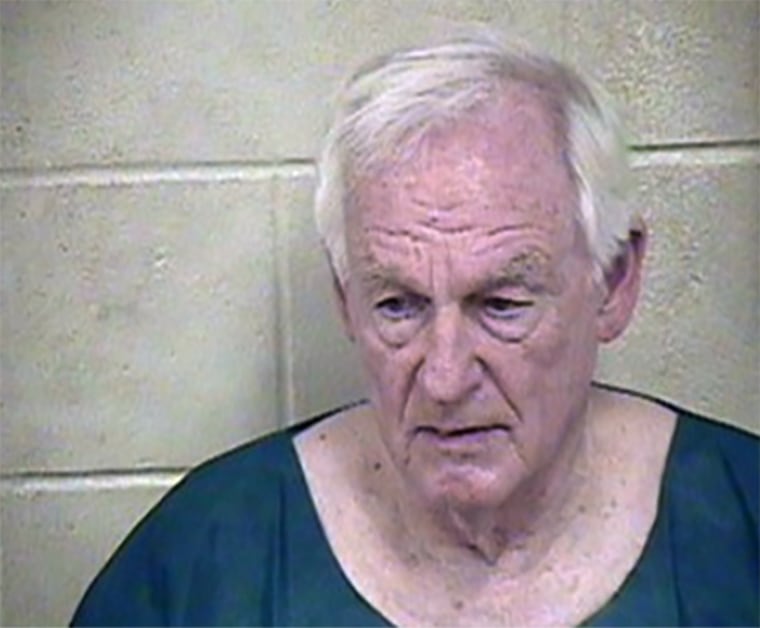 Investigators also said an employee of Jungerman's told them that he claimed to have killed a lawyer with a gun because the lawyer stole his money.
The police didn't have to search far for their suspect. When prosecutors charged Jungerman on Wednesday, they knew exactly where he was: in jail.
He had already been arrested in connection with a March 8 shooting in which police say he shot at another man suspected of stealing iron pipe from his property. Jungerman was being held without bond.
"The rule of law is he is presumed innocent," Ross said Thursday. "The state of Missouri wants you to believe he is presumed guilty by trying his case in the press in a most unfair way. The court documents filed by the state are the state's version of the facts, which we do not believe are accurate."
Jackson County prosecutors have asked that Jungerman remain held without bond on the murder charge, which carries the death penalty. His next court date was scheduled for May 3.