DETROIT — A suspect was in custody Monday after a series of random shootings that left three people dead and one injured, police said.
The 19-year-old suspect, whose name was not released, had no criminal history and may have suffered from mental illness, Detroit Police Chief James E. White said.
Police believe the suspect opened fire randomly on people on the streets in at least four locations Sunday.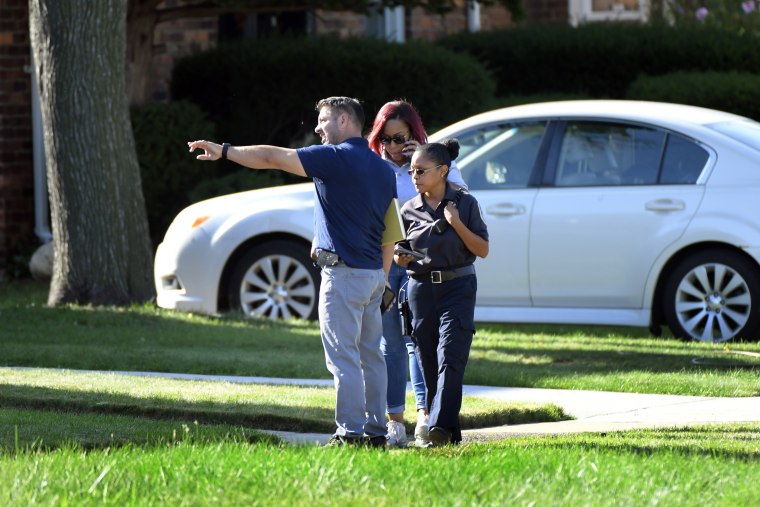 "At this time, we believe this to be a random act," White said, adding that it did not appear the shootings were related.
Police had released a security video image of a young adult in black clothing, including a hoodie, to get tips from the public.
The victims included a single mother of five children who was waiting for a ride Sunday. Lari Brisco was planning to move this week to a suburb closer to her job as a medical assistant at an allergy clinic.
"You never expect gun violence to hit close to home. You always hear about shootings, but it's never someone you know until it is," her boss, Dr. Kathleen Dass, said.
Reports of the gun violence started at 4:45 a.m. in a West Seven Mile Road neighborhood, northwest of the city's center, police said. A 28-year-old man was approached by the suspect, who fired multiple shots. The suspect walked away and came back, firing more shots at the victim, who didn't survive, Police Cmdr. Michael McGinnis said.
About 30 minutes later, a witness told officers about another victim about three blocks away, he said. That person, a woman believed to be in her 40s, was found on the sidewalk with gunshot wounds.
Bishop Alfonzo Smith, who presides over the nearby Redeemed Christian Fellowship Ministries International, said congregants saw yellow police tape and an investigation scene as they arrived for the 9 a.m. services, but they didn't know what had happened. 
Smith's son, a police officer, called his mother around 2 p.m. to say that there was an active shooter in the area and that everyone should go straight home.
"OMG! This is too close to home," Smith said he thought at the time. "You hear these things, 'random shooting,' but when it gets this close, wow, it's a shock to the system. It becomes a reality, someone is lurking in the community."
While investigating the shootings, officers heard shots fired "to the east of them" in the Livernois area, officials said. At 6:50 a.m., Brisco, whom police described as in her 40s, was found less than a mile away from the initial attacks with multiple gunshot wounds.
She had been waiting for a bus when she was shot by the suspect, who walked away, came back and shot at the victim again, police said.
Roughly 20 minutes later, police learned that a man had been shot nearby, on Pennington Drive, south of Seven Mile Road, after he told a person he believed was peering into car windows to get away from the vehicles, White said.
The 80-year-old man was walking his dog around 7:10 a.m. when the suspect shot him in his leg, according to McGinnis.
Chris Smith, 36, heard gunshots when he looked out his window and saw his neighbor had been shot in the thigh.
"The guy got hit in the thigh, and then the dog got hit with shrapnel," said Smith, who ran outside and made a tourniquet for the man before heading to his house to alert his family.
The victim was taken to a hospital and survived, Smith said.
Hours after sharing a picture of the suspect, police received a tip from "somebody close to" the suspect, secured a search warrant and were able to take him into custody without incident, McGinnis said.
Police also recovered a 9 mm gun from the property where the suspect was arrested and determined it had been used in all four shootings, they said.
Police had not yet determined a motive.
"There's nothing that should motivate you to do something this tragic," White said at the news conference. "Access to a weapon is what we know, easy access to a weapon."
Allie Gross reported from Detroit, Mirna Alsharif reported from New York and Dennis Romero reported from California.