A gunman in California shot and wounded a highway patrol officer and then took two bystanders hostage before he fatally shot one and wounded the other, police in Roseville said.
The violence unfolded minutes after a California Highway Patrol officer reported having been shot on a police radio at around 12:30 p.m., Roseville Police Capt. Kelby Newton told reporters.
Officers arrived at the area of Mahany Park and found a man running from them and shooting at them, Newton said.
He took two hostages, both adults, at a greenbelt area, police said.
Those people "were struck by the suspect's gunfire during the incident," and one of them was pronounced dead at the scene, Newton said. Police said they believe the suspect shot them both during the incident.
Police arrested the suspect, who was taken to a hospital with gunshot wounds. Police initially said it didn't appear he'd been shot. His condition wasn't known, authorities said.
The wounded hostage had injuries that didn't appear to be life-threatening, police said.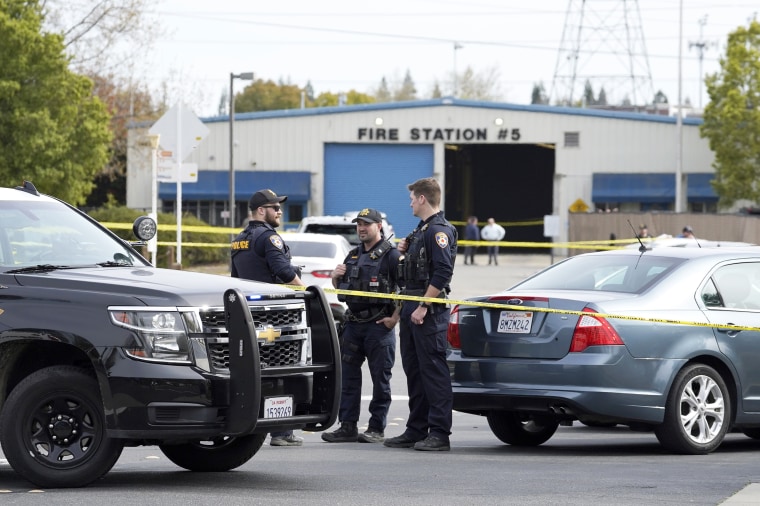 The highway patrol officer who was shot was stable, CHP Officer Ricardo Ortiz said.
It wasn't immediately clear how the hostages ended up being shot. Their identities and the identity of the suspect haven't been publicly released.
The shooting happened near some Little League fields, police said. There were no official events there at the time, but people were in the area.
A man who was at the fields with his 12-year-old grandson and his friend for batting practice told NBC affiliate KCRA of Sacramento that officers ran up and told them to get down.
"We ran to the dugout. I think the cops were shooting this way, and this guy was shooting back at the cops," the man said. "The bullets were coming by us, so we got down low. Very scary."
The CHP said Friday that its officers were preparing to serve a search warrant on the suspect when he ran and fired at them, striking the CHP officer.
"An officer involved shooting occurred" as the suspect fled to a green space, and other police took the suspect into custody after the hostage situation, the state agency said in a statement. The CHP officer is expected to recover, it said.
The CHP did not disclose details about the warrant, only that it was part of an ongoing felony investigation.
Also near the scene of the shooting was a library where camps were being held, and a few people were at a high school close to the scene, although school was not in session this week, Newton said.
Those facilities sheltered in place until the incident was over, he said. People were also using trails in the park at the time.
Roseville is a city of around 147,000 northeast of Sacramento.