A 28-year-old man who was shot dead by Los Angeles sheriff's deputies had fired rounds into the air in a neighborhood and sparked multiple calls to police in the minutes leading up to his death, police said Sunday after protests.
Two Los Angeles County sheriff's deputies fired a total of 33 shots at Nicholas Robertson on Saturday when he didn't comply with their commands to drop a handgun he had been seen carrying in various areas of Lynwood earlier that morning, Los Angeles County Capt. Steven Katz said during a news conference.
Cell phone video taken of the shooting shows Robertson crawling away from the deputies as they fire, but Katz said additional video from the scene shows that Robertson was "motioning (the gun) in the direction of the deputy sheriffs" and wouldn't put the gun down as he was being shot.
"When he collapsed, his arms were underneath him and the gun was still in his hand. There was never a time when the weapon was not in his possession," Katz said. He added that the handgun wasn't loaded when deputies approached Robertson, and there is no evidence that he fired at them, but the suspect was holding rounds at the time he was shot.
Katz said the number of shots fired by the deputies — one who has been in the field for a year and one who has been in the field for 18 months — were "not necessarily unusual."
"There was some grave concern for the number of people in that area," Katz said.
Katz showed an additional video and two photos Sunday in which Robertson can be seen walking near a gas station parking lot with a gun. "He appears to be agitated," Katz said.
The shooting was not shown in that video.
Katz said that witnesses described a man holding a gun and acting "erratically" as did six people who called police from businesses and residential neighborhoods before the sheriff's deputies arrived.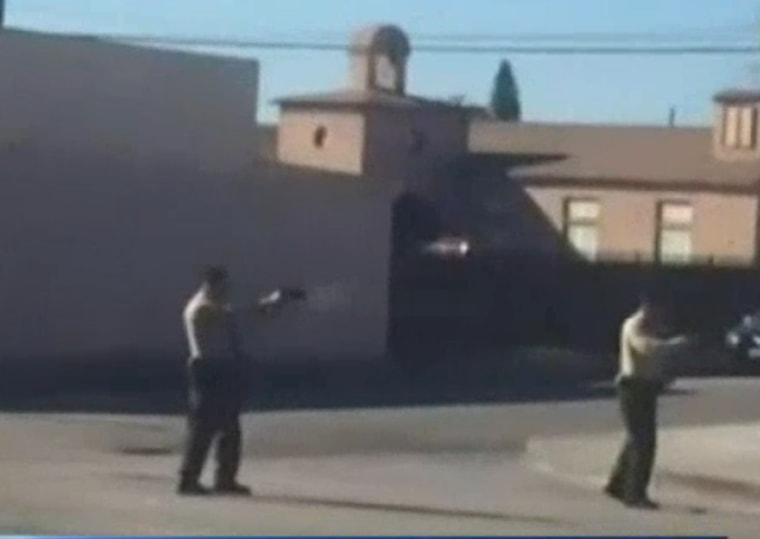 One caller reported that the suspect fired about six or seven rounds into the air in a neighborhood, and bullets recovered in that area matched the .45-caliber handgun that was found with Robertson after he was shot, Katz said.
The shooting of the father of three sparked a rally Saturday in which protesters shouted "no justice, no peace" and tore down "caution" tape surrounding the scene, according to NBC Los Angeles.
Authorities said Sunday that the deputies involved in the shooting have been taken off field duty during the investigation, which is in its early stages.
"In this modern age of cell phone video and instant analysis on the Internet, I would ask that we keep in mind that a thorough and comprehensive investigation is detailed and time intensive," Los Angeles County Sheriff Jim McDonnell said in a statement Sunday.
"There's going to be criticism when there's a deputy involved shooting. That's why we're going to be as transparent as we can," McDonnell said Sunday.