A man armed with an AR-15 style rifle and 13 ammunition magazines opened fire in an Omaha, Nebraska, Target store Tuesday before he was killed by a responding officer, police said.
The shooting just before noon sent customers running out of the store or hiding in fitting rooms, but no one else appears to have been shot.
Omaha Police Chief Todd Schmaderer said 911 calls were made shortly before noon local time about an active-shooter inside the store, which prompted a heavy police response from local, state and federal authorities.
"The first arriving officers went into the building, confronted the suspect and shot him dead," Schmaderer said during a news conference.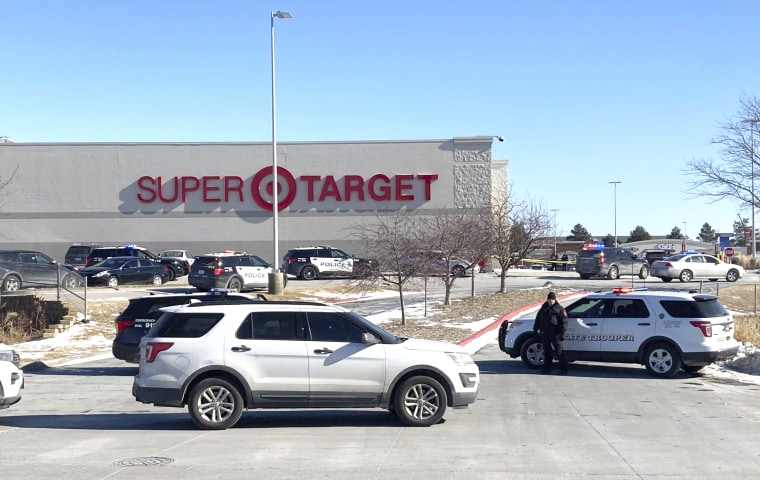 Police said the man, who has not been identified, fired inside the store and was fatally shot by an Omaha police officer.
"He had an AR-15 rifle with him and plenty of ammunition," Schmaderer said.
Omaha police officers and a Nebraska State Trooper entered the Target and encountered the gunman with the rifle, police said.
"Officers issued numerous loud verbal commands ordering the suspect to drop the rifle," the police department said in a statement Tuesday evening. An Omaha officer fired their handgun at the gunman, killing him, according to police.
At least 29 people called 911, police said. Some customers ran outside when gunshots were heard.
Jasmine Gascar told NBC affiliate WOWT of Omaha that she was in a fitting room and hid there. Others rushed in to hide as well. She reported hearing between 10 to 15 shots.
"I was sure I was going to die. I was sure," Gascar told the station. She texted people and told them that she loved them.
Investigators conducted sweeps of the store but did not find any victims, and as of Tuesday night no one had arrived at local hospitals on their own, police said.
Mayor Jean Stothert said that police saved lives by their response.
Target said in a statement that all employees and customers safely evacuated from the store, and the company thanked police. Target will provide counseling to workers, it said.
Police said the gunman will be identified once next of kin is notified. The investigation is ongoing, the department said.