An Ohio man ordered by a judge to carry a sign that reads, "I am a bully" was met with jeers and honking car horns as he sat on a busy street corner on Sunday.
Edmond Aviv, 62, sat in a green plastic chair with a hand-lettered cardboard sign Sunday as part of his punishment for harassing a neighborhood family, NBC station WKYC in Cleveland reported.
Mike Prugh, Aviv's next door neighbor, recounted to the station 15 years of harassment to his family, which includes adopted siblings with disabilities.
The most recent case stemmed from Aviv being annoyed at a smell emitted from Prugh's dryer vent when he did laundry, according to court records. In retaliation, Aviv used a fan to blow the smell of kerosene onto Prugh's property, the records said.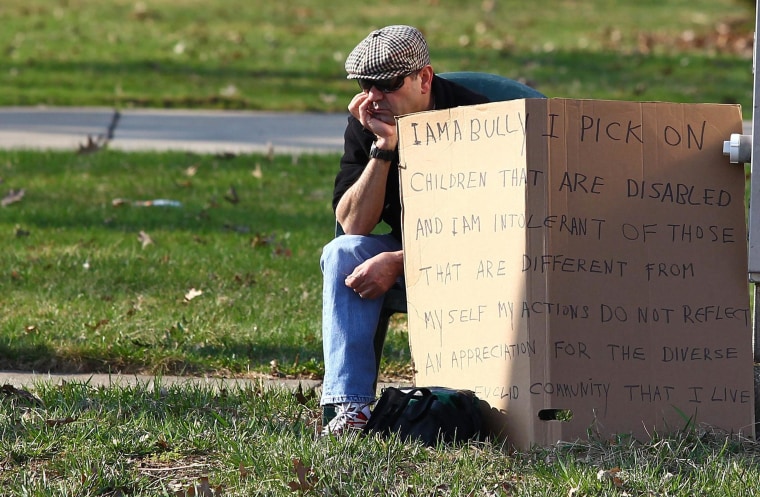 One time, Prugh said, dog feces were smeared on parts of his house.
"You wonder every time you walk outside, you turn to your left to see if your neighbor is there spitting, yelling, screaming at you and you don't know why," Prugh told the station.
Court records show at least five complaints involving neighbors over the years.
In March, South Euclid Municipal Court Judge Gayle Williams-Byers handed down the unusual punishment requiring Aviv to carrying the sign for five hours on Sunday. Aviv was also sentenced to 15 days in jail, 100 hours of community service and was ordered not to have contact with his next door neighbor.
The sign he held reads, "I am a bully! I pick on children that are disabled, and I am intolerant of those that are different from myself. My actions do not reflect an appreciation for the diverse South Euclid community that I live in."
Court records show Aviv pleaded no contest in February to a misdemeanor disorderly conduct charge.
—Jeff Black, with The Associated Press