The Israeli-American man accused of masterminding more than 200 bomb threats and hoax phone calls to Jewish community centers and schools — setting off a wave of panic in the U.S. and across the world — allegedly offered his services on the "dark web" for a fee.
A newly unsealed FBI search warrant lays out how 19-year-old Michael Ron David Kadar, who was arrested by Israeli police in March, attempted to lure customers on the black market site AlphaBay with an ad entitled, "School Email Bomb Threat Service."
"I email bomb threats to schools on your requests. If you feel you need someone to do this job for you then this service is for you," Kadar posted in March under the username "Darknet_Legend," according to the FBI affidavit.
AlphaBay, which is part of the counterfeit "dark web," was shut down last month, when Attorney General Jeff Sessions called it "one of the most important criminal investigations of the year." The site was blamed for allowing the sale of illicit items, including weapons and drugs, and used bitcoins and other crypto-currencies for transactions.
Kadar in his post wrote that he could also frame someone as part of his service, but there was "no guarantee that the police will question or arrest the framed person," the affidavit said.
Related: JCC Bomb Suspect Allegedly Targeted Boston Celtics and Delaware Lawmaker
A price list started at $30 for an emailed bomb threat to a school and went up to $90 for multiple schools plus the framing option, the FBI said.
It appears at least one person in California used the service. After searching through AlphaBay, prosecutors said they found a potential co-conspirator who may still be charged.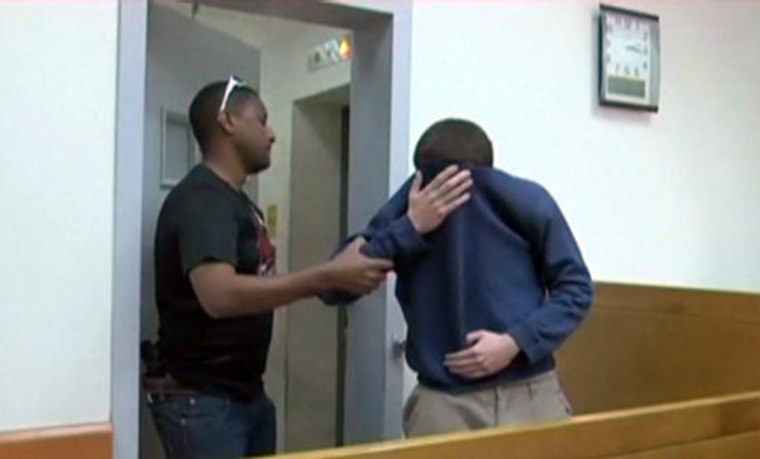 The affidavit also gives examples of the threats.
The FBI said six administrators at Rancho Cotate High School in Rohnert Park, California, received email threats in March claiming bombs were planted at the school and that the sender had "assault rifles and Machine pistols."
The next day, Kadar's username received a review on AlphaBay by someone who was happy with the service, according to the affidavit. "Amazing on time and on target. We got evacuated and got the day cut short," the review reportedly said.
Kadar, who has dual Israeli-American citizenship, was indicted by Israeli prosecutors and charged by the U.S. Justice Department in connection with threatening communications. Authorities have tied him to threats, hoaxes and extortion attempts to more than 2,000 Jewish community centers, schools, airlines, police stations and other institutions spanning more than two years.
Related: JCC Bomb Threat Suspect's Mom Wants to 'Apologize For His Actions'
In the U.S., Jewish centers and synagogues in New York, Chicago, St. Louis, Florida and elsewhere reported menacing calls and emails warning of violence — prompting outcry by Jewish leaders for law enforcement to find the culprit. Threats were also reportedly received in Australia and New Zealand.
Kadar's mother previously told NBC News that her son is autistic and was diagnosed with a brain tumor that effects his cognitive functions.
As part of a six-month investigation that eventually led them to Kadar, Israeli police said he was able to use "advanced camouflage technologies" when contacting other countries so that he couldn't be traced and he kept meticulous records on his computer. U.S. law enforcement said he made the threatening calls from his bedroom.
The latest court filings were first noted by Seamus Hughes, the deputy director of the Program on Extremism at George Washington University.