Fairfax County, Virginia, police are investigating the fatal shooting of a man who was killed by two officers responding to a reported theft at the Tysons Corner Center mall.
Loss prevention officers at the mall notified Fairfax County police Wednesday about a "theft that was in progress," Police Chief Kevin Davis said at a news conference that evening.
The loss prevention officers led two Fairfax County officers to the man, who has been identified as Timothy Johnson, 37.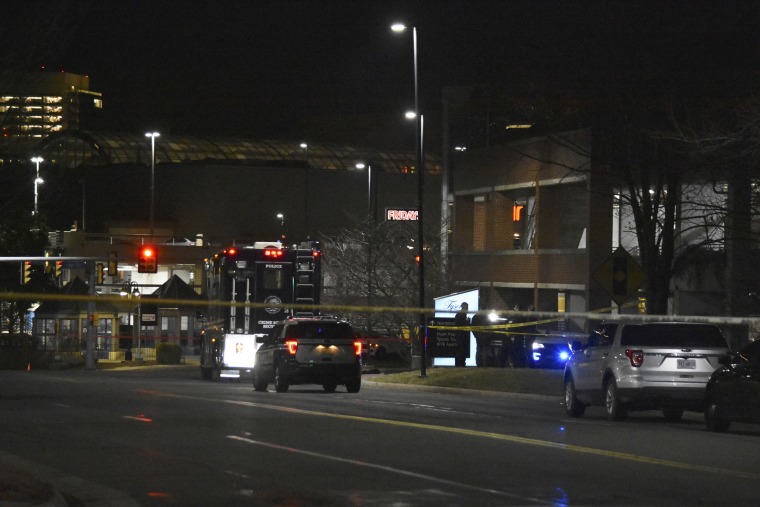 "Our officers approached that person and he fled," Davis said. "We chased him. A uniformed Fairfax County police officer gave chase and a plainclothes Fairfax County police officer gave chase. They chased the suspect ... outside of the store, and probably a quarter of a mile or so later the suspect approached a small wooded area."
Davis said the suspect ran into the wooded area and police followed.
"At some point in time, both police officers, both Fairfax County police officers discharged their firearms," he told reporters, adding, "At some point during that chase, something happened that is still under investigation that prompted our two Fairfax County police officers to discharge their firearms."
Johnson was taken to the hospital where he was pronounced dead.
The chief declined to name the two involved officers. Davis said Johnson was "very well known" to law enforcement in the area and had an extensive criminal history. Davis said that he does not know if Johnson had a gun.
"That's why we're going to hold the scene and we're gonna search for any evidence that the suspect may have discarded during the foot chase," he said.
The uniformed officer had a body camera, according to Davis. The footage will be released to the public at a later time, he said.
Johnson was described as an " avid creative spirit" who loved to design clothes and shoes, according to a GoFundMe set up by the Fairfax County NAACP. He had two children and planned on attending school to become a barber.
"Timmie wasn't perfect and suffered from drug addiction which far too often led to some bad decisions. But he certainly didn't deserve to die over sunglasses stolen from a department store," the fundraiser stated.