A man in a shallow 12-foot fishing boat that ended up taking on water was found alive over the weekend after having spent nearly two days on the ocean off Florida, officials said.
Charles Gregory, 25, was brought ashore Saturday near St. Augustine and checked out by medical personnel, who found nothing concerning, the Coast Guard said in a statement.
Gregory offered a shaka, or "hang loose" hand sign, to a news crew as he was wheeled on a stretcher along a dock.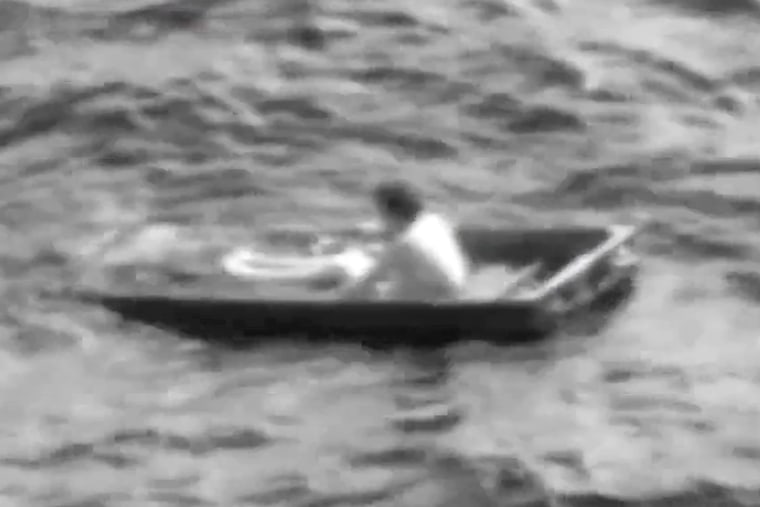 The Coast Guard said the man had launched from Lighthouse Park Boat Ramp in St. Augustine on Thursday. His father, Raymond Gregory, told NBC affiliate WTLV of Jacksonville that his son was at sea for 38 hours.
"There's a God up there," he said as his son arrived at Vilano Beach Fishing Pier in St. Augustine.
The station reported that Charles Gregory had cracked lips. The effect of the sun on his unprotected skin was apparent as he arrived by Coast Guard boat at the fishing pier.
Officials said his flat-bottom jon boat, designed for fishing and waterfowl hunting in calm waters like lakes and bays, was swept to sea after its launch.
"Not the kind of vessel you want to be on in an offshore environment," said Nick Barrow, the Coast Guard's Jacksonville-area rescue coordinator, told WTLV.
Coast Guard Petty Officer First Class Lecongie Wortherly said the boat capsized after it was swept to sea, dumping Gregory's phone and safety gear into the vast Atlantic and disabling its small motor.
"He lost all his survivor equipment," he told WTLV.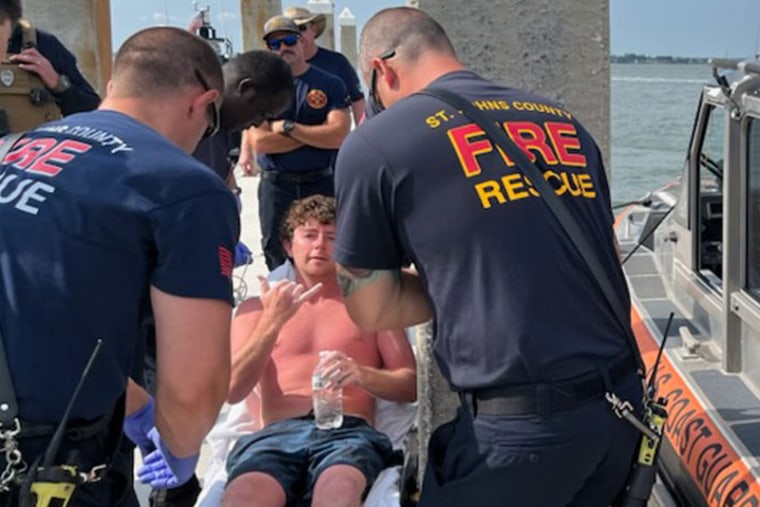 Gregory righted his watercraft, but he was ultimately faced with its partial submergence, leaving him vulnerable to sharks and other marine life, Wortherly said.
The search included an HC-130 Hercules airplane crew, a Jayhawk helicopter crew and rescuers on three Coast Guard boats, the Coast Guard said. But as the mission wore on into Saturday, hope was harder to grasp.
"The odds were starting to be against us in this case, despite all of our search effort," Barrow said.
A concentrated effort by the HC-130 crew to cover as much of the ocean as possible, documented by a map showing neat, long lines and tight turns over the sea, resulted in success.
Gregory was found sitting in the low-riding boat 12 miles offshore, according to Coast Guard statements and video. He waved to acknowledge his saviors.
Raymond Gregory faulted himself for briefly losing hope.
"Don't give up on the big guy," he said, referring to God.