A man has been arrested in connection to a shooting Monday evening at a demonstration where protesters planned to topple a conquistador's statue in Albuquerque, New Mexico.
Steven Ray Baca, 31, was taken into custody and faces charges of aggravated battery with the use of a firearm, according to a booking sheet.
Scott Williams was shot multiple times in the torso and remains hospitalized in critical but stable condition, according to police and a criminal complaint.
There were no other reported injuries.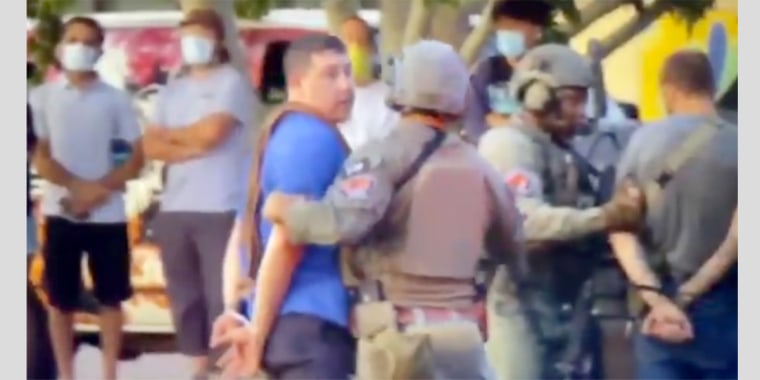 "We are receiving reports about vigilante groups possibly instigating this violence," police Chief Michael Geier said. "If this is true will be holding them accountable to the fullest extent of the law, including federal hate group designation and prosecution."
A video of the protest appeared to show police holding multiple people on the street near the Albuquerque Museum, where protesters were planning to remove a statue of Juan de Oñate, NBC affiliate KOB reported.
It wasn't immediately clear whether they were under arrest or were being detained. KOB reported that they belonged to an armed "civil guard" group.
The protest began as a peaceful prayer rally. Several protesters uploaded videos to social media showing that the arrival of a small group of heavily armed men in fatigues, members of the militia group the New Mexico Civil Guard, escalated tensions. The militia group claimed to be there to "protect" the monument.
In the videos, members of the New Mexico Civil Guard surround the sculpture as some protesters attempt to go around them. One of the protesters takes out a pickaxe, according to a local news report. Baca, who isn't dressed in fatigues or outfitted with a long gun, doesn't appear to be a member of the New Mexico Civil Guard.
On Facebook, the New Mexico Civil Guard said Baca wasn't a member of their group.
"This is not the first report of heavily armed civilian militias appearing at protests around New Mexico in recent weeks. These extremists cannot be allowed to silence peaceful protests or inflict violence," U.S. Sen. Martin Heinrich said Monday night on Twitter.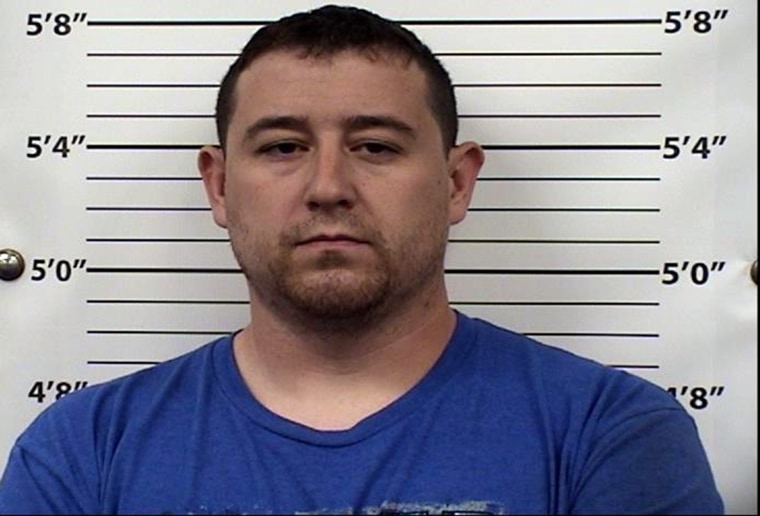 He also called on the Department of Justice to investigate.
Police said it appears Baca was trying to protect the statue and as he was leaving the area he began "interacting with the crowd," according to a criminal complaint.
"Shortly after, an undercover police detective stationed in the area observed several members from what appeared to be the main protesting group pursuing Steven on foot while he backed away from them, utilizing pepper spray to douse the oncoming crowd," it states.
The group "appeared to maliciously pursue Steven" while several began physically attacking him, the complaint alleges. Baca was struck with a longboard and then tackled to the ground as the board falls, it says.
A second person picked up the longboard and swung it at Baca, who was armed with a semi-automatic gun and fired several shots, according to the complaint.
Video from the scene does not show Baca to have any physical injuries and he declined to give a statement to police, the complaint says.
Gov. Michelle Lujan Grisham said she was "horrified and disgusted beyond words" by the violence.
"The heavily armed individuals who flaunted themselves at the protest, calling themselves a' civil guard,' were there for one reason: To menace protesters, to present an unsanctioned show of unregulated force. To menace the people of New Mexico with weaponry — with an implicit threat of violence — is on its face unacceptable; that violence did indeed occur is unspeakable," she said in a statement.
Another video from the station showed several people tugging on a chain that had been lassoed around the statue while chanting "tear it down." At the end of the video, several shots can be heard, although it isn't clear whether the sounds are gunfire.
Officials used tear gas and non-lethal projectiles in an attempt to push back the protesters.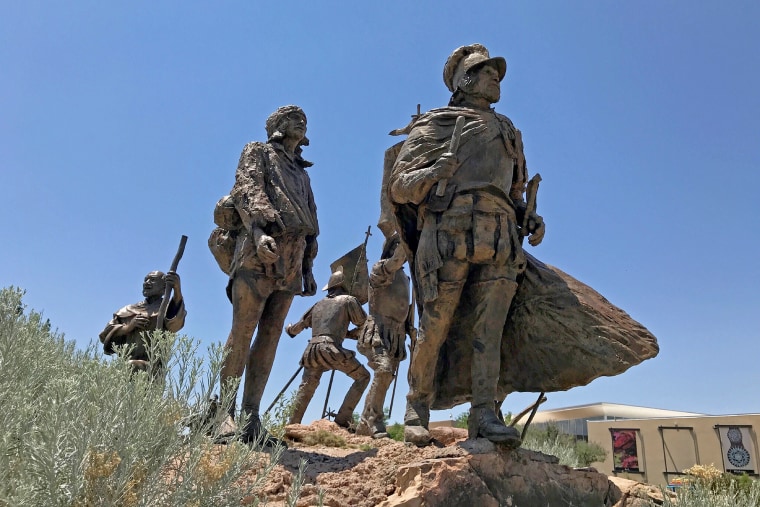 "This sculpture has now become an urgent matter of public safety. In order to contain the public safety risk, the City will be removing the statue until the appropriate civic institutions can determine next steps," the mayor said late Monday.
The Oñate statue has been a source of criticism for decades.
Oñate, who arrived in present-day New Mexico in 1598, is celebrated as a cultural father figure in communities along the Upper Rio Grande that trace their ancestry to Spanish settlers. But he's also reviled for his brutality.
To Native Americans, Oñate is known for having ordered the right feet cut off of 24 captive tribal warriors that was precipitated by the killing of Onate's nephew. In 1998, someone sawed the right foot off the statue — an incident that weighed in the decision to stash away the statue.
Monuments to European conquerors and colonists around the world are being pulled down amid an intense re-examination of racial injustices in the wake of George Floyd's death at the hands of police.
Baca described himself on Twitter as "a Conservative-Libertarian millennial who is here to help cure the RC (Rulling-Class) Virus that's exist in every facet of society."
Baca lost a bid for Albuquerque City Council in 2019. According to a candidate profile in the Albuquerque Journal, Baca, the son of a former Bernalillo County sheriff, had worked as a freelance process server and in debt collection.
The profile said Baca was a lifelong Albuquerque resident who was running for office in response to the community's becoming a "third-world country," overrun with homelessness, and his current local elected officials being "complete wimps when it comes to fighting crime."
Baca hosted the directions for 3D printable guns on a YouTube channel and attended a 2019 rally for President Donald Trump in Albuquerque, tweeting a photo of himself at the rally wearing a Make America Great Again hat. Most recently, Baca was named a board member for the Albuquerque Tea Party, according to a Facebook post from the group.