A man shot during Wednesday night's protests over the fatal police shooting of Keith Lamont Scott died Thursday in a Charlotte, N.C., hospital, police and emergency officials said.
Police said the man, identified as Justin Carr, 26, was wounded on the second night of protests following the death of Scott, 43, who was shot this week as police were searching for a different person with an outstanding warrant, police said.
PHOTOS: Violent Protests Flare for Second Night in Charlotte
Police said Carr was shot in a civilian-on-civilian incident Wednesday night, during protests that led to at least 44 arrests. Mayor Jennifer Roberts instituted a midnight-to-6 a.m. curfew Thursday.
An attorney for Scott's family said his widow and other relatives were allowed Thursday to view police body and dashboard camera video of Scott's shooting Tuesday afternoon.
Scott's widow, Rakeyia Scott, personally witnessed the shooting, "and that's something that she will never, ever forget," said the lawyer, Justin Bamberg.
Police have said Scott disregarded multiple warnings to drop a weapon he was holding when they confronted him Tuesday afternoon near the University of North Carolina at Charlotte.
Since almost immediately after the shooting, however, some relatives of Scott — who was married with seven children — have said not only that he wasn't armed, but also that he was disabled.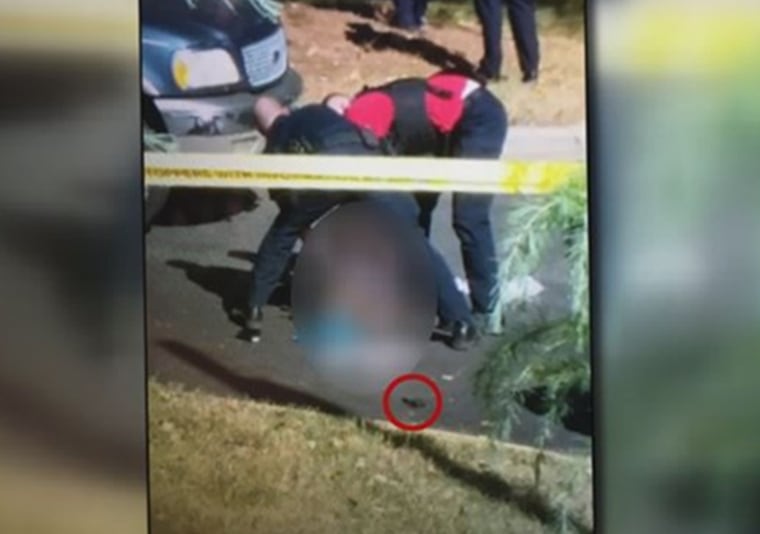 Bamberg said Scott was involved in a "very bad accident approximately a year ago, suffered some pretty severe bodily injuries, suffered some head trauma."
He provided no details of the accident or the nature of Scott's injuries, but he stressed: "At the end of the day, he was disabled."
Charlotte remained under a state of emergency declared by Gov. Pat McCrory after two nights of violent protests. One person was shot and critically wounded Wednesday night in what police described as a protester-on-protester shooting.
McCrory deployed the National Guard members and state troopers to help local police, saying Thursday: "We cannot tolerate this violence."
"Charlotte is a great place, and we're not going to let a few hours to define us," said McCrory, a former mayor of Charlotte.