A man stranded in the Arizona desert for days in triple-digit heat says he had to resort to drastic measures to survive.
Mick Ohman decided to take the scenic route down from the mountain town of Crown King, Arizona, to his home in Phoenix on Thursday, but the unexpectedly rugged road proved to be too much for his Honda CR-V.
The SUV broke down 16 miles south of Crown King, leaving Ohman with no cell phone reception in triple-digit temperatures. All he had was a cooler filled with a single water bottle, two beers, a sandwich and chips.
"It got to the point that I couldn't swallow and my throat would stick together. I would gag," Ohman told NBC affiliate KPNX. "I was forced to drink my own urine at this point, in order to swallow."
He said it "wasn't as obnoxious as I thought [it would be]. It wasn't salty, and it quenched my thirst. But it was warm. Straight from the tap, I guess."
Ohman managed to capture his struggle to survive in a cell phone video, leaving a heartfelt message to his sisters in case rescue never came.
"If you find this phone and I didn't do so well, please tell my sisters how much I love them," he recorded.
"That was very emotional for me," Ohman later told KPNX about the recording. "And I was trying to keep my head about me the whole time, but when I heard myself starting to say that, I really choked up. It was tough."
Related: 17 Hikers Safely Rescued From Flooded Arizona Mountain Pass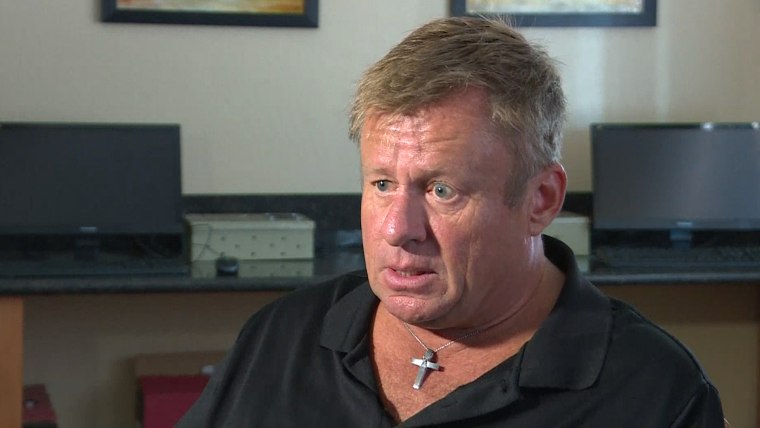 The Phoenix man laid a spare tire on the windshield of his car and lined rocks to form the letter 'H' in hopes of making himself visible to airborne rescue teams. Ohman told the station he finally found a stream 24 hours into the wreck, giving him the energy to hike out to look for help after spending two nights in his car.
"My legs they were like were a ton," Ohman told KPNX. "Every step I took was painful. My calves were starting to cramp. I was literally running out of fuel."
Rescue came in the form of a dirt bike rider, Troy Haverland, who brought Ohman to safety after the two-day ordeal.
"The feeling was like, 'Oh, I can't believe this.' I just went into prayer right away," Ohman told the station. "I was half out of it. My legs were bleeding. I was just a mess."