The New York man accused of gunning down a reputed mob boss believed his victim was a figure in the "deep state" and had planned on making a citizen's arrest, his defense lawyer claimed.
The March 13 slaying of Francesco "Franky Boy" Cali, a Gambino crime family underboss, was originally believed to be a mob hit.
But now it appears suspect Anthony Comello, 24, gunned down Cali in an off-base belief that the mob figure was "deep state," a secret organization out to take control of the U.S. government, defense lawyer Robert Gottlieb wrote in court papers filed Friday in a Staten Island court.
"He ardently believed that Francesco Cali, a boss in the Gambino crime family, was a prominent member of the deep state, and, accordingly, an appropriate target for a citizen's arrest," Gottlieb wrote, in support of Comello's defense by "mental disease or defect."
Download the NBC News app for breaking news and politics
Comello, charged with second-degree murder, will also claim that he didn't plan to kill Cali. He actually wanted to take him into custody, but when Cali "made a furtive movement close to his waistband," that's when Comello opened fire, according to Gottlieb.
"Mr. Comello became afraid for his life," the defense lawyer wrote. "He reached into his vehicle, withdrew his gun and shot Mr. Cali in self-defense."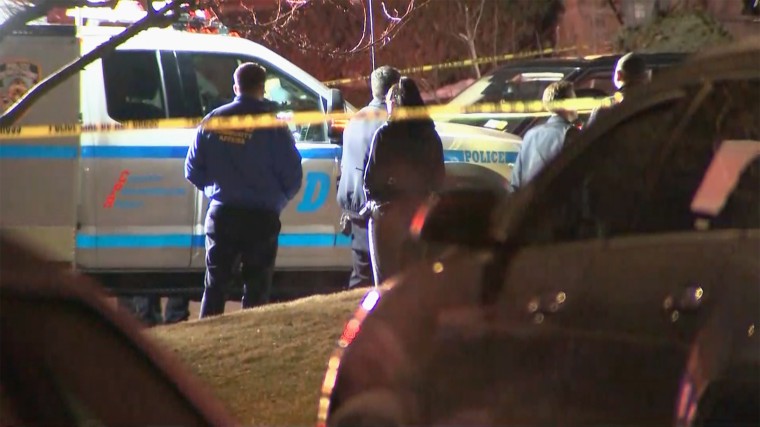 The "deep state" conspiracy theory has picked up steam in recent years thanks to the Qanon movement, which believes President Donald Trump is leading a winning battle against these sinister covert forces.
Qanon activists have become regular attendees at Trump rallies, often carrying cardboard Qs.
Comello killed Cali with the full belief Trump would support it, Gottlieb said.
"Mr. Comello became certain that he was enjoying the protection of President Trump himself, and that he had the president's full support," Gottlieb wrote.
At Comello's first court appearance on March 18, he had the phrases "MAGA Forever" and "United We Stand MAGA" scrawled across his left hand.
"Beginning with the election of President Trump in November 2016, Anthony Comello's family began to notice changes to his personality," the defense claimed.
"Mr. Comello, the defendant in this case, became increasingly vocal about his support for 'QAnon,' a conspiratorial fringe right-wing political group. But Mr. Comello's support for QAnon went beyond mere participation in a radical political organization, it evolved into a delusional obsession."
Cali, 53, was shot to death outside his home in the Staten Island neighborhood of Todt Hill. Comello allegedly rammed his GMC Sierra pickup truck into Cali's parked Cadillac Escalade, prompting the victim to come outside to investigate.
Comello had brought handcuffs to arrest Cali and take him "to the appropriate authorities to answer for the criminal actions which Mr. Comello believed he had taken part in," according to the defense.
Previously, Comello had sought to "arrest" New York Mayor Bill de Blasio and U.S. Reps. Maxine Waters and Adam Schiff, both Democrats from California, his defense said.
Cali was then shot 10 times, and Comello was caught a few days later in Brick, New Jersey.