A man wielding a large, military-style knife came at police and FBI agents as they attempted to interview him in Boston early Tuesday, and was fatally shot only after he refused to drop the weapon, officials said.
Usaamah Abdullah Rahim had been under 24-hour surveillance by the Boston Joint Terrorism Task Force, and a senior official told NBC News they were investigating whether the 26-year-old Boston man had become radicalized by ISIS-inspired social media messages and feared a terror plot was in the works.
A second man from the Boston suburb of Everett was later taken into custody as officials conducted a related terrorism investigation, Boston police said Tuesday night. His name was not released.
Rahim was stopped around 7 a.m. ET at a CVS parking lot in Boston's Roslindale neighborhood, FBI Special Agent in Charge Vincent Lisi said at an afternoon news conference. The officers wanted to interview him at the scene, but had no warrant for his arrest.
The officers did not have their guns drawn, and Rahim pulled a knife out first, Boston Police Commissioner William Evans told reporters.
"We have video depicting the individual coming at officers while the officers were retreating," Evans said.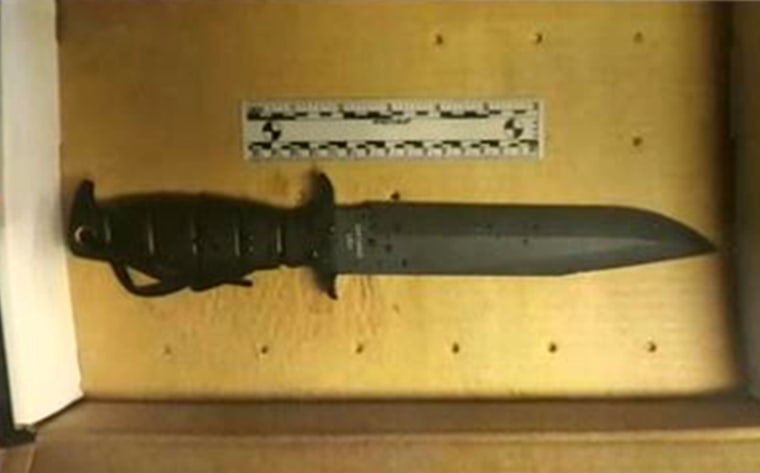 Officers and agents ordered Rahim to drop his weapon, and then took out their firearms and shot at him when he refused, Evans added. He was struck twice — in the abdomen and torso — and was later pronounced dead at the hospital, police said.
Officials are reviewing whether the shooting was justified, but early surveillance video and witness statements indicate the officers' "lives were in danger," Evans said.
After the shooting, authorities began searching a home in Everett and another address in Warwick, Rhode Island, in connection to the incident, senior law enforcement sources in New England told NBC News. A source earlier said the occupants in the Everett home might also be of interest in the investigation.
Law enforcement sources say Rahim had been under investigation and surveillance for several weeks by the Boston Joint Terrorism Task Force.
In recent months, ISIS messages worldwide have called for attacks using whatever weapons are at hand, including guns and knives.
Federal and local sources stressed they did not believe there was a threat to the general public during the investigation.
Rahim's brother, Ibrahim Rahim, who identifies himself as an imam from California, said on Facebook that his brother was waiting for the bus to go to his job in the morning.
He tweeted in response to his brother's death: "We are deeply grieved by the loss of Usaamah. We understand the need 4 info, but ask that the press 2 give us time to grieve as a family."