A performance artist on Monday defended his banana-eating work over the weekend at Art Basel in Miami Beach, boasting he would have done it even earlier but "I was not too hungry."
David Datuna stunned the art world on Saturday when he chowed down on a banana, taped to the wall, which had been called "Comedian" by Italian artist Maurizio Cattelan.
Cattelan had sold at least two editions of "Comedian" to private collectors for $120,000 each, according to a spokeswoman for Paris-based Galerie Perrotin, which displayed the work in its booth at Art Basel.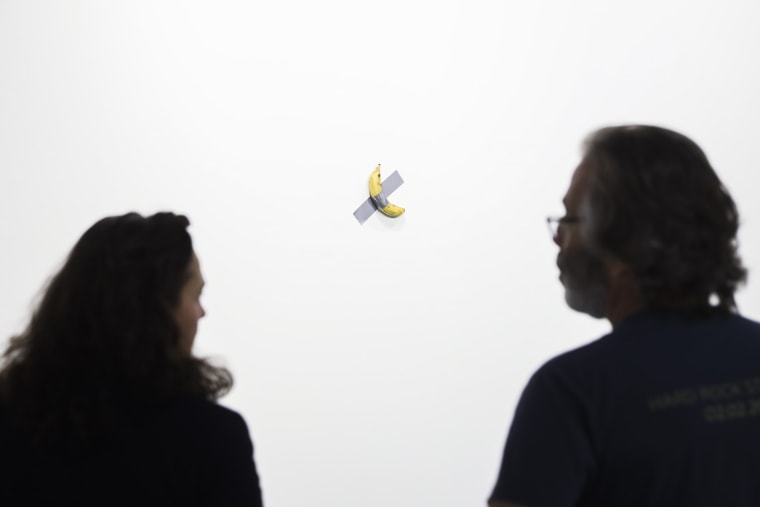 "I think this is the first one in art history when one artist eat concept for another," Datuna told reporters in New York. "People ask me, 'You eat banana?' Physically it was banana but banana is just a tool, usually I eat the concept of that you know?"
Datuna insisted this wasn't a PR stunt, but a serious piece of art when he peeled and consumed the banana on Saturday afternoon.
"I decided in the morning" on Saturday to eat the banana art, Datuna said, "but I was not too hungry so I spent two hours in the Basel."
He also expressed his admiration of Cattelan, despite devouring the artist's work.
"I respect (him) because he makes fun of everything, this is why I respect him," Datuna said. "He's smart, he's genius."
A spokeswoman for Cattelan said Monday the artist is not seeking any criminal or civil action against Datuna.
"What Cattelan did was genius and what I did was also interesting, right?" Datuna said.
The Georgian-born artist Datuna said he has other performance art projects in the works, coinciding with Super Bowl LIV in early 2020 and then with the next World Cup, in Qatar in 2022.