WASHINGTON — Paul Manafort's notes from a controversial Trump Tower meeting with Russians during the 2016 presidential campaign included a mention of political contributions near a reference to the Republican National Committee, two sources briefed on the evidence told NBC News.
The contents of the note, which have not been previously disclosed, elevated the significance of the June 2016 meeting for congressional investigators, who are focused on determining whether it included any discussion of donations from Russian sources to either the Trump campaign or the Republican Party.
It is illegal for foreigners to donate to American elections. The meeting happened just as Trump had secured the Republican nomination for president, and he was considered a longshot to win. Manafort was the campaign chairman at the time.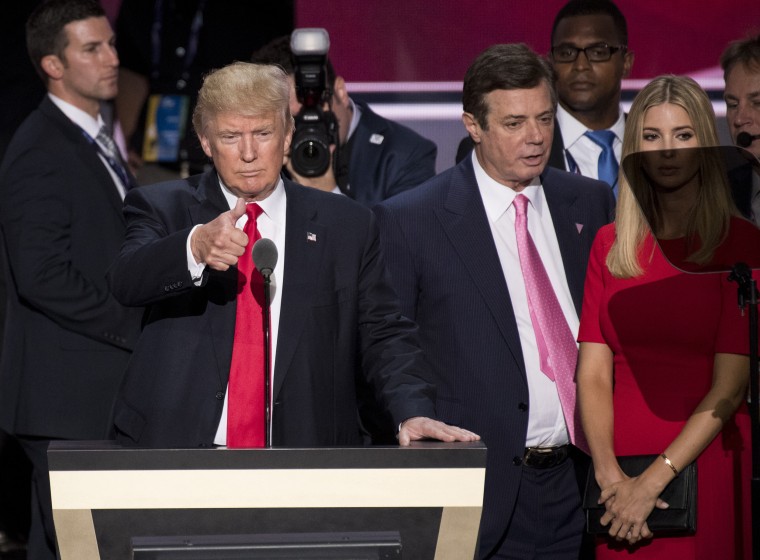 Manafort's notes, typed on a smart phone and described by one source briefed on the matter as cryptic, were turned over to the House and Senate intelligence committees and to Special Counsel Robert Mueller. They contained a reference to political contributions and "RNC" in close proximity, the sources said.
NBC News initially reported that the notes contained the word "donation," but a spokesman for Sen. Charles Grassley, R-Iowa — the chairman of the Senate Judiciary Committee, whose staff has reviewed the notes — disputed that the word "donation" appears. The two sources who initially provided the information then said that the word was not "donation." One said it was "donor," and another said it was a word that referenced political contributions, but that source declined to be more specific.
Manafort spokesman Jason Maloni told NBC News that "it is 100 percent false to suggest this meeting included any discussion of donations from Russian sources to either the Trump campaign or the Republican Party. Mr. Manafort provided the Senate Intelligence Committee with the facts and his notes so this speculation and conjecture is pointless and wrong."
As NBC News has reported, Mueller is closely scrutinizing the Trump Tower meeting, which was hosted by President Trump's son, Donald Trump Jr., and was attended by his son-in-law, Jared Kushner, along with Manafort.
Related: Mueller, NY Attorney General Joining Forces on Manafort Probe
They gathered in an office to hear from Russian lawyer Natalia Veselnitskaya, who has represented clients with links to the Kremlin.
She was accompanied by Russian-American lobbyist Rinat Akhmetshin, who testified recently before a grand jury in Washington, a source with direct knowledge of the matter told NBC News.
Akhmetshin declined to comment on his testimony.
NBC News reported earlier this week that Mueller's investigators are keenly focused on President Donald Trump's role in crafting a response to the New York Times article that first disclosed the meeting.
The sources told NBC News that prosecutors want to know what Trump knew about the meeting and whether he sought to conceal its purpose.
The president dictated a statement sent out under the name of his son that was drafted aboard Air Force One, people familiar with the matter have said.
It described the 2016 meeting as "a short introductory meeting."
"I asked Jared and Paul to stop by," the statement said. "We primarily discussed a program about the adoption of Russian children that was active and popular with American families years ago and was since ended by the Russian government, but it was not a campaign issue at the time and there was no follow up."
According to the New York Times, he added: "I was asked to attend the meeting by an acquaintance, but was not told the name of the person I would be meeting with beforehand."
In fact, as subsequent emails and interviews revealed, the meeting was scheduled with a promise from a Russian oligarch to convey damaging information about Hillary Clinton and her campaign.
In a June 3, 2016, email, publicist Rob Goldstone told Trump Jr. that a Russian prosecutor had "offered to provide the Trump campaign with some official documents and information that would incriminate Hillary [Clinton] … and would be very useful to your father."
Goldstone said he was representing Aras Agalarov, a Russian businessman with close ties to Vladimir Putin.
Trump Jr. responded, "[I]f it's what you say, I love it."
Emails show that the following day, Goldstone and Trump Jr. began arranging the Trump Tower meeting.
Veselnitskaya told NBC News that she did not provide any meaningful information about Clinton.
A person familiar with Mueller's strategy said that whether or not Trump made a "knowingly false statement" is now of interest to prosecutors.
"Even if Trump is not charged with a crime as a result of the statement, it could be useful to Mueller's team to show Trump's conduct to a jury that may be considering other charges," the person said.
CORRECTION (Aug. 31, 6:30 p.m.): An earlier version of this article used an incorrect quotation in describing Paul Manafort's notes. According to a spokesman for Sen. Charles Grassley, whose committee staff has reviewed them, the notes did not include the word "donation." A source who provided the information said the notes used a word that referenced political contributions, and another source said the notes used the word "donor."