ALEXANDRIA, Va. — Former Trump campaign chair Paul Manafort pleaded not guilty to a new indictment on Thursday and will have to wear a second ankle-monitoring bracelet until his trial, which could begin as early as July.
As he left court, a protester threw a Russian flag at him and shouted: "Traitor! Show us your bracelet."
Manafort, who was caught up in special counsel Robert Mueller's Russia investigation, was arraigned in Virginia, where he was indicted on bank fraud and other charges in February — four months after he was indicted in Washington on conspiracy and money-laundering charges.
He could have waived venue and had all the charges consolidated in one courthouse, but declined. Because the federal courthouses in Alexandria and Washington have different electronic-monitoring systems, he has to wear two bracelets.
For now, the Virginia trial will start before the Washington trial, which is scheduled to begin in September.
Manafort was originally indicted in both cases with his business partner, Rick Gates, a former Trump campaign aide. But Gates has pleaded guilty and agreed to cooperate with Mueller, who is probing Russian interference in the election and possible ties to the Trump campaign.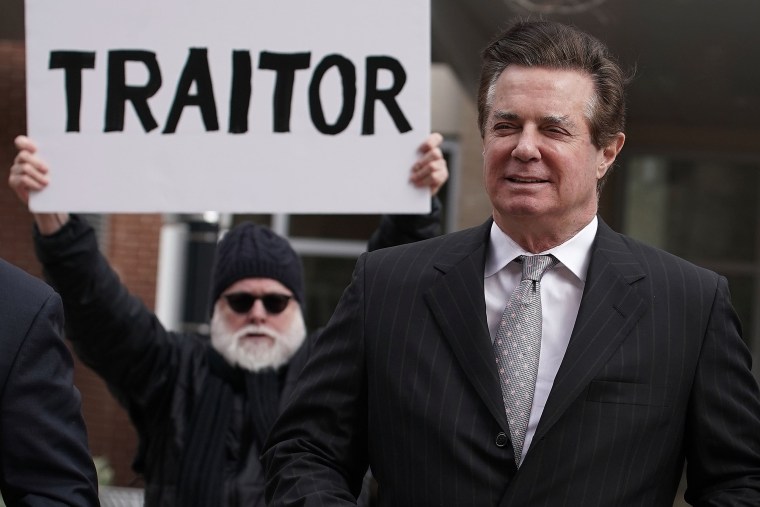 The charges are not directly related to election interference but revolve around Manafort and Gates's lucrative lobbying on behalf of pro-Russian political figures in the Ukraine.
In Virginia, Manafort is accused of filing false tax returns, failing to report money in overseas accounts, and misleading banks on paperwork for millions in real-estate loans.
In one instance, Manafort allegedly dealt with an unpaid $300,000 American Express bill by telling a bank that Gates had borrowed his credit card and run up the charges, the indictment says.
Although he's been under indictment in Washington since October, Manafort was recently hit with new charges there, too, including an allegation he secretly recruited and funded a group of former European politicians to lobby in the United States on behalf of Ukraine.
Pete Williams reported from Alexandria and Tracy Connor from New York