PERRY HALL, Md. — A 16-year-old boy who's charged in the death of a Maryland police officer told detectives that he had been in the driver's seat of a vehicle while others were burglarizing a home and that he drove at her, according to a police document.
Baltimore County Police Officer Amy Caprio was killed Monday afternoon while investigating a call about a suspicious vehicle, authorities said. Police have not confirmed how Caprio was fatally injured in a suburban neighborhood, but witnesses reported hearing a pop before seeing a Jeep run her over.
A probable-cause statement, dated Tuesday, identified the suspect in her death as Dawnta Anthony Harris of Baltimore. He has been charged with first-degree murder. Meanwhile, officials said Tuesday that three other teenagers had been taken into custody.
Baltimore County's Police Department said on Twitter Tuesday morning that the teenagers are suspects in area burglaries. The department did not say whether the three played any role in the officer's death.
Harris, who was arrested near the spot where a Jeep was found abandoned, told a detective that he had been waiting in the driver's seat of the vehicle as other associates were committing a burglary, according to the probable-cause statement.
Harris also told the detectives that he "drove at the officer," the statement said.
Scott Shellenberger, the state's attorney for Baltimore County, told The Associated Press that the teen has been charged as an adult. The Associated Press does not ordinarily identify underage suspects unless they face adult charges.
The records don't list an attorney for Harris, and attempts to reach people believed to be his family members were not immediately successful. He was scheduled to appear before a judge at a Towson courthouse Tuesday afternoon.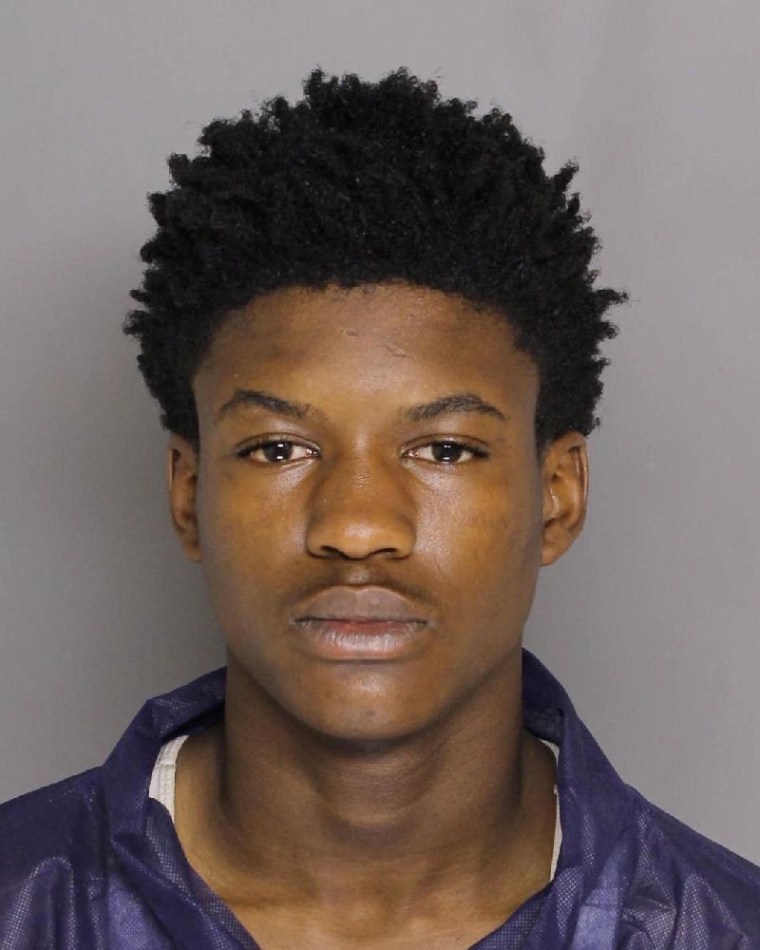 The officer's death stunned the quiet, residential community of Perry Hall, said Baltimore County Councilman David Marks, who lives nearby in northeast Baltimore County.
"The community I represent stands united in grief for this fallen police officer, and our hope is that all those involved are brought to justice," Marks said.
Tony Kurek said his adult son was outside in the family's yard Monday afternoon when the son saw the officer with her gun drawn, confronting the occupants of a Jeep.
"The next thing he heard was a pop, and he saw the Jeep take off and run right over her," said Kurek. The car left skid marks behind, he said, leaving the officer down and bleeding.
Kurek's son Logan Kurek, who is a volunteer firefighter, said he heard his younger brother "frantically screaming" and ran outside to perform CPR.
Baltimore County Police Cpl. Shawn Vinson said Caprio went to investigate a call about a suspicious vehicle when she encountered at least one suspect. He added that the confrontation may have stemmed from a burglary in progress, noting that one home on the block had damage to a patio door.
"What exactly happened, we are not sure yet until an autopsy is performed," Vinson said at a news conference Monday. He said he had no information about whether she had fired her own weapon.
Kurek's neighbor Dahle Amendt said he had just settled into his recliner when he heard a woman's voice outside his house.
"I heard, 'Get out of the car!' 'Get out of the car!' Get out of the car!′ at least three times, and then a pop," Amendt said.
Amendt said his wife also ran outside and tried to revive the officer, who police say would have been on the force for four years in July.
"This is a shock. It's a quiet community. It's just so sad," Amendt said.