POCATELLO, Idaho — Melissa Turner almost died twice in emergency rooms, and because she didn't have health insurance, two separate medical procedures have left her with tens of thousands of dollars of medical debt, paralyzing her life.
Turner, 37, a resident of this windswept town at the edge of the Rocky Mountains, said she tried to get coverage. After losing her job and the health insurance she received as a cafeteria worker at Idaho State University in 2015, Turner immediately went to an insurance broker because she had already faced a series of expensive hospitalizations throughout her life for misdiagnosed health issues.
"He just looked at me and said, 'Welcome to the gap,'" Turner recalled, sitting inside the public library where she now works. "And I was like, 'What's that?' And he goes, 'You're not covered by Obamacare or Medicaid. You're in the gap.' And I was like, 'Crap.'"
That gap affects people who make too much to qualify for Medicaid in states that haven't expanded their programs, but not enough for one of Obamacare's marketplace plans.
The gap is a significant issue in the 14 states that have not expanded their Medicaid programs as part of the Affordable Care Act, but it is about to close in Idaho. Last year, in a ballot initiative, 62 percent of the state's voters supported Medicaid expansion. That means Turner and 91,000 others, or about 5 percent of the state's population, will become eligible for Medicaid coverage starting Jan. 1. Currently about 11 percent of Idaho's residents are uninsured.
Now the income qualification is increased to about $35,500 for a family of four or $17,000 for an individual. That expansion could have a huge impact, since 15 percent of Idahoans now carry medical debt, with a median amount of $807, and have been sent to collection agencies for it, according to the Aspen Institute, a nonpartisan think tank.
"The expansion is a relief for future medical costs," Turner said. "I just hope it goes through because it will open up opportunities for me and I won't have to worry."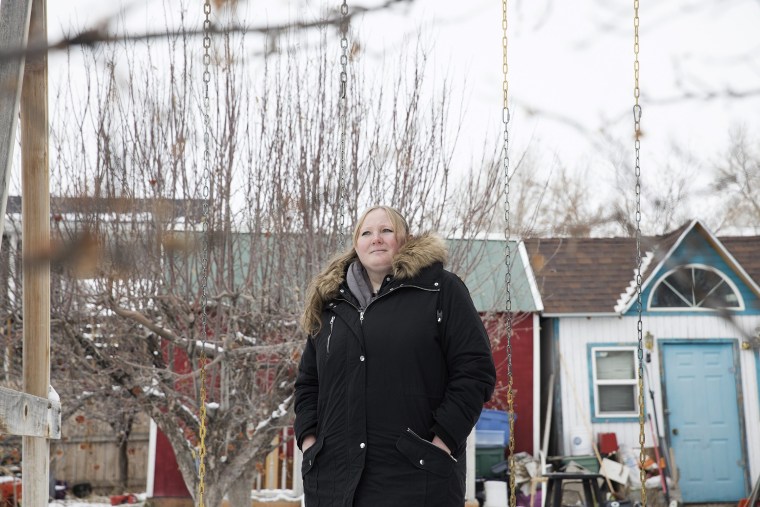 Turner and others like her in Idaho are considered the working poor. Some said they hoped that Medicaid expansion will save them from incurring future medical debt that many have lived under for years, limiting their ability to pursue additional schooling or even to take time to find more profitable work.
Medical debt is also a huge limitation for Anita Sackuvich, 49, a single mother of two disabled children in Boise, who has lived the past six years without insurance.
An emergency hysterectomy she had to undergo after suddenly bleeding one night left her with more than $19,000 in medical debt, an amount that was reduced from $50,000, thanks to the state indigent fund. Sackuvich said she had ignored warning signs and delayed going to the doctor for fear of the expense, until she nearly died.
A caregiver at an assisted living facility who earns $13 an hour without benefits, Sackuvich now will pay $286 a month for the next five and a half years to repay that medical debt.
"That's a car payment," she said, noting that her car is on its last legs. "That's a big deal. I'm on a limited income, and I'm OK. But I'm not rich and this is going to make a big difference. I've contemplated medical bankruptcy but I don't want to ruin my credit."
Still not a sure bet
Sackuvich, Turner and others like them said they remain concerned that they may lose the benefit they voted for at the ballot box. Despite the broad support for the proposition among voters, there is an ongoing battle in the Republican-controlled Legislature — as well as those in Nebraska and Utah where similar ballot initiatives passed last year — over four waivers that could limit the scope of expansion.
Some lawmakers want to add work requirements to Medicaid eligibility, limit availability for family planning, and provide an opportunity to opt for a tax credit instead, among other waivers.
And few can forget that attempts to expand Medicaid have languished and died in the Boise Statehouse since 2012. Idaho was one of several states that chose not to expand Medicaid after the passage of the ACA, refusing tens of millions of federal dollars that would have provided insurance to those who fell in that coverage gap. Then-Gov. Butch Otter, a Republican, insisted the state would find another way.
That's changed now.
Under popular pressure, Otter came to support the referendum in 2018, and the current governor, Brad Little, a Republican, said through his office that he maintains his support for Medicaid expansion but will wait until the State of the State address Jan. 6 to outline his recommendation for funding the program.
Many Idaho Republicans, however, say the cost for the state is too high: Idaho will have to pay for 10 percent of the bill or about $10.5 million per year for the expanded program while the federal government pays the rest. There's also a segment of the party that says that expanding a government program is counter to Idaho's conservative values, and there is a need for limits like work requirements.
"I think there is a deeply held value in the state that we will help you, but you have to help yourself to some degree," said Rep. Megan Blanksma, the Republican caucus chair in the Statehouse who opposed Medicaid expansion and has since pushed for work requirements. "So we want to help you if you're willing to do some work and help yourself."
Other Republicans insist that expansion will be a net benefit for the state, pointing to other conservative states that have made the switch.
Louisiana, which passed expansion in 2016, reported savings of $199 million in 2017 and $350 million in 2018, because the federal government picked up a much larger share of the state's health care tab for the poor. A University of Montana study found that Idaho's neighbor state, which expanded Medicaid in 2015, had seen as many as 7,500 jobs created because of expansion, with the addition of at least $350 million in personal income each year between 2018 and 2020.
A 2017 Health Affairs study, meanwhile, concluded that "expansion states did not experience any significant increase in state-funded expenditures, and there is no evidence that expansion crowded out funding for other state priorities."
What the Legislature decides in its next session carries a particular weight for Angela Miller. New Year's Day in 2014 brought the first in a series of events that ultimately led her to declare medical bankruptcy with her husband, Adrian. After 19 hospitalizations for a kidney disorder that she couldn't afford to treat, the couple racked up $1.5 million in unpaid medical bills.
"I got to a point where I felt like if I wasn't around to acquire more medical bills, that that would be a lot easier on everybody that was trying to help us," she said, as her husband put his arm around her.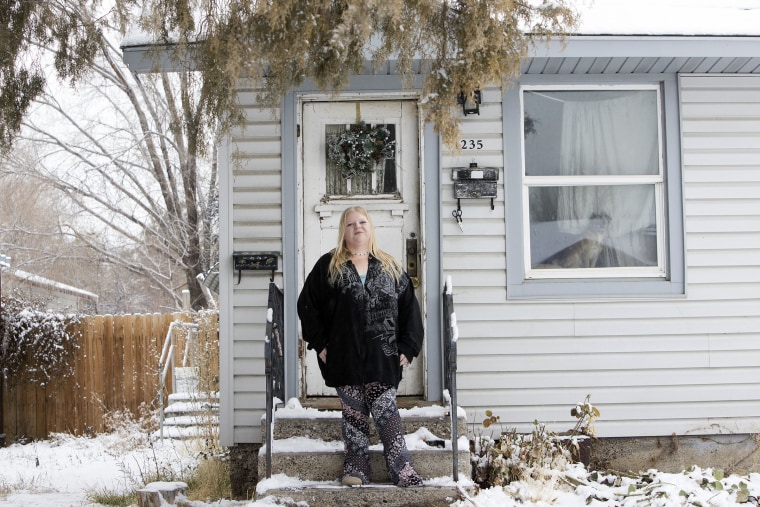 The prospect of having Medicaid coverage gives the Millers hope for their future — Angela Miller intends to return to school and work once she's able to treat her medical conditions — but she said those fears from before still haven't disappeared. Even though she has already signed up and been approved for Medicaid, she is worried the Legislature might tweak Medicaid in a way that will prevent her from being covered.
"It angers me because I feel like, well, I voted for this — most of us in Idaho did," she said. "It's really sad to know that your vote is supposed to count, and your voice is supposed to count. But at the end of the day, it might not."
Medical system in need of change
After waiting for years for the Legislature to come to some consensus on Medicaid expansion, voters here took matters into their own hands. They were bolstered by groups called "Close the Gap Idaho" and "Reclaim Idaho," which launched sweeping campaigns to show how the state's legislative indecision had affected the working poor, many of whom forgo medical care until it's an emergency.
Not having to wait until the last minute to receive medical care would be life-changing, many who recently signed up said. It could also possibly afford them new career opportunities.
"Finding work that can pay close enough to what I make now without destroying my body is impossible," said Stuart Foster, who suffers extreme back pain due to fibromyalgia and a birth defect but still works as a roofer to help pay for medical bills. "I have experience in construction. Medicaid makes it easier to change jobs, and if I can do that, it'll change my quality of life for sure."
But many of the Republicans who are skeptical of the cost have also said the campaigns were misleading and maintain Idaho's $18 million catastrophic health care fund as well as the counties' indigent care fund were sufficient to defray the costs of people who went to the emergency room for life-or-death care.
Blanksma told NBC News that her particular issue with Medicaid expansion, and one shared by many of her colleagues, is that 15,000 of the 91,000 who are now eligible for Medicaid would lose their tax credit for private health insurance and be moved to Medicaid. That has led to another waiver to expansion that would provide people a similar tax credit to buy insurance on the Idaho exchange.
"You have these 15,000 people who had good insurance, decent insurance and now they're kicked off to government assistance," Blanksma said. "So yeah, Jan. 1 they're going to get a Medicaid card in the mail and hopefully they've been paying attention and looking at their letters so that they know that they're going Medicaid."
But other Republicans said that for those 15,000, it's a difference without much distinction. Those individuals are being provided federal dollars through a tax credit to buy that insurance, and Medicaid is federal dollars spent more effectively.
"I find the argument strange because they don't want people to go onto a government program but they want their subsidized government program," said Sen. Fred Martin, the Republican chair of the Health and Welfare Committee in the Idaho Senate. "I guess it's private insurance paid for by the government, but it's high deductibles and not very good, where Medicaid would be a better option."
That's what Turner is hoping for. After suffering side-splitting pain for days, she went to the emergency room where the doctor told her that she would need immediate surgery to remove a large kidney stone.
Turner could die if she didn't act immediately, her doctor said.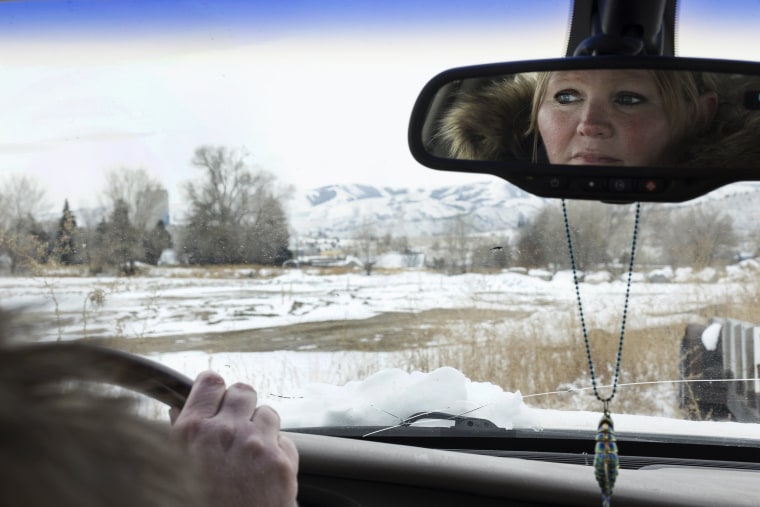 That procedure cost $25,000, which she's still paying off, and that debt came on top of the $53,000 she faced after having an emergency surgery to remove her gallbladder — another life-and-death procedure she delayed for fear of the cost. The state fund reduced her total bill for both procedures to about $18,000.
The story of her health issues didn't just end there: Doctors told her she needs annual checkups with X-rays and CAT scans to make sure no kidney stones have formed.
Trouble is, Turner can't afford the scans, which can run as much as $3,000, without insurance. She also can't afford the $400 to $500 that it costs to get an X-ray, but she said her doctor said she had no choice.
"For me, I'm looking at kidney failure, dialysis, death — and I don't want to die," she said, tears forming in her eyes as she sat inside the public library before her shift. "I'd do anything to avoid that, but it can happen pretty quickly for me with no warning."
'Things just seem so backwards'
Medicaid expansion in Idaho will likely change life for doctors, nurses, physicians assistants and medical workers as well. It will also affect the future of rural hospitals and small clinics that serve this scenic Western state that has only 22 people per square mile on average.
The clinic in Challis has no permanent doctor and the nearest hospital is 56 miles away. The largest town in the 4,500 square-mile Custer County, it is home to rugged mountains, sprawling plains and about 1,100 people.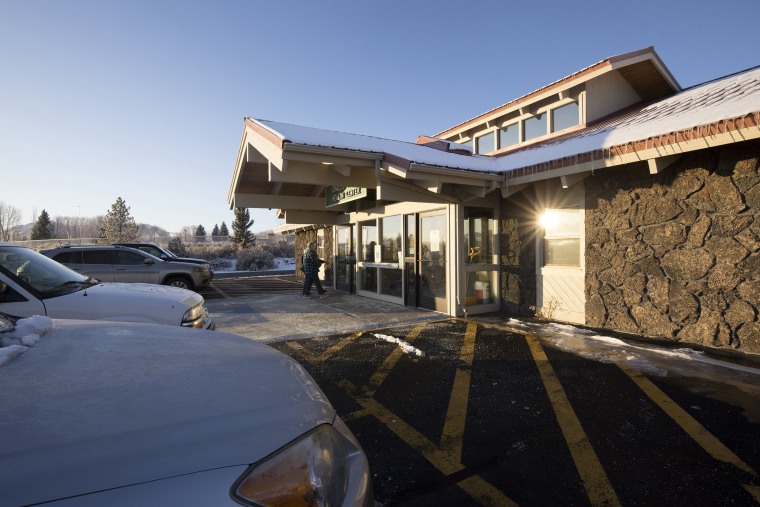 Steve Rembelski, the executive director of the Challis Area Health Center, said that Medicaid expansion will save the clinic money in multiple ways. First, it provides coverage to nearly 200 more people in the area, according to the Idaho Department of Health and Welfare, which would mean they could receive reimbursement for the services they provide to those formerly uninsured patients.
Rembelski estimated it could add as much as $25,000 to their annual budget, which he said could help hire another nurse or buy a piece of equipment. But the fact that people would come to them for preventive care — rather than in cases of emergency — would also likely limit the number of life-flight helicopter rides to far-flung hospitals. Each flight costs the clinic $45,000.
"The people that are eligible are people that aren't getting any kind of preventative maintenance," Rembelski said. "And so ultimately we know what that costs the system when they come in and crash. And in this particular area, if somebody comes in and is a time-sensitive emergency, they may require a helicopter ride out."
"It's a matter of, do you want controlled costs or uncontrolled costs?" he added.
Costs are top of mind for Idaho's medical system, and medical groups including the Idaho Hospital Association, the Idaho Academy of Family Physicians and the Idaho Primary Care Association all expressed their support for expansion. They believe it will not only benefit Idaho's working poor but also bring down medical costs for the provider and the patient, as well as save financially vulnerable clinics and hospitals.
Expansion can have a real impact: After examining hospital closures and their financial performance between 2008 and 2016, a 2018 Health Affairs study concluded that the ACA's Medicaid expansion "improved hospital financial performance and substantially lower likelihoods of closure, especially in rural markets and counties with large numbers of uninsured adults before Medicaid expansion."
Keith Davis, a doctor who runs a small clinic in Shoshone, Idaho, was the Republican-elected coroner for Lincoln County for 20 years. He said the members of his party attempting to limit Medicaid expansion risked sacrificing fiscal responsibility and positive health outcomes to score political points.
"If you are fiscally conservative, you want to pay less in taxes," Davis, who is the only doctor in a county the size of Rhode Island, said. "And that means in health care, you should be really encouraging preventive care in coverage for people, so they can get the care that they need — the basic services. We all save money, and it's better quality of life, and I'm fine with my neighbors getting those services and lowering the cost of care for all of us."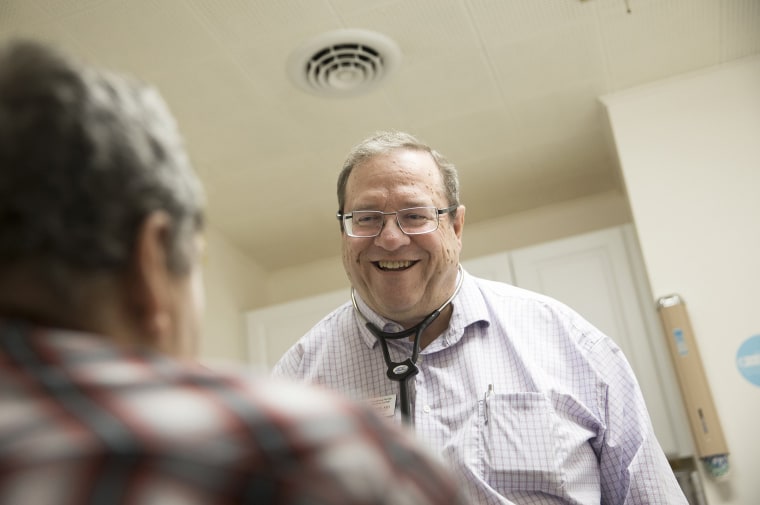 Davis said it would also help mitigate burnout in a state that ranks 49th in the U.S. for number of physicians per capita, according to a 2019 report from the Association of American Medical Colleges.
While a big part of the problem is the low number of medical residencies and positions in the state, Davis said another issue is that employees in his clinic spend much of their time logging the services patients refuse because they can't afford prescriptions, procedures, tests or examinations, which wears on them emotionally.
"It really is very disheartening as a provider to be strapped and left to ask, 'Do I order this test knowing that it's really important, but that's going to be a $3,000 bill and that you and I both know you can't afford?'" Stephanie Roberts, a physician's assistant at Davis's clinic in Shoshone, said.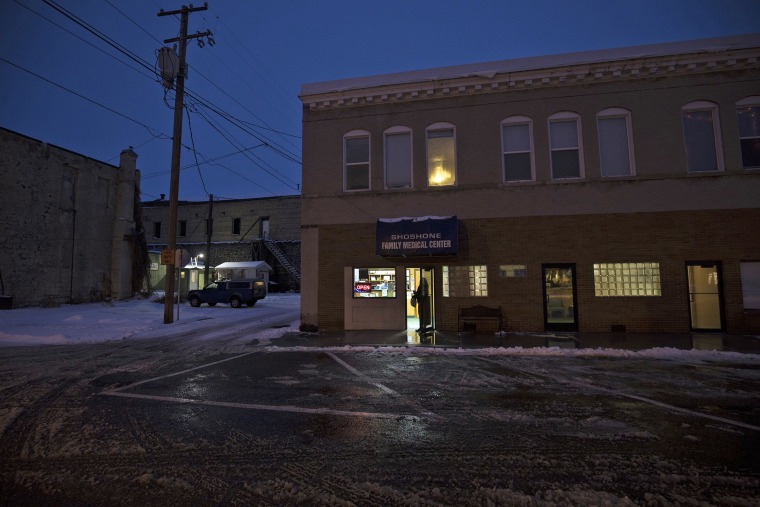 "I know it's a business and I know that we have to have services covered and stuff," she said, as tears formed in her eyes, "but things seem just so backwards."