Hamilton County, about a two-hour drive north of Albany, New York, is one of the least-densely populated places in the United States with about 4,400 people over more than 1,800 square miles.
It's the kind of rural community that has had trouble vaccinating its population, and yet Hamilton has one of the top five vaccination rates in the country. More than 67 percent of its population has been fully vaccinated.
"We're a very, very rural county," William Farber, chairman of the county board of supervisors, said. "And so it really was community members and friends, transporting neighbors, trying to keep themselves safe."
Amid a nationwide slowdown in vaccinations, rural communities have stood out. A report by the Centers for Disease Control and Prevention released last week found that 38 percent of urban adults have been fully vaccinated compared with 29 percent of rural adults. An NBC News analysis confirmed those findings, but also found places where rural, mid-sized and large counties are leaving the national average in the dust and vaccinating swaths of their populations.
There are more than 1,300 counties that the CDC considers rural, with reliable vaccination data for 99 percent of them. The median vaccination rate for those counties is close to 30 percent, slightly behind urban counties that have vaccinated 32 percent of their populations. Those numbers increase when looking at adult or senior populations, who got access to vaccinations first.
"[The CDC] report highlights the vaccination coverage disparities that exist in rural areas and the need to improve vaccine access and confidence in these communities," said Dr. Bhavini Murthy, a CDC medical officer and the lead author of the report on rural vaccinations.
While rural counties may have fewer people to vaccinate, they face hurdles that urban areas don't, such as fewer pharmacies and unreliable internet. But some outliers such as Hamilton County offer ideas that can be replicated, such as engaging the local community to confront misinformation and overcome barriers like travel.
Farber credits the county's success to word of mouth from those who got their shots already and a grassroots community effort.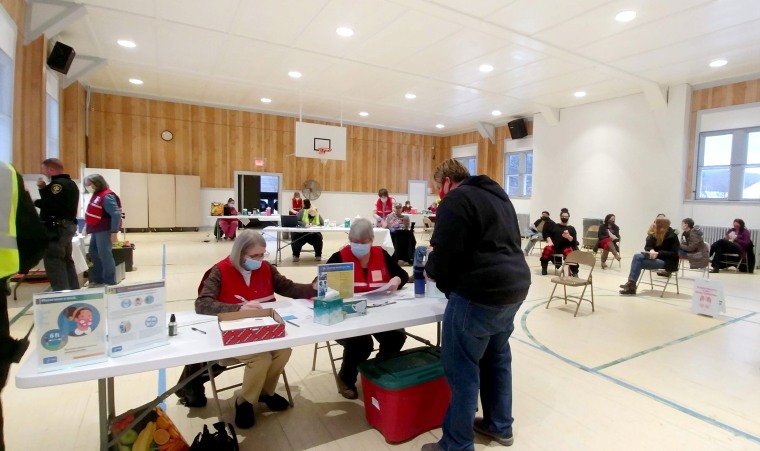 "Volunteers were the main hero," he said. "We literally had volunteers that were just community members… [they] would offer to work as greeters, and make calls to make sure people who did not have access to broadband or cellular were signed up for their vaccine appointments."
The CDC has standards for classifying counties from rural to urban. A county that's considered micropolitan, slightly larger than rural, would have at least one town in it with a population of more than 10,000. Small metros have populations over 50,000 and medium metros have populations over 250,000.
There are caveats: Vaccination data on county of residence can vary from state to state. Some such as Alaska have data for 98 percent of their shots, while others such as Virginia, Georgia and Hawaii have incomplete residency data, which makes it harder to assess vaccination progress in certain areas.
"We know that vaccine hesitancy in rural areas is a major barrier that public health practitioners, health care providers and local partners need to address to achieve vaccination equity," Murthy said.
According to the CDC, vaccination equity involves access that targets people typically underserved by health care.
Murthy said rural areas have a higher proportion of older residents without health insurance or with underlying medical conditions. When the vaccination rollout began, nursing home residents and seniors were among the first to get shots, as nursing home deaths accounted for an outsize portion of Covid-19 deaths.
Some counties with large senior populations have boosted their overall vaccination numbers because many were vaccinated months ago.
In Florida, Sumter County has the highest vaccination rate in the state by far, with 62 percent of its population fully vaccinated. Those numbers are buoyed by the county's elderly population – one of the largest in the country.
A range of programs were deployed there, including vaccinations for homebound residents.
Similar efforts for the homebound boosted vaccinations in Orange County, North Carolina, another small metro that fully vaccinated 51 percent of its population. Coordination with social services agencies helped flag homebound individuals needing vaccinations.
The county, which includes Chapel Hill and is located west of Raleigh, has recorded more than 8,500 Covid-19 cases and upwards of 100 deaths in the pandemic. And like rural communities, health officials there have relied on community relationships to bolster vaccinations.
"Collaboration has really been key for us," said Beverly Scurry, strategic plan manager for the Orange County Health Department. She said that community collaboration has allowed them to target vulnerable populations.
They've also had to battle general mistrust of health care systems.
"We've seen things like fertility and DNA and microchips and all of the things that you kind of hear about in regards to the vaccine," Scurry said.
She said it's been important for the county health department to not pressure people into getting vaccinated. "We want our community to make an informed choice about getting the vaccine."
While the county is majority white, Scurry said, they've seen success in vaccinating Black communities through relationships with churches, the Meals on Wheels program and the NAACP.
How to reach vulnerable populations has been on the minds of public health officials, especially in some of the largest cities.
Large urban counties have vaccinated their populations at some of the highest rates in the country, and their surrounding suburbs are usually not far behind. The median full vaccination rate for large metros is at 39 percent, with suburban counties at 31 percent.
Multnomah County in Oregon, which includes Portland, has outpaced similar-sized counties, with 50 percent of its population fully vaccinated.
"So we may be performing well, overall, but I would say much like the rest of the country, we are actually seeing gaps in our uptake among Black [and] indigenous people of color that I think we need to do better on," Kate Yeiser, a county communications coordinator, said.
The county recorded more than 38,000 Covid-19 cases and nearly 600 deaths. Yeiser said the county's vaccination progress was thanks to a slew of efforts such as providing transportation and wraparound services at vaccination sites like food boxes and other things that people need.
She said the county has teams that work on culturally specific communications, which involved discussions and listening sessions, to help combat vaccine hesitancy.
"We've really been looking at it as a holistic Covid response, not just getting the vaccine — helping people get what they need to get vaccinated and get anything else they may need while they're there."