After a big marathon, Derek Murphy sits down with his laptop in his western Ohio living room and gets to work, pulling up the online results and looking for red flags.
Like half a million other Americans, the 46-year-old business analyst used to run marathons himself but he slacked off after starting a family. Now he chases cheaters — armed with race data, finish-line photos, anonymous tips and an algorithm.
"I think most people aren't aware of how much cheating goes on in marathons," Murphy said.
The rule-breakers generally fall into two categories: course-cutters, who start a race and finish it but don't run every mile in between, and bib-swappers who give or sell the tag with their race number to a faster runner.
It's a risky business because every bib contains an electromagnetic chip that is read by timing mats placed along the course, and cameras are set up to take photos of the runners — and all of it is posted online.
The cheaters' motives? Some crave the Facebook likes that stack up after they post a personal best; others are desperate for a time that qualifies them to run in the elite Boston Marathon, a bucket-list race.
All of them, Murphy and his fellow marathon detectives say, undermine the ethos of an ancient sport that is supposed to be about respecting the distance. And in some cases, they're robbing other runners of medals or the chance to compete in Boston.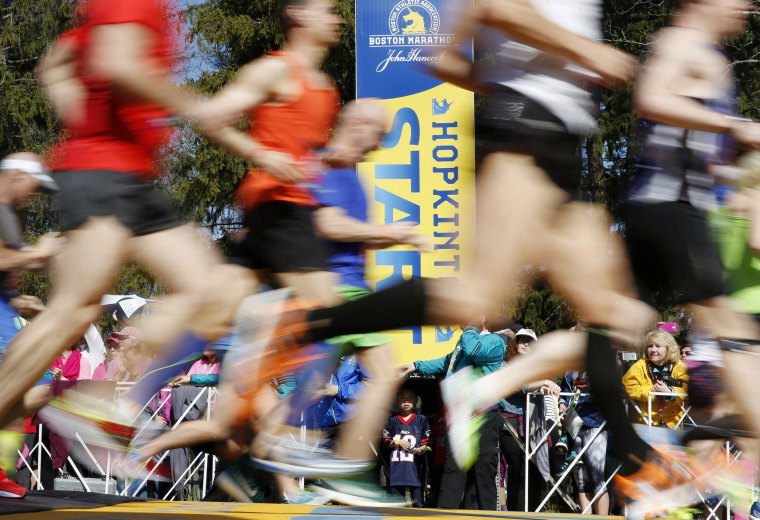 "This sport is built on hard work. There's a code of honor," said John Conley, the former longtime director of the Austin marathon. "People who cheat corrupt that value system."
Since Murphy began sleuthing a year and half ago and posting his findings on a blog, Marathon Investigation, he estimates he has caught up to 250 road warriors trying to pull a fast one.
When he crunched the numbers for the 2016 Philadelphia Marathon — one of the biggest in the nation — he quickly found 12 entrants who apparently had qualified for Boston by taking a shortcut.
They had missed timing mats and their splits — the amount of time it took for them to run certain sections of the race — didn't make any sense. In one case, a runner would have needed to make world record time in the final miles for his splits to add up.
Philadelphia race organizers spotted those inconsistencies, too, and quietly disqualified the fishy finishers. But Murphy also found some suspects the officials didn't catch: a couple he believed cheated together, with the husband running with the wife's chip to get her a faster time.
He dug into their history and found more races with peculiar results. In some, timing mats showed the husband and wife with identical splits, suggesting they ran side by side the whole way. But photos told another story: He crossed the finish line alone and she was caught on camera miles behind.
After Murphy confronted them, the couple came clean, admitting they cheated in at least five races across the country, including several marathons. She would peel the chip off her bib and give it to him, and he would carry it across that last timing mat.
The wife said she ran the full distance at each event, just slower than her husband — but their ruse allowed her to collect those coveted Boston qualifying times and, in one case, a trophy.
"I realized it made her happy," the husband told NBC News, which agreed not to publish their names. "And fortunately or unfortunately, putting a chip on another bib is a very simple process."
The wife said she had convinced herself it wasn't cheating because she pounded every inch of the course, had once been able to run as fast as her husband, and never collected any prize money.
"I think the human mind can justify just about anything," she said.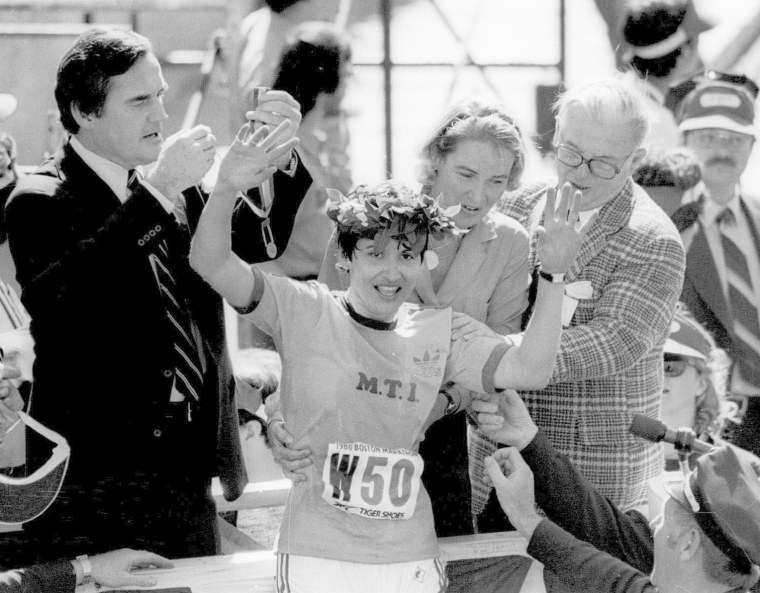 Marathon mendacity is nothing new.
In 1980, novice Rosie Ruiz stunned the running world when she was the first woman to cross the finish line, barely sweating, at the Boston Marathon. When the also-rans complained they never saw her until the final stretch, and spectators claimed she darted onto the course at 25 miles, she was stripped of the award.
She insisted her win was legit, but then an investigation into her 24th place finish in the previous year's New York City Marathon uncovered a witness who saw Ruiz, still wearing her bib, on the subway when she should have been sweating it out.
Back then, marathons were a niche sport; according to Running USA, only 25,000 men and women finished one in 1976. In 2015, more than half a million people completed a marathon and more than 17 million had participated in some kind of running event. Road racing is now estimated to be a $1.4 billion industry.
Related: Paul Ryan Says He Misstated Marathon Claim
The exponential growth means running 26.2 miles is no longer a unique achievement. These days, the glory for many is in doing it fast.
"The first question anyone ever asks when you run a marathon is, 'What was your time?' Not, like, 'How was it? Congratulations! What was the experience?' It's, 'What was your time?'" said the wife Murphy tracked.
She was feeling that pressure when she and her husband cheated for the first time — by accident. They mixed up their bibs and when the results were posted, the wife had the better time because the husband was wearing her chip.
After that, she said, she felt like she needed to keep up the pace. And her husband obliged.
"I was basically thinking it's a victimless crime and making someone happy," he said. "It really wasn't malicious motives. It just grew."
The wife boasted about her phony times on social media, and the Instagram love poured in. She said it gave her a self-esteem boost and incentive to train harder to get legit times.
"I think in my mind, I thought, 'I'm worthy of this. I can do this,'" she said.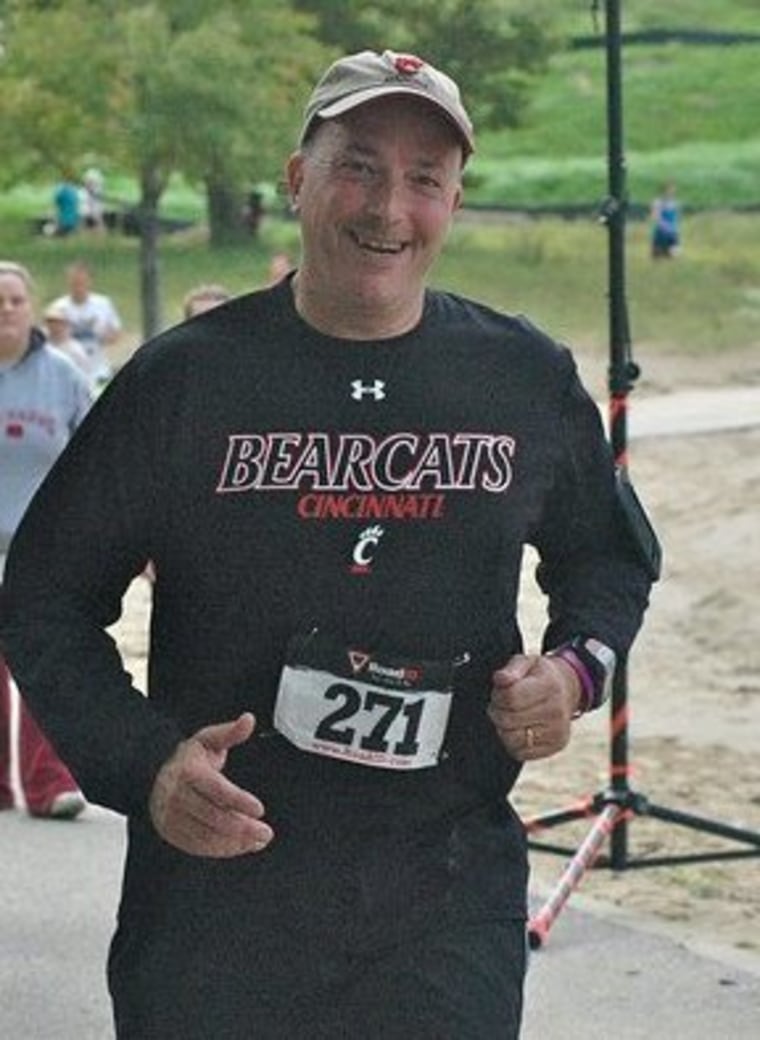 The couple didn't give much thought to the possibility they would be caught. And they might have gotten away with it if an anonymous tipster had not encouraged Murphy to take a closer look.
Murphy, who has run 10 marathons, is part of a small confederacy of armchair detectives who have earned some notoriety in the race world for their sophisticated forensic work. Other amateur gumshoes regularly post their suspicions and evidence on the message boards of sites like LetsRun.com.
Recent casualties include a Washington DC man banned for life from the Marine Corps Marathon after missed timing mats exposed his fraud, and a New Jersey running coach banned from Boston after it was revealed that she got her qualifying time by having a friend run with her bib.
Related: Homeless Runners Win Hearts and Medals
In 2015, a Pennsylvania dad made headlines when his kids were given unexcused absences from school while they watched him run Boston. That brought scrutiny to his race history and questions about his qualifying time — though he insisted it was legitimate.
It was his case that sparked Murphy's interest marathon investigations. How many people, he wondered, are cheating with impunity and how easy would it be to nail them?
Murphy's first major probe was a deep dive into 2015 Boston Marathon finishers. He found 47 he believes cheated to get a spot. Based on the work he has done since, he thinks up to 5 percent of all marathon entrants may be deceptive.
"We find them multiple times...find the same people cheating year after year, race after race," he said.
"I think a lot of it's this social media — 'Hey look at me' — just wanting to get validation and get patted on the back for accomplishing something, whether you accomplish it or not."
The thought makes Daphne Matalene's blood boil.
After several tries, the 44-year-old New Yorker finally scored a qualifying time for the 2016 Boston Marathon. But because so many people qualified, race organizers set a faster cutoff, and she missed getting a slot in her age group by 28 seconds.
"I turned myself inside out to run a nine-minute mile personal best at the age of 41 and it really stinks if someone who cheated got to run and I didn't," Matalene said.
Related: Kenya Marathoner Accused of Running Only Last 1,000 Yards
Conley, the Austin race director, said he has caught plenty of cheaters without outside help – including doctors and lawyers – but he appreciates the digging that Murphy and his compatriots do.
"Having that information really cuts down on the amount of detective work a race director would have to do," he said.
As for the cheating couple, they claim they have no hard feelings toward Murphy and will have their dishonest times removed.
"I was never angry at him," the wife said. "I actually think he's someone of integrity. I think he truly loves the sport."