WASHINGTON — Tens of thousands of demonstrators gathered at the National Mall on Tuesday for a rally in support of Israel and against the antisemitism and bias incidents that have erupted in the U.S. since the start of the Gaza war.
The March for Israel rally came as the war between Israel and Hamas entered its sixth week and with Israeli Prime Minister Benjamin Netanyahu continuing to reject calls for a cease-fire.
"This is the moment to speak up for ourselves and be united in support of Israel," said 21-year-old Indiana University student Jared Cohen.
Follow live updates on the Israel-Hamas conflict
The death toll in Gaza continued to climb and Palestinians trapped there by the fighting faced a dire humanitarian crisis, many hiding in packed hospitals that were struggling to treat patients while fuel, food and power remained in short supply.
The latest convulsion of violence in the Holy Land erupted Oct. 7 when Hamas launched a surprise attack on Israel, killing about 1,200 people and taking some 240 hostages.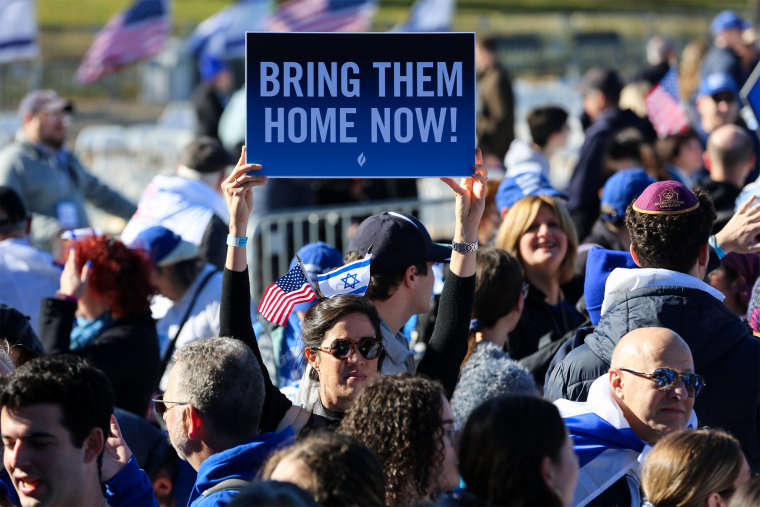 Supporters speak out
Tahl Ben-Yehuda, 53, a cantor from Overland Park, Kansas, said she came to be a voice for two of her cousins, Keith and Aviva Siegel, who had been taken by Hamas.
"Those hostages need to be freed," Ben-Yehuda said. "Israel is living right now with an existential threat. It is simply not OK to let 240 people be held as hostages. The world needs to rise."
Organizers of Tuesday's event said they are not only calling for the return of the hostages but want to underscore "Israel's right to remain free from violence and the right of Jewish communities in North America and around the world to live free from hate."
"There's no place for such an ancient form of hate," said Gil Preuss, the CEO of the Jewish Federation of Greater Washington, a chapter of the Jewish Federations of North America.
Preuss said the Hamas attack on Israel should be an opportunity for peace-seeking Israelis and Palestinians to seek the eradication of the militant group.
"I firmly believe that Israelis and Palestinians need to be able to live in freedom and security, and it is the goal that both populations would like to have," Preuss said. "The question is how do we get there?"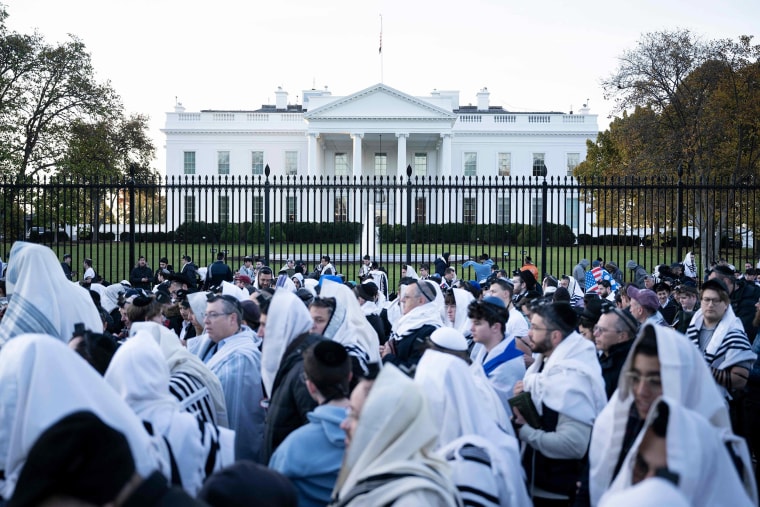 Ben-Yehuda, who considers herself a "liberal Jew," said she, too, has empathy for Palestinians in Gaza and remains critical of Netanyahu's policies and failures for not working toward a two-state solution.
"I believe in the state of Israel, but the government is different," Ben-Yehuda said. "Israel has to continue, but she has to be for justice."
Busloads of pro-Israel supporters began arriving at the Stadium-Armory in Washington well before the march got underway.
Several were chartered by New York City's Temple Emanu-El for D.C. More buses carrying an estimated 1,250 people from the Jewish Federation of Cleveland arrived at the Kennedy Center. And a group from Hebrew Academy Miami posed with the Israeli flag before heading to the rally.
But many were greeted by sometimes profane anti-Israel graffiti sprayed in red paint on sidewalks and garbage dispensers.
"It's sickening to know that's what people are doing," said Simon Taylor, a representative from the Orthodox Union.
Ruthie Hollander, who is also a member of the Orthodox Union and had her 14-month-old daughter in tow as she greeted the buses, said in her community "every single person is one degree of separation from someone in Israel."
"And so wherever politically many fall out, on a personal level, this is such a tragedy and so difficult," Hollander said. "Many of us are really struggling even to just go day to day and there's a lot of fear, especially in New York City. Hate crimes have risen significantly."
Sandra Nudelman, who lives in New Jersey and was at the rally with her sister, said that she is horrified that so many people have already died in Gaza but that the Israel Defense Forces is not deliberately targeting civilians the way Hamas did on Oct. 7.
"I think they're doing the best they can in a war that is not of their own making," Nudelman said. "Civilian casualties are never something anyone wants to see. When I see pictures of Palestinians who are dying, I feel terrible for them."
Increased security
There were no immediate reports of arrests or counterdemonstrations.
But concerned about possible outbreaks of violence between pro-Israel and pro-Palestinian supporters, Washington Mayor Muriel Bowser took steps early on to make sure her police force and the National Guard were ready.
The Department of Homeland Security raised the security level to the highest designation in anticipation of an enormous crowd and because members of Congress were expected to attend, two DHS officials told NBC News.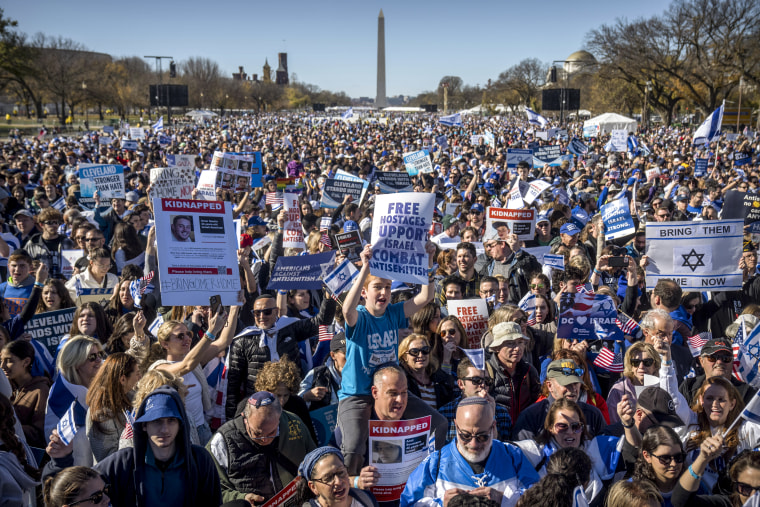 Ahead of the rally, at least one pro-Palestinian group, the Washington chapter of the Palestinian Youth Movement, asked its supporters on Instagram "not to engage" with participants at Tuesday's pro-Israel event.
Speaking via video, Israeli President Isaac Herzog said, "Jews all over the world are assaulted for being Jewish."
"The hatred, the lies, the brutality, the disgraceful outburst of ancient antisemitism are an embarrassment to all civilized people and nations," Herzog told the crowd. "Jews in America must be safe. Jews all over the world must be safe."
While Herzog spoke, vendors were selling T-shirts and buttons emblazoned with the names and photos of the Hamas hostages.
Herzog was followed by Senate Majority Leader Charles Schumer, D-N.Y., who took the stage to denounce Hamas and demand the release of the hostages.
"Let them go," Schumer chanted with the crowd.
Schumer was joined onstage by recently elected House Speaker Mike Johnson, R-La., who said now is not the time for a cease-fire.
"The calls for a cease-fire are outrageous," Johnson said. "We stand with you on that."
Schumer and Johnson were followed by "Will & Grace" star Debra Messing, who introduced some of the relatives of the hostages being held by Hamas. She asked people in the crowd to hold up placards with pictures of those kidnapped and appeared to take a swipe at those who see Hamas as Palestinian freedom fighters.
"We are all being tested," Messing said. "A tsunami of hate has crashed down upon us, and then a deafening silence. We see clearly now. We see naked, virulent Jew hatred being disguised as a noble cause for liberation. And we reject it."
Netanyahu suggested Sunday there might be a possible deal to release the hostages.
While the event was billed as a "march," the tens of thousands of people organizers had planned for stayed largely within the confines of the National Mall rather than spill out into the streets.
On Sunday, a march against antisemitism through the streets of Paris attracted about 100,000 people and was supported by representatives of the major political parties.
Since the fighting began on Oct. 7, pro-Palestinian organizations have held their own rallies in cities across the U.S. and globally.
Demonstrations have also roiled college campuses as schools struggle to contain escalating rhetoric and threats of violence. They include an Arab Muslim student at Stanford University who was struck in a hit-and-run that authorities are investigating as a hate crime and the arrest last month of a Cornell University junior accused of making online threats to Jewish students.
The Anti-Defamation League said Monday that in the month since the war between Israel and Hamas began, it has documented 832 antisemitic incidents of assault, vandalism and harassment across the U.S. This is a 316% increase from the same period last year.
"As we have seen repeatedly, when conflict arises in the Middle East, particularly when Israel exercises its right to self-defense, antisemitic incidents increase here in the U.S. and around the world," Jonathan Greenblatt, the league's CEO, said in a statement.
The Council on American-Islamic Relations also said it has seen a sharp rise in bias incidents since Oct. 7. Since then, the group said, it has received 1,283 "requests for help and reports of bias," a 216% increase from an average period last year.
Corey Saylor, the council's research and advocacy director, said it was the largest wave of Islamophobic bias the group has documented since the Trump administration implemented an immigration ban.
"Both Islamophobia and anti-Arab racism are out of control in ways we have not seen in almost 10 years," Saylor said in a statement.
Erik Ortiz and Julia Ainsley reported from Washington and Corky Siemaszko from New York City.