Weed history is being made in Seattle: the first vending machines to dispense marijuana flower buds debuted Tuesday.
The machines, called ZaZZZ, are being placed in medical pot dispensaries, which helps to verify customer's age and identity since medical marijuana cards are required to enter the centers, said Greg Patrick, a spokesman for the maker of ZaZZZ, American Green.
Though vending machines appeared for the first time in Colorado last year, those sold only edibles, or cannabis-infused foods, and not the plant's flower buds that are so often associated with smoking pot.
"It's historic, there's just no other way to state it. We saw the repeal of prohibition in the early 20th century and the mark that made on our country and the companies that did it right," Patrick said. "We're in that stage. This will only happen once in our country's history, the repeal of this prohibition."
The machines have a touchscreen where buyers can make orders, play video games and read medical information about the products. They swipe their medical marijuana IDs or driver's licenses to make sure they can legally purchase the goods and must pay in cash or bitcoin since the federal government doesn't allow debit or credit cards to be used in the sale of marijuana.
Like machines that dispense soda or snacks, ZaZZZ intends to speed up the distribution for those who don't want to wait in a line at the dispensary.
"Once you swipe your ID, you can go shopping on the screen," Patrick said. "You can be in and out — literally — in a matter of minutes."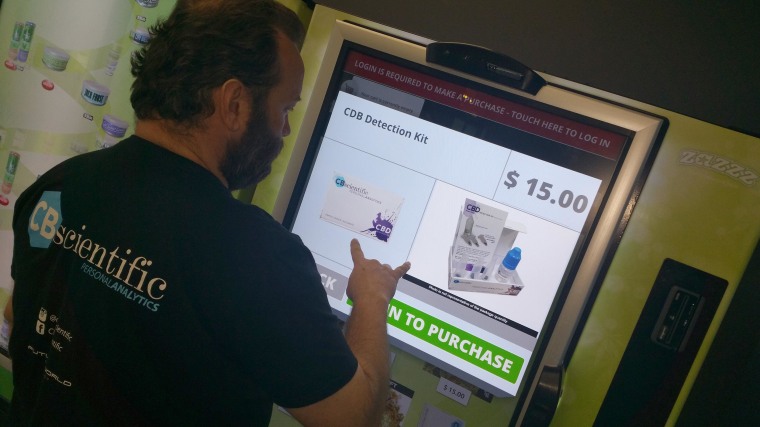 ZaZZZ vending machines in Colorado and Washington state, where legal recreational weed sales began last year, can dispense flower buds. But for the time being, American Green has to partner with growers in those states since the Tempe, Arizona-based firm — like others — can't ship medical marijuana product across state lines under federal laws.
Ultimately, American Green hopes to take the machines to other venues outside medical marijuana dispensaries as acceptance and awareness of the products grows. The company said the machine — which doesn't have a glass window that could be broken into — is secure against would-be thiefs.
"That machine is like a miniature little Fort Knox," Patrick said.
IN-DEPTH