On Friday evening, a man walked into DarSalam restaurant in Portland, Oregon. The Iraqi-owned restaurant staff noticed right away that something seemed off.
As DarSalam owner Ghaith Sahib told Portland NBC affiliate KGW, the man refused to order food and hung out for an hour, using racial slurs and profanity before picking up a chair and using it to attack a waiter.
"I had my sister call me crying," Sahib told KGW. The restaurant owners did not immediately respond to a request for comment from NBCNews.com.
After the chair-wielding attacker was arrested, police discovered he is an active-duty U.S. Marine who has done numerous tours in Iraq.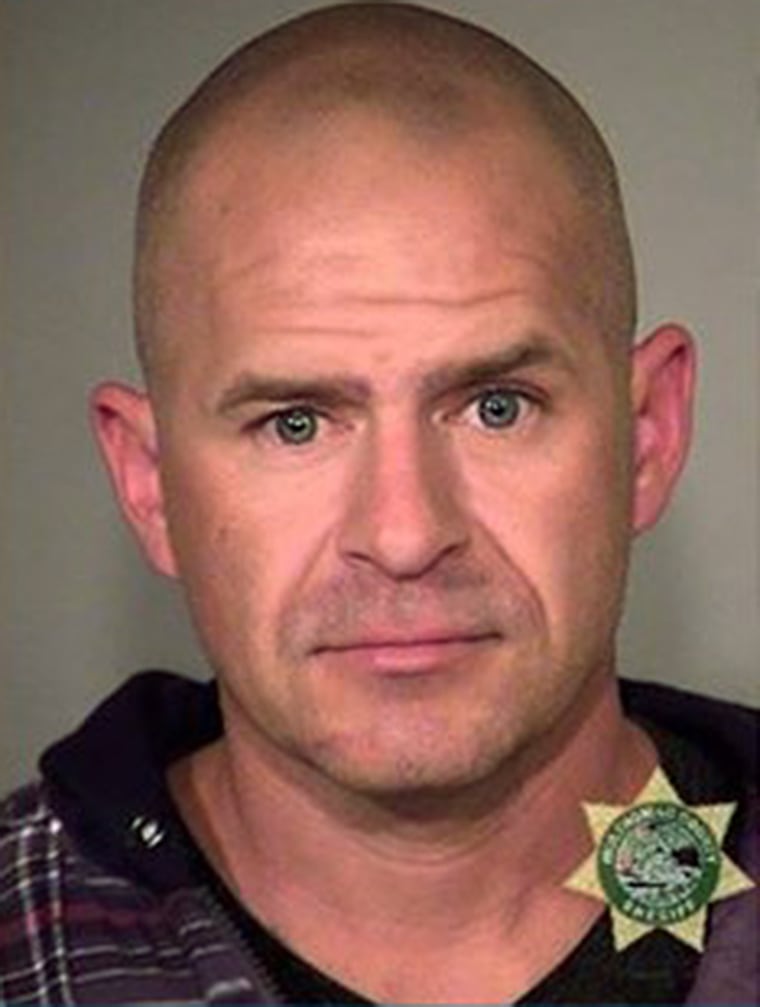 Sergeant Major Damien T. Rodriguez, 40, was booked at around 11:30 p.m. on Friday and charged with second-degree intimidation, harassment, and disorderly conduct. KGW reported that the intimidation charge, a hate crime under Oregon law, has since been dropped.
Despite allegedly hitting the waiter in the head and shoulder with the chair, Rodriguez was not charged with assault. He has since been released on bail, said Portland Police's public information officer Peter Simpson.
Rodriguez reportedly told police that he has been diagnosed with Post-Traumatic Stress Disorder.
Portland City Commissioner Chloe Eudaly told NBC News that she lives in the neighborhood where the restaurant is located and was dismayed to hear of the incident.
"Hate crimes are on the rise in Portland, and while they are being carried out by a small minority, their repercussions are powerful," said Eudaly. "Many in our community are living in fear and uncertainty; it's time for all Portlanders stand united against hate."
Sean Davis is a friend of the Sahib family who helped the restaurant rebuild after a kitchen fire nearly destroyed it in 2013. An Iraq War veteran himself, he told NBC News he's known the DarSalam owners for about six years — and noted that the 20-something waiter Rodriguez attacked isn't from Iraq, but Yemen.
"When this first happened, Tiffany [the owner's wife] called me. She knows that I work a lot with veterans with PTSD," said Davis. "Her first thought was about her family and the safety of the restaurant, but she was also thinking about the well-being of this guy."
Davis is a commander at the American Legion Post 134, which is a few blocks from DarSalam. There, he helps veterans recover from PTSD and assists with homelessness and other struggles commonly faced by military vets.
According to his bio on the United States Marine Corps website, Rodriguez was engaged in heavy urban combat as part of the 2nd Battalion 4th Marines — a group that famously suffered a bloody ambush in April 2004 that took down a dozen Marines in one day.
A Marines spokesperson confirmed Rodriguez' arrest and said they'd cooperate with Portland law enforcement if asked. "As Marines, we are expected to uphold and abide by the highest of principals and ethical behavior, both on and off duty," the spokesperson said in a statement.
According to the National Center for PTSD at the Department of Veterans Affairs, PTSD can occur when a person survives an event in which they think that their own life or the lives of others are in danger.
The center estimates that as many as 20 percent of military service members who served in Operations Iraqi Freedom and Enduring Freedom suffer from PTSD in a given year.
"To me, PTSD is just something so big that happens to you the emotions can't fit into your brain," explained Davis. "You don't take in trauma, but it's etched into your brain. Your body starts to tell you through symptoms: flashbacks, nightmares, emotional outbursts."