Five juveniles were arrested Tuesday in connection with an assault on three Marines on a Southern California pier over Memorial Day weekend.
The suspects face felony charges of assault with a deadly weapon, the Orange County Sheriff's Department said in a news release. Four of the youths are boys and one is a girl, the sheriff's department said.
The release did not identify what types of weapons were allegedly used but said they were not guns.
Citing the ages of the suspects, the department declined to release additional information about their identities.
The department said the fight, part of which was captured on cellphone video and shared on social media, broke out Friday night at San Clemente Pier, a popular seaside destination roughly 60 miles south of Los Angeles.
Emergency personnel provided medical aid to two Marines who declined to be taken to a hospital, the department said. Investigators later found a third Marine who had been assaulted.
"Due to the nature of the incident and the large number of individuals involved, the investigation is ongoing," the department said.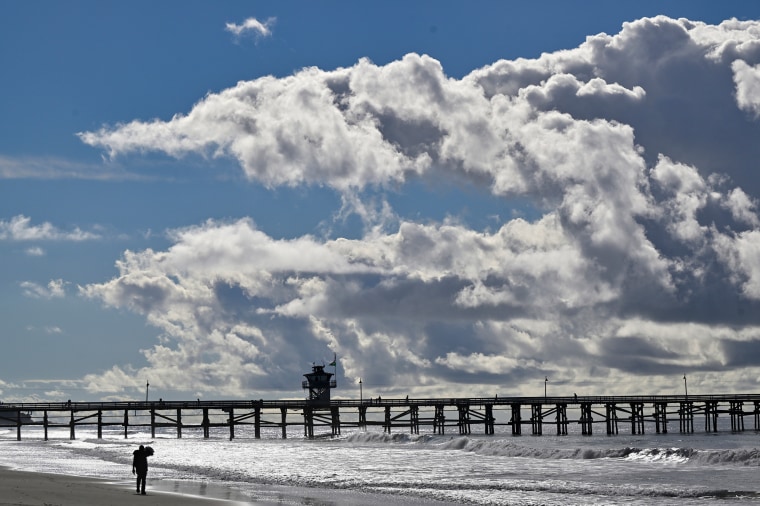 In the video, a male who appears to be a teenager punches a man in the back of the head. The man turns around and charges at the teen. During the scuffle, several other people surround and hit the man. People shout "get his a--" and "get that f-----."
The fight is eventually broken up after a man and woman intervene.
The video does not show what happened before the fight. The sheriff's office did not immediately respond to a request for comment Tuesday.
Hunter Antonino told KCAL-TV of Los Angeles that he was one of the Marines involved in the altercation. He said he was with two of his friends enjoying time off at the pier when around 30 teenagers showed up at the beach and started lighting fireworks, according to the station. When the debris hit him in the face, he politely asked the teens to leave, KCAL reported.
"They were lighting off fireworks, they were being belligerent, they were being obnoxious and annoying other people, so I went up to them and told them to stop," he said.
Antonino said that the group followed him and two other Marines to the pier and that that was when a fight broke out. He said that he was beaten up and stomped on and that he believes he suffered a concussion, KCAL reported.
Antonino could not be reached at phone numbers listed for him.