The exposing of a secret Facebook group where Marines are accused of posting nude photos of female service members — without their knowledge or consent — is renewing calls for the strengthening of victim protection laws across the country.
The problem, according to organizations that fight online sexual exploitation, is that such laws don't exist in every state — and even if they do, they can be a patchwork of protections that don't have teeth.
"We've been successful in encouraging legislators in these states to take up these laws, but that doesn't mean that these states have come up with good ones," said Mary Anne Franks, a professor of law at the University of Miami and the legislative and tech policy director with the Cyber Civil Rights Initiative.
Before her nonprofit group began pushing the issue with lawmakers in 2013, there were just three states with respective legislation. Now, 35 states and Washington, D.C., have some form of so-called "revenge porn" laws, which make it illegal to use a sexually exploitative image or video of someone online without their permission.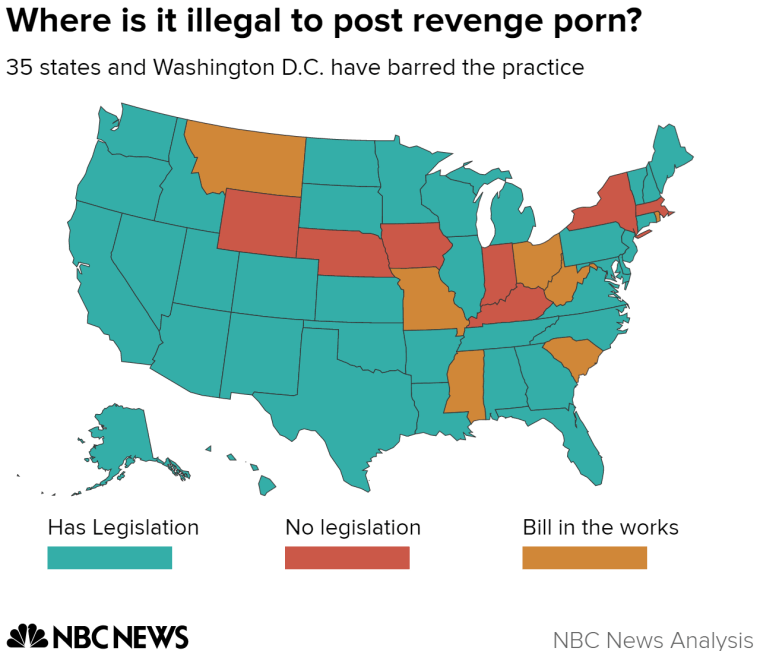 Victims advocacy groups say the term "revenge porn" can be a misnomer because the perpetrator might not necessarily be seeking revenge against someone they personally know. The term "non-consensual pornography" is usually preferred.
Prosecution typically originates out of the state where the offender is located.
Most states have laws that require proving there was an intention to harass a victim, but Franks said harassment in the traditional sense isn't always a part of these cases and instead are examples of one's privacy being violated.
Related: Senator Calls for Hearing Over Marines Nude Photo Scandal
But she cited the Illinois law, which took effect in 2015, as being particularly strong because it puts aside the suspect's motive in favor of focusing on the harm done to the victim. And it also goes after people who post the indecent images secondhand.
In Rhode Island, the office of Attorney General Peter Kilmartin said law enforcement has had to turn away numerous victims of these cases because there are no applicable laws in that state. The cases have included one woman who said her ex-boyfriend sent revealing photos to her employer as revenge for her breaking off their relationship and another woman who said her estranged husband posted revealing photos on social media during their divorce, Kilmartin's spokeswoman, Amy Kempe, told NBC News.
"We believe there to be many more similar and worse cases, but they are often not brought to our attention as police departments know that in most circumstances, charges cannot be filed," Kempe said.
That could change if Rhode Island legislators pass a bill this year after one was vetoed by Democratic Gov. Gina Raimondo, who had argued that it could impair freedom of speech.
Related: Nude Photo Posts of Female Marines Being Investigated by NCIS
Victims, no matter which state they live in, still have a legal recourse to sue their perpetrators for civil matters such as invasion of privacy or emotional distress.
But on a federal level, the Cyber Civil Rights Initiative is in favor of the Intimate Privacy Protection Act, which was introduced in Congress last year without moving forward. If eventually passed, it would make it a crime to distribute sexually explicit materials of people without their consent. The ACLU and others have opposed such a law for potentially infringing on free speech.
The case surrounding the "Marines United" Facebook group, however, is bringing up a new layer of complications when it comes to prosecuting perpetrators.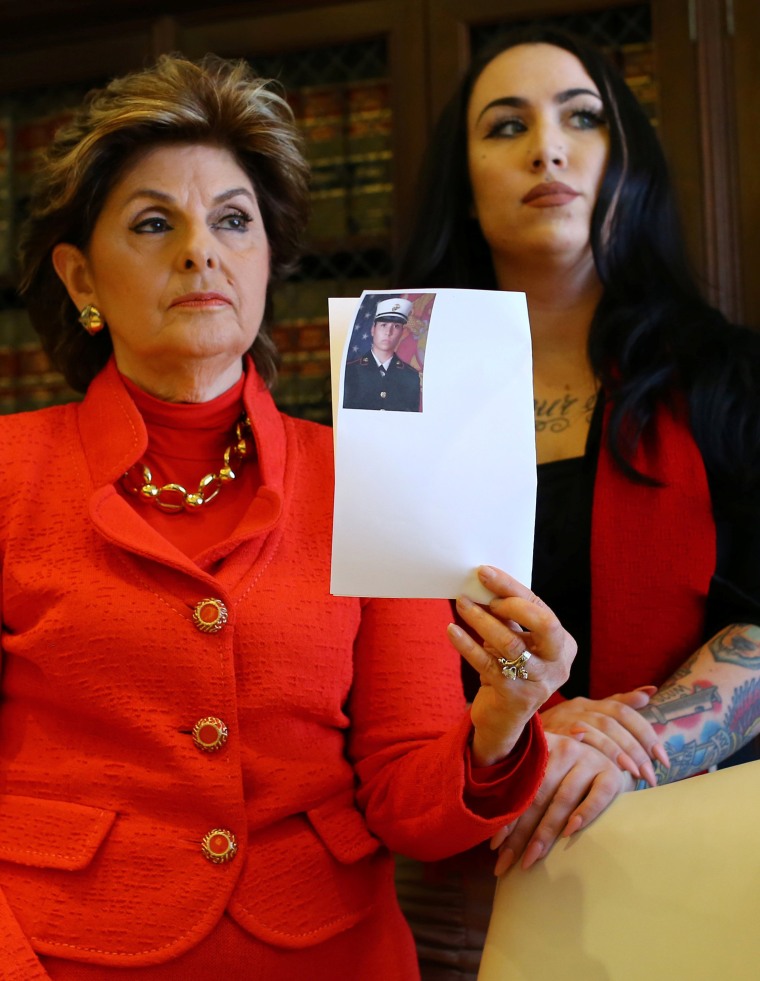 As the Defense Department opens up a criminal investigation, the U.S. military must ultimately decide how to prosecute those behind the posting and sharing of private photos of fellow female Marines.
The photos reportedly included more than two dozen female Marines posing topless or in provocative poses. In some instances, pictures of women who weren't nude were posted, but group members wrote derogatory and sexually violent comments about them.
The existence of the Marines United group, whose page has since been taken down, was first reported Saturday by the news website Reveal.
Former Marine Erika Butner, one of the women whose pictures appeared on the page, said at a news conference Wednesday that her photo was used without her consent.
"Victim blaming and the excuse that some are giving that 'boys will be boys' needs to stop," said Butner, 23.
Sen. Kirsten Gillibrand, D-N.Y., and other Washington lawmakers are calling for congressional committees to hold hearings and investigate how these women's photos were acquired.
"People need to be held accountable for their behavior," Rep. Martha McSally, R-Ariz., said Thursday on MSNBC. "We need to be looking at the culture that brought about this behavior as well."
Marines Commandant Gen. Robert B. Neller has called the actions "embarrassing to our Corps, to our families and to the nation."
It's unclear how many active-duty personnel, veterans or civilians were involved, although the group reportedly counted nearly 30,000 followers of different ranks.
Military members face charges of indecent viewing, visual recording or broadcasting charges, which carry up to seven years in prison, as well as conduct unbecoming of an officer. A dishonorable discharge is also possible, said Richard Rosen, a military law professor at Texas Tech University School of Law.
"The military justice system seems like the best system to deal with this," Rosen added.
These types of cases leading to convictions appear to be rare compared to other criminal incidents in the military.
An NBC News analysis of court martial dispositions found that at least eight Marines were court-martialed and convicted for indecent visual recording between October 2013 and December 2016. Another Marine was convicted of attempted indecent visual recording, while two others in military court proceedings were charged with indecent viewing. Of those, only one was convicted.
Even those Marines who are retired could still face a military court if they are receiving pensions. But that would require a rare instance of a retired Marine being brought back to active duty status to stand charges, said military law expert and attorney Greg Rinckey.
"The Marines have been saying, 'Hey, we're one Marine Corps, we're letting females into combat roles," Rinckey said. "So they're going to take this case pretty seriously."