Adam Resseguie, of Fox River Grove, Illinois, had been deployed since September 2013.
The Marine Scout Sniper returned from Afghanistan on Memorial Day weekend to learn that thousands of dollars worth of his belongings were missing from a North Carolina home where he had them stored.
Before leaving for Afghanistan, Resseguie said he stored his possessions at the home of Cpl. Ryan Glass, a fellow Marine who was also set to deploy around the same time.
While the two were gone they asked a neighbor to look after the home and their belongings. During their time abroad, the two were notified by the neighbor that the home was ransacked and several of their belongings taken.
"[My neighbor] sent me pictures on Facebook and I just see everything in my house is just broken, stuff is missing around my house," Glass said.
They said a man who had been renting a room at the neighbor's residence for at least a year stole Glass' key and took their belongings.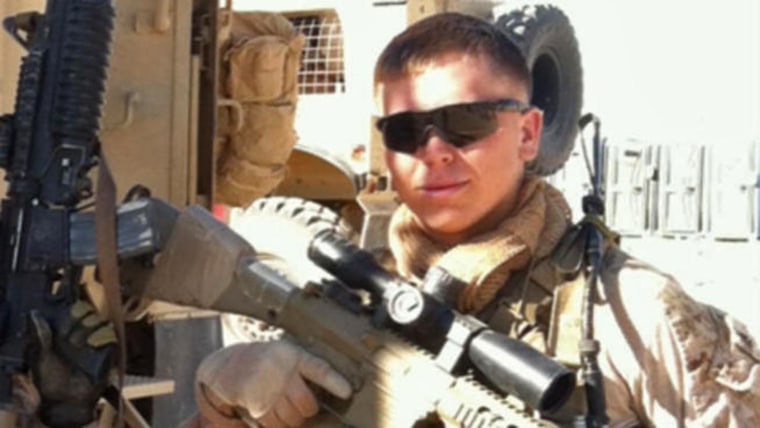 A North Carolina police detective familiar with the case confirmed that the suspect is listed as "wanted" but could not offer any further details surrounding the case. The detective declined to be named for this story because of the ongoing investigation.
Resseguie and Glass said police were notified of the theft and were investigating. Resseguie was told several items reported to be missing were sold to a nearby pawn shop, but they had already been purchased and were "unrecoverable."
"It made me sick to my stomach," Resseguie said. "It was just a lot."
Resseguie, who plans to move to Colorado to attend college in the fall, returned to North Carolina Memorial Day weekend to find that his television, bike, fishing gear and a number of weapons were missing.
Glass, who had returned shortly before, said two guns given to him by his grandfather, much of his furniture, video games, DVDs, military gear and two TVs were also taken from his home.
The two estimated the total value of the stolen items to be more than $10,000.
"It just sucked to come home to," Resseguie said.
Resseguie said detectives investigating the theft believe the suspect fled the state.
This not an isolated incident for returning veterans. In fact, deployed military personnel continue to be the targets of scams and identity thefts across the country.
Earlier this year, the Better Business Bureau Military Line warned of a website scam where criminals attempt to trick soldiers out of their email addresses and passwords.
Shery Reichert with the San Diego Better Business Bureau said it is easy to see why men and women in uniform are targeted.
"Because they are mobile, they are young and they have a regular paycheck," Reichert said.
But Reichert says it's frustrating to see these people in the target of scammers.
"These guys are putting their lives on the line for us, and they are being specifically targeted by these con men," she said.
Gov. Pat Quinn's office said there is no legislation in Illinois that specifically addresses situations like Resseguie's, but noted it is an area of concern.
"Governor Quinn is very concerned about this situation, since the well-being of our service members and veterans has always been one of his top priorities," said spokesman David Blanchette.
A fundraising page has been set up to support Resseguie and Glass. To donate click here.