The U.S. Marine Corps is looking for a few more good women.
And this time the campaign is a bit different. Marine recruiters are turning to high school girls' sports teams to find candidates who may be able to meet the Corps' rigorous physical standards, including for the front-line combat jobs now open to women.
Marine Commandant Gen. Robert Neller says he wants to increase the number of women in the Corps to 1 in 10.
"I've told them that 10 percent is where we want to go and they're working on it," Neller told The Associated Press in an interview. "Go recruit more women. Find them. They're out there."
For years, only about 7 percent to 8 percent of the Corps, which numbers 184,200, has been women. It's the smallest percentage of women among all the military services. But on the heels of the Pentagon decision to allow women who qualify to serve in combat jobs, thousands of new infantry, armor and other front-line posts are now open.
Neller said he wants to see women in some of those posts. That order now rests with Maj. Gen. Paul Kennedy, head of the Marine Corps' recruiting command.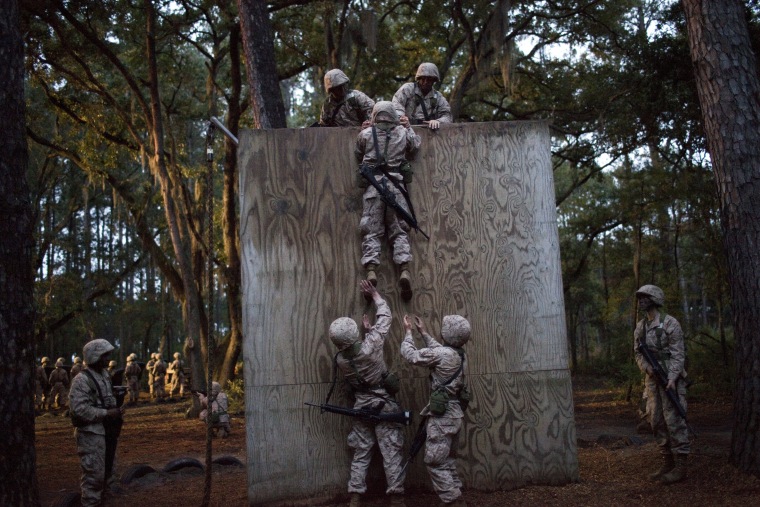 Kennedy is aggressively recruiting women for the service. He's sending targeted mailings, changing advertising to better represent female Marines, and traveling the country to meet with coaches and female athletes who may be well-suited for the rigors of Marine service.
In particular, Neller believes female wrestlers are good candidates.
"We looked at that and said, 'Wow, that's kinda what we're looking for,'" he said. "They're disciplined, they're fit, they're focused on their mission."
According to Kennedy, the Marines, for the first time, are mailing recruiting literature to thousands of high school girls. Also, updated advertising will show active-duty female Marines doing their jobs on the battlefield.
"The biggest complaint that we've heard and we're reacting to is that we were showing women in some of our material — whether it's commercial or print or whatever — and they were always training," Kennedy said. "And that was a mistake."
Already he's gone to the Women's Basketball Coaches Association conference and has targeted wrestling and other sports gatherings this year.
In those sessions, he said, he is working to debunk misconceptions about women in the Marine Corps, including worries about sexual harassment and sexual assault, limits on career options, lack of stability and difficulties having a family life.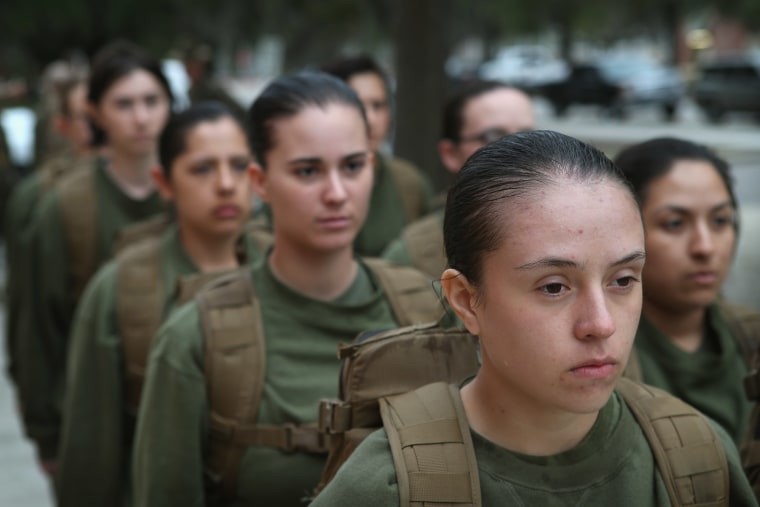 "We got to talk to them, got to show them there are plenty of female married officers and enlisted, that it's not a good ol' boys club anymore when you talk about the career issues," Kennedy said in an interview in his office at Marine Corps Base Quantico.
The other military services attract far more women, and may be viewed as more receptive than the Corps, whose slogan used to say it was looking for "a few good men." The current slogan is more inclusive: "The Few. The Proud. The Marines."
The Air Force has the highest percentage of women serving on active duty, with more than 19 percent, followed by the Navy at 18.6 percent, the Army at 14.4 percent and the Marines at 7.9 percent, according to Defense Department data from May.
The key, Kennedy said, is to get to influencers — parents, coaches — and convince them that their daughters, their athletes, will be treated fairly. And he said he allays fears that women would be forced into combat jobs they don't want.
The recruiters, however, know it won't be easy. Data suggests they have to contact twice as many potential applicants to find a female candidate as they do to find a man. So far, very few are interested in the combat jobs.
In suburban Chicago, Marine Maj. Shanelle A. Porter, commanding officer for Recruiting Station Chicago, said most women coming in the door just want to be Marines, but so far two women have said they were looking for front-line roles.
The women, she said, want to be pioneers.
"They're looking for that challenge," said Porter. "They're trying to show we can do it, too."
A Marine for 13 years, Porter participated in college and professional sports — running the 400 meters — for seven years. So her goal is to make sure that any female recruit she sends to training is ready.
Some can't do a pull-up or hang from a bar for long enough. And sometimes they need to get faster so they can finish the 1.5-mile run in 13.5 minutes.
All female recruits, she said, go on a "high-risk action plan" for at least five months that include vitamin supplements, weight management and an exercise regimen that includes weights, cross-fit training and a pull-up program.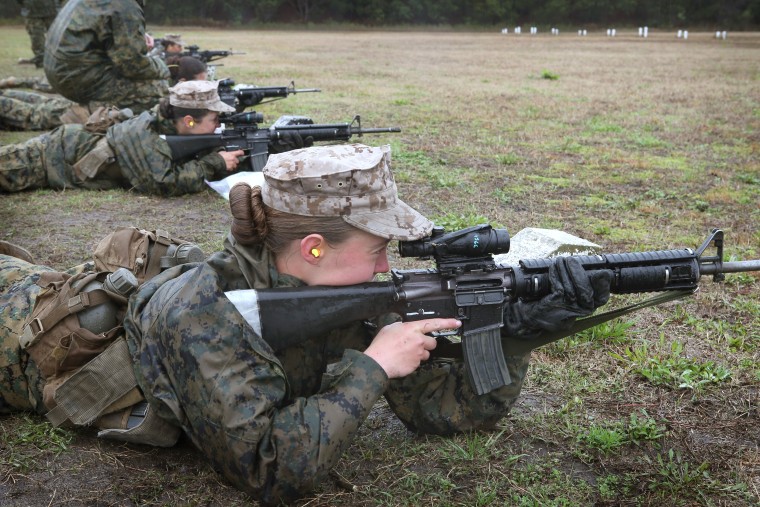 For Kennedy, having a female Marine like Porter available to talk to female recruits and their families is helpful. Women make up 165 of the Corps' 3,565 recruiters, and five of the 48 recruiting station commanders. For now, he says, that's sufficient.
"They don't actually need a female recruiter," Kennedy said, adding that the first person a potential recruit meets in high school or a shopping mall doesn't have to be the same gender.
But, "there has to be a female in the process," he said. "At some point, you've got to have a woman that can answer the specific questions and maybe even answer the parents' questions."
Already, he is having some success and is on track to send enough women to boot camp this year to hit 8.7 percent of the annual recruits, or about 3,100 women. The 10 percent goal would require him to bring in about 3,400 women recruits a year; he believes that is well within reach.
"We're going to exceed the goal that was set for us. I feel confident," said Kennedy. "I think we can blow through 10 percent like it's an elevator stop."